Asian skincare has a generations-old tradition that tackles skin problems with the use of natural ingredients that keep your skin youthful and moisturized. Almost all Asian products have anti-aging and hydrating benefits—these are the keys to maintaining healthy skin.
But one of the most popular benefits that Asian skincare products offer is skin whitening or brightening. In Asian culture, white skin is considered to be the epitome of beauty. Although present times are much more different from before, many skincare products still provide skin-lightening benefits for those who wish to lighten their skin.
Whitening is not only for lightening your skin tone. It can also deal with dark spots, freckles, redness, and other unwanted imperfections—while improving your complexion at the same time.
Uneven skin tone is a pain to deal with, and that's why skin whitening products are still popular nowadays. Whitening ingredients can be found in almost any product—but they are most commonly found in creams and lotions. Skin whitening has become a worldwide trend. There is an endless list of whitening products that can solve your skin problems, and Korea provides most of them!
If you want to invest in a skin whitening cream, here are the Best Korean Whitening Creams on the market!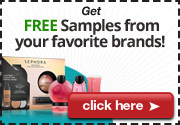 The TOP 5 Korean Whitening Cream (in no particular order):
1. NELLA Whitening and Brightening Tone-Up Cream
Nella is a South Korean skincare brand that targets common skin problems that are experienced by everyone. They have great products for whitening, and you can easily form a skincare regime with just their array of products alone. This brand is a holy grail for those who need skin lightening.
Their Whitening cream has many benefits for your skin, ranging from moisturizing, nourishing, anti-aging, and of course, brightening.
Its star ingredients are Bifida Ferment Filtrate and Pseudoalteromonas Ferment Extract, which are both amazingly effective when fighting off signs of aging and protecting the skin from environmental stressors, and maintaining the skin's healthy condition.
This cream can brighten your skin and help keep its moisture levels and elasticity intact. Other ingredients found in this product are honey, avocado oil, vitamin E, and glycerin. All of these ingredients work to improve your skin and help with brightening imperfections. The formula is tested to be hypoallergenic, so this is perfect for sensitive skin types!
You won't be worrying about your dark circles, dark spots, acne scars, and wrinkles when you have this cream in your skincare routine.
This product is great for sensitive, dry, combination, and acne-prone skin.

Likes
Contains mild ingredients that are safe for sensitive skin
Does not cause irritation
Has a natural, dewy finish on the skin
Immediate brightening results
Smoothens skin texture
Improves skin condition
Dislikes
Has mild fragrance
Can make your skin look too shiny
2. CHICA Y CHICO Nude Fantasy Whitening Cream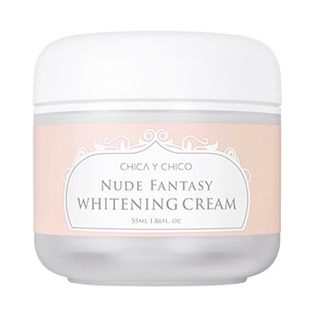 CHICA Y CHICO is a Korean beauty brand that provides products that can help improve your skin's barrier and its overall condition by using ingredients, such as: betaine salicylate and centella asiatica extract. Their products address common skin problems and aim to heal and soothe your skin, while making sure it's looking its best.
They are also a cruelty-free brand, which is a huge bonus!
Their Nude Fantasy whitening cream has an interesting name, but it is because the product helps heal, revitalize, and whiten your skin so you can achieve beautiful skin that doesn't need any more coverage.
It has a lightweight texture, and its formula consists of a unique white flower-based complex, made with 8 different types of flowers. It also contains niacinamide, rice extracts, and titanium dioxide—to help with moisturizing and brightening your skin.
This cream provides whitening benefits and anti-aging benefits. You can use this day and night for faster and better results! It has a beautiful, bright, and dewy finish on the skin, and you can definitely see your skin improve to the point where you can confidently boast your naked face!

This cream is perfect for acne-prone, oily, and combination skin types.
Likes
Doesn't leave a sticky feeling
Gives a glass skin effect
Natural whitening effect and evens skin tone
Hydrating
Can be used day and night
Cruelty-free
Minimizes imperfections and can be used for other body parts
Dislikes
The cream doesn't suit darker skin types because of its white color.
Has a strong fragrance that might lead to irritation for sensitive skin
3. INNISFREE Jeju Cherry Blossom Tone-Up Cream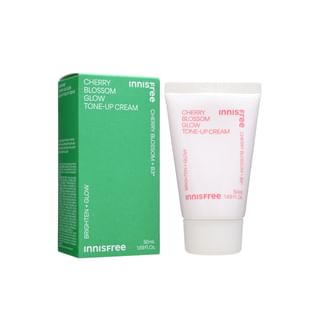 INNISFREE showcases the bounty of Jeju Island once again with their Jeju Cherry Blossom Tone-Up cream. This brand is a go-to for many skincare enthusiasts because of their wide range and their promise of safe, natural ingredients that can suit even the most sensitive of skins!
Their tone-up cream is a morning cream and has a lightweight formula that is infused with Jeju Cherry Blossom leaf extracts, along with natural Betaine, and leaves a beautiful, natural, glowing finish on the skin. Just like the delicate, beautiful cherry blossoms—your skin will be bright and glowing and flawless!
Cherry blossom extract makes the skin radiant, and the betaine derived from sugar beets helps hydrate the skin and keep the moisture barrier intact so that the moisture will stay all day.
This cream has a revitalizing effect on the skin aside from its whitening and brightening benefits. The moist, almost watery texture makes it super easy to spread on the skin, leaving you looking smooth and dewy!

This is great for oily, combination, and sensitive skin types.
Likes
Natural whitening effect
Great base for makeup
Doesn't look cakey
Smudge-proof and stays on the skin the entire day
Dislikes
Doesn't offer much hydration
Can emphasize dry patches on the skin
Slight fragrance
Suited for lighter skin tones
The formula might clog pores
4. LANEIGE White Dew Tone-up Cream
One of Korea's most famous and luxurious skincare brands, LANEIGE, is known for their effective moisturizing products. But they also provide some of the best formulas for radiant and glowing skin. Their brand name, a French word, translates to "the snow"—so, naturally, their products will offer great whitening effects!
Their tone-up cream is extremely effective in brightening and lightening skin, especially those with yellowish undertones. It is specifically designed for Asian skin tones, and the formula moisturizes as well as soothes the skin. If you have sensitive skin, you have nothing to worry about because their formulas are always mild and safe and have very low chances of causing irritation!
The cream has an emulsion-type texture and is applied to the skin using the tone-up puff included with the product.

LANEIGE makes use of their Mela-Vita Crusher™ system wherein their formula, which is packed with Saururus Chinensis extract, lightens the melanin color of the skin and brightens imperfections to the point where they are no longer visible.
This is an amazing cream that whitens your skin and takes care of it by maintaining its hydration.
Best suited for combination, sensitive, acne-prone, and dry skin types.
Likes
Products include a puff for application
Light texture that leaves a dewy finish
Skin becomes visibly fairer after a day of using it
Fixes uneven skin tones
Covers redness and other imperfections to the point where you won't need to apply foundation
Dislikes
Expensive
The moisturizing cream can be too thick for oily skin
Leaves a white cast if the product isn't blended properly
5. TOSOWOONG Crystal Intensive Whitening Cream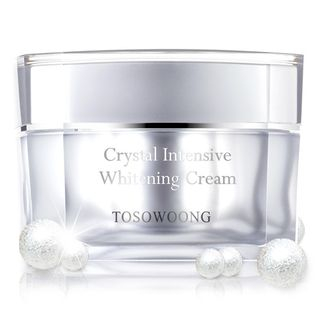 TOSOWOONG is a Korean skincare brand that specializes in whitening products. They offer other products as well, but they are mostly known for their skin-lightening products. Each and every one of their products has been tested thoroughly for optimal results. They use ingredients that have numerous skin benefits to improve your skin's condition as well.
Their Crystal Intensive whitening cream whitens, soothes, and hydrates your skin overnight. This is a night cream that you use at the end of your skincare routine so your skin will transform while you sleep!
The formula is infused with seed oil, arbutin, niacinamide, and shea butter—all of which can help with soothing, whitening, and firming the skin. These ingredients will lessen the appearance of imperfections and improve your skin tone, which will result in crystal clear and luminous skin.
The cream's texture makes it very easy to apply to the skin, and it absorbs quickly.
This is best suited for dry, combination, and acne-prone skin.
Likes
The ingredients have great skin benefits
Has a bright, radiant effect on the skin
Improves skin texture while whitening it
The product includes a spatula
Immediate results in the morning
Dislikes
Might feel sticky upon application
Contains fragrance
A bit pricey
Is Skin Whitening Bad?
This is a question everyone asks themselves at least once when browsing through skincare or beauty products. It's a vague and broad question, for sure, and there isn't a solid, simple answer to it.
Are skin whitening products bad?
Not necessarily.
A lot of them have amazing skin benefits that help improve your skin texture. Korean products are known to be safe and healthy, so using whitening products won't harm your skin. That said, some products might contain bleaching agents that do more harm than good.
If you see ingredients such as: hydroquinone, corticosteroids, calomel, or cinnabaris, avoid these products as much as possible. These are dangerous ingredients that might cause cancer. Always check the ingredients list before using a product!
And if we're talking about societal and cultural standards, is whitening your skin bad?
I believe that only you have authority over your skin, and you can't let anything or anyone else decide what you do with it. If you want to lighten up your skin tone, by all means, go ahead! As long as you make sure to use safe, quality products, your skin will be alright.
We all have our own preferences. So, if you prefer to whiten your skin, then it's a good thing!
Whatever makes your skin happy and clear is always the best route of skincare to take.
Conclusion
Beauty is in the eye of the beholder, and that rings true in skincare. Whitening creams have been a staple in every skincare line for many years, and at this point, they are practically a classic beauty product. Although some creams might contain harmful ingredients, skincare has developed so much throughout the years, and it's easy to find safe skin-lightening creams now compared to before.
Everybody deserves to confidently flaunt their skin, and hopefully, one of these creams will help boost you up!
Those pesky dark spots and pigmentation better watch out because these whitening products will remove them effectively.
Once again, always remember that whatever skincare product you use, it is your business and not anyone else's. Your skin is yours only, and you have the final say on what to put on it.
Hopefully, this article helped you choose the perfect whitening cream for your skin. Have a happy skin day!