BB creams, as we all know, have taken over the beauty industry like a group of shoppers at the mall during a big sale. BB cream stands for "beauty balm" or "blemish balm"—which highlights its use in your beauty routine.
At the very root of its formula, it is basically a light foundation that's infused with skincare benefits. These benefits include: protection from harmful UV rays, hydration, and oil production control. It's an all-in-one product that can immensely lessen the time it takes for you to get ready in the morning.
Its coverage is not as good as foundations and CC creams, but it still gives you enough to cover some spots. Its purpose is mostly to nourish your skin, so if you want more coverage, you can either opt for a CC cream or get a BB cream that offers higher coverage.
BB creams are a blessing to working adults and early-bird students because you can skip your primer, moisturizer, and sunscreen with the right kind of BB cream. You can make it in time for work and class and still rock a natural no-makeup look!
Don't get left behind! Here are the Best Korean BB Creams that you must try out:
The TOP 5 Korean BB Cream (in no particular order):
1. IPKN Moist & Firm BB Cream
IPKN is a skincare brand that was inspired by the glamorous city of New York. The city that never sleeps serves as an icon for both entrepreneurs and working adults. The name IPKN itself stands for "Independent Professional Korean New Yorker." They provide products that will suit the lifestyle of a city woman who's always on-the-go.
Because the city is a jungle of pollution, their BB cream is formulated to repair, hydrate, and replenish your skin to combat the stressful environment. IPKN uses its BB technology to make your skin brighter and more radiant.
The formula includes Vitamin E that effectively heals and soothes your skin, and encourages the production of collagen to prevent signs of aging. It also has niacinamide, a brightening agent, and collagen and ceramide to provide hydration and wrinkle care.
The cream has a non-sticky, matte finish, which is great if you don't want to look like a freshly oiled frying pan. It also has a light to medium coverage, which is good enough to cover little imperfections like acne scars, dark spots, and eyebags. The best part about this cream? It has SPF 45, which is an amazing amount of protection against UV rays.
Your skin is in good hands with IPKN's BB cream, and you'll be prepared for the hustle and bustle of the city while looking fresh and radiant.
 This BB cream is great for dry, combination, oily, and acne-prone skin. 
Likes
Lightweight feeling on the skin
Moisturizing ingredients to prevent dry skin
Melts into the skin during application and blends easily
Effectively blurs your imperfections
Provides good medium coverage
Does not emphasize your dry patches
Strong UV protection with SPF45
Dislikes
Has a yellow or orange undertone
Only has five shades available
Contains fragrance
2. PURLISSE Perfect Glow BB Cream
Skincare is a sacred ritual in Asia, you won't believe how disciplined people are about their skincare routines. PURLISSE is a skincare brand that takes these generations-old rituals and recreates them with a high-tech and modern system. They use ingredients that are safe to the skin and takes care of it to maintain their youthful glow.
Their BB cream offers you an oil-free and moisturizing formula, with SPF30 to protect your skin from the harsh rays of the sun. The formula is hypoallergenic so it perfectly suits sensitive skin types!
It contains antioxidants like chamomile and artemisia to prevent signs of aging from appearing and sugar maple to brighten your skin, as well as moisturize it.
They offer multiple shades in pink, neutral, and yellow undertones so you can easily find a shade that blends well into your skin. The cream has a smooth texture and sheer coverage to cover those small imperfections.
 This is perfect for combination, sensitive, oily, and acne-prone skin. 
Likes
Hydrates the skin well
Doesn't cause breakouts
Vegan and cruelty-free
Lightweight formula but offers good coverage
Oil-free with a matte finish
Safe for sensitive skin
SPF30
Dislikes
Tends to be cakey when layering it on skin
Shades can be too white on the skin, depending on your skin tone
Defines dry patches, so it's best to use moisturizer beforehand
3. MIZON Snail Repair BB Cream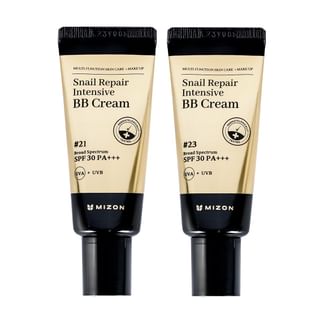 MIZON is a brand that's popular from their snail mucin-based skin products. Snail mucin has been a big hit in the skincare industry and MIZON is one of the best brands to get them from. Aside from snail mucin, they also incorporate hyaluronic acid and vitamin C in their formulas which give your skin many healing benefits.
Their BB cream is made of 45% snail extract to heal damaged skin and soothe inflammation. Snail extract also encourages the production of collagen, so your skin's elasticity will remain intact.
The formula contains adenosine and peptides which have anti-aging properties and firms the skin. It also has arbutin which can brighten the skin and take care of pigmentation.
The cream has a silky, elastic texture from the snail extract and you can feel your skin being nourished upon application.
 This is great for all skin types, but especially dry, combination, and acne-prone skin. 
Likes
No parabens or other harmful ingredients
Has healing properties
Hydrates and protects the skin from free radicals
Provides good coverage
Protects skin from UV rays with SPF32 PA+++
Dislikes
Doesn't last long on the face
Can easily be wiped off
Has a slight yellow undertone
More suited for fairer/lighter skin tones
Limited shade range
4. The Face Shop Face It Power Perfection BB Cream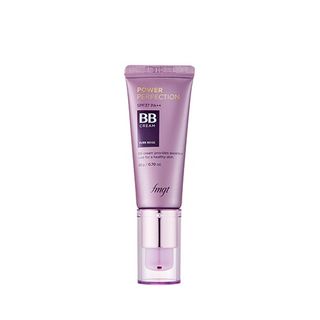 The Face Shop has a wide array of products ranging from lipsticks, nail polish, to face masks and moisturizing gels. BB creams are not an exception in their line of products, and they do not disappoint when it comes to providing effective and safe skin care.
Their BB cream has a generous SPF 37 PA++ formula that protects your skin from both UVA and UVB rays. Aside from sun protection, it has a great formula that contains omega-3 to make your skin supple and moisturized. They incorporated their Vita Skin Complex to boost the skin's collagen production and healing abilities.
The cream has perfect coverage, hence the name. It adheres well to your skin and is comfortable for long-lasting wear. It's lightweight on the skin but still covers your imperfections well and keeps your skin safe from the sun.
 This cream is best for oily, combination, acne-prone, and sensitive skin. 
Likes
Great medium coverage
Smooth application with a natural matte finish
The container offers a generous amount of product
Brightens skin
Perfectly blends in with your skin tone
Dislikes
Only has two shades
Contains fragrance
Does not provide enough moisture for dry skin types
Can emphasize dry patches
5. HOLIKA HOLIKA Aqua Petit Jelly BB
HOLIKA HOLIKA is a fun, quirky Korean beauty brand that has unique product designs that will surely catch your eye. They offer a long list of products that are designed both for men and women. Whether it's makeup or skincare—they've got just what you need to take care of your skin.
Their Jelly BB cream is an interesting product—it is water-based and is formulated with 80% mint water with a jelly texture. The formula moisturizes and freshens your skin with its fruit extracts and Alaskan glacial water. It's a great group of ingredients that have numerous skin benefits.
It is light on the skin and has a matte finish despite the jelly texture, and it moisturizes the skin well and gives it a plumper look. It has medium coverage and covers up blemishes pretty well.
And the packaging is super cute! It looks like a pudding cup and it looks good enough to eat (please don't eat BB cream). It is definitely different compared to other BB creams, but it ensures that the application is hygienic with its wand and puff that's included in the package.
 This is perfect for you if you have oily, combination, and acne-prone skin. 
Likes
Water-based formula
Unique, hygienic packaging
Has a cooling sensation on the skin from mint water
Covers up fine lines and imperfections well
Contains a generous amount of product
No greasy feeling
Affordable
SPF 20
Dislikes
Doesn't really last long on the skin
Has a yellow undertone
Has a strong minty scent
Only comes in two shades
Offers only a little bit of protection from UV rays
Can BB Creams Replace Foundations?
We've established that BB creams are considered to be both makeup products and skincare products. It's more of a skincare product because of the many benefits it has for the skin, but it acts as a very effective primer, foundation, and concealer, too!
Now, you're probably wondering: can I leave my makeup products and only use BB creams?
Technically, you can! You can do whatever you want, but what your skin needs is a different question.
It's very tempting to use an all-in-one product, especially if you're a busy person. But the easiest route is not always the best one.
If you're like me and you suffer from pesky acne scars that refuse to fade away, BB creams probably won't provide the coverage you need, so you can either apply concealer along with it or layer your foundation on top of your BB cream. This defeats the purpose of lessening your beauty routine, but you need to listen to your skin instead of succumbing to the temptation of convenience!
If your skin only has a few imperfections, and you don't need a high level of coverage, you can go ahead and use BB cream exclusively, instead of using three different products in the morning. Imagine all the time and effort you can save!
The many skin benefits of BB creams are good enough that you can excuse its very sheer coverage. And anyway, some brands have BB creams that can rival CC cream's coverage—so you always have that option.
The short answer is: yes. Let your skin breathe a bit and replace your regular foundation with a fresh BB cream that will provide your skin the special care it needs so you won't have to cover your imperfections!
Conclusion
BB creams are for sure the highlight of Korean skincare. Western brands have even produced their own BB creams. The influence of Korean products is unbelievable and that only proves their effectiveness.
Aren't BB creams great? I'm sure out of these five products, you can find one that works perfectly for you. These products are very versatile, so whatever skin type you have, they will probably work well for you.
But if you have sensitive skin or acne-prone skin, make sure to check the ingredients to see if there are any ingredients that will cause irritation or breakouts.
Have fun choosing a BB cream and have a nice skin day!