We all love seeing natural ingredients in our skincare products. It makes it easier to use on our skin when we know that it's 100% natural and organic. In this era of skincare, there are a number of ingredients that have been highlighted as holy grails for the skin.
One of those ingredients is the Centella Asiatica, also known as: Gotu kola, pennywort, or wild violet. It is a botanical herb that usually grows in temperate and tropical regions. It's an amazing antioxidant that can effectively protect the skin from free radicals and strengthen its barrier. It can even improve blood circulation in the skin and the production of collagen—therefore giving you healthier and hydrated skin.
Centella Asiatica has been praised for decades for its healing benefits. Asiaticoside and Madecassoside are ingredients derived from the Centella Asiatica plant and both have soothing and healing effects that are a godsend for sensitive skin. They can relieve inflammation, itching, burning, and can even solve skin problems such as: eczema, psoriasis, stretch marks, and acne scars.
This little plant certainly has a lot of promise. Now, let's see what the best Centella Asiatica products are!
The TOP 5 Centella Asiatica Products (in no particular order):
1. IOPE Derma Repair Cica Cream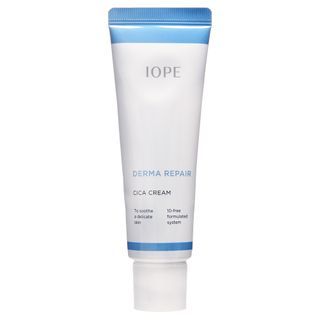 IOPE is a skincare brand that focuses on conducting research about skin and how to solve the many unique skin concerns of individuals. They offer products that are safe, natural, and designed specifically for sensitive skin.
Their Derma Repair Cica Cream is a rich cream that works great at treating damaged skin and, at the same time, moisturize it. It has three main ingredients: Madecassoside, panthenol, and cypress tree extract. These ingredients will soothe, repair, and strengthen your skin's barrier.
This cream's formula is mild and non-irritating and free from harmful chemicals! If you suffer from itchiness, redness, and acne scars—this is the cream for you!
It is a cream that can be used not only on your face but also on your hands and elbows, wherever you need it! Definitely, a useful thing to have in hand.
Suitable for all skin types, but especially sensitive and acne-prone skin.
Likes
Also works as a makeup primer
No fragrance and irritating effects
Hypoallergenic
Hydrating for all skin types
Dislikes
Oily skin types might find their skin feeling sticky during the daytime, so they can opt to use this cream only at nighttime
Expensive, and product can be easy to use up because of the small tube
2. Innisfree Bija Cica Balm
When it comes to South Korea, Jeju Island is like a paradise full of natural wonders. And that includes a smorgasbord of natural ingredients that are perfect for skincare products.
Innisfree is a Korean brand that offers products that use ingredients that are sourced from the magical Jeju Island. They aim to replicate the island's beauty through their products and create formulas that can bring out the skin's beauty and health without the use of harmful chemicals.
The two main ingredients of their Bija Cica Balm are Centella Asiatica and Bija seed oil—both from Jeju. These two ingredients are effective at supporting the skin's protective barrier and smoothening the texture.
This balm also doubles as a moisturizer or spot treatment. Depending on your preference, you can use this daily as your moisturizer, or apply to your problem areas in order to treat them.
Great for all skin types, but especially combination and sensitive skin.
Likes
Ingredients are 100% natural
The high concentration of Centella Asiatica ensures your skin's protection
Does not break out acne-prone skin
Hydrates oily skin without making the skin sticky
Dislikes
Dry skin types will need more hydration after using this balm
Pricey for only a 40ml tube
3. Purito Centella Green Level Buffet Serum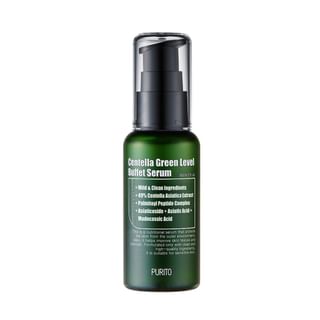 Purito is a Korean skincare brand that gives importance to going back to your roots—which means restoring the skin to its natural and healthy condition. This brand is vegan and cruelty-free, making you feel better about helping the environment in your own little way.
Their serum is made of 49% Centella Asiatica extract, Peptide, Niacinamide, and Panthenol. All of these ingredients work to soothe and repair skin damage and also to prevent early skin aging.
The high concentration of Centella Asiatica and other acids results in a better healing effect. The mixture of antioxidants and anti-inflammatory ingredients make this serum an amazing product with equally amazing benefits.
This serum is great for acne-prone, combination, dry, and oily skin.
Likes
It comes in a generous 60ml bottle that is also travel-friendly
Upon application, the skin may feel sticky but it goes away after the serum absorbs into the skin
Significantly helps with redness and other pigmentation
Vegan and cruelty-free
Formula is light but still protects the skin barrier effectively
Dislikes
Expensive
There is an herbal scent that might irritate sensitive skin
Effects aren't noticeable straight away and it may take weeks to notice changes
4. IUNIK Centella Bubble Cleansing Foam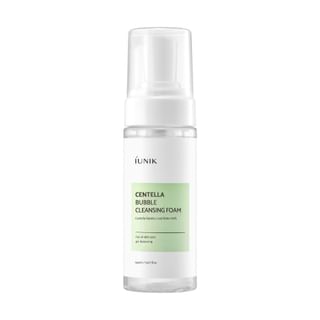 IUNIK is a delightful skincare brand that makes simplicity and minimalism a priority. Their products are all-natural and straightforward—there are no complications with their products, they offer simple, skin-friendly products with no harmful ingredients!
Their Centella cleansing foam is made of 69% Centella Asiatica extract water—which is a generous amount. This is great considering that it is a foaming cleanser. It won't dry out your skin, instead, it will protect your skin from environmental damage and keep it healthy and clear.
Your skin will be clean, healthy, and moisturized even though you're still at the cleansing step of your skincare regime.
Perfect for all skin types, but especially acne-prone, combination, and oily skin.
Likes
The formula is light enough that you can use it for double-cleansing
The foam doesn't strip the skin's natural oils
Safe for people with fungal acne
Dislikes
The product is very easy to use up, especially when you need two pumps every wash
There's a mild fragrance that some people might not like
5. Etude House Soon Jung pH 5.5 Relief Toner
Etude House is one of the powerhouses of the Korean skincare industry. Everyone and their mothers, grandmothers, and even great-grandmothers, know Etude House. Their pink branding and colorful products are all eye-catching, it's impossible to ignore them!
Etude House's Soon Jung line is designed specifically for sensitive skin types. With a low pH level, their toner is not likely to trigger any irritation on your skin. Its two main ingredients are Madecassoside and Panthenol—the best ingredients to soothe sensitive skin and keep it hydrated.
The toner's formula is very mild and simple, with no fragrance, alcohol, and harmful chemicals. Its watery texture is enough to instantly cool down your skin.
To apply this product to your face, you can either pour the liquid into your hands and gently pat it on your skin, or you can use a cotton pad to swipe the product all over your face. You can even soak some cotton with the liquid and leave it on your problem areas to relieve redness or irritation.
This toner is best for all skin types, especially sensitive skin!
Likes
Does not irritate the skin
Balances skin pH
Has three different bottle sizes
Mild but hydrating formula
Suits all skin types
Dislikes
Some skin types might need to layer some moisturizer if the hydration is not enough
It's just a simple, basic toner
Is Centella Asiatica a Miracle Ingredient?
There is no doubt that Centella Asiatica is an amazing plant with countless benefits and powerful healing effects. But is it good enough to be called a miracle ingredient?
Hundreds of herbs are used these days to concoct skincare products. Each has its own unique skin benefits, but most of them have similar effects. Centella Asiatica is not the only herb with healing abilities.
A popular plant that is widely known for its soothing and healing effects is the Aloe Vera. It's a flexible ingredient that can be ingested and used topically. Research has proven that it's an effective and safe solution for people who suffer from psoriasis. Many people swear on the magical benefits of the aloe vera—and most would call it their holy grail product. It's definitely one of the top natural ingredients in the skincare world.
Another plant that can alleviate skin irritation is the Calendula. Also known as pot marigold, it has been used for traditional medicine for centuries. With its bright yellow and orange colors, it looks like a magical golden flower that can keep you young and beautiful forever. But, fairytale references aside, it's a powerful antioxidant that can help protect the skin from sun damage, with compounds that can improve skin texture and remove signs of aging.
There are hundreds of ingredients that are hugely beneficial to the skin. However, that doesn't make the Centella Asiatica just another basic herb. Its benefits are nothing to scoff at, and it has earned its place as one of the most helpful healing ingredients in the market. It may not solve ALL of your skin problems, but it's sure to alleviate most of your issues.
Conclusion
It's a difficult task hunting for skincare products that can suit extremely sensitive skin. Just one small ingredient can give you a bad reaction, and you're left to deal with the mess of irritated skin.
That is why ingredients like the Centella Asiatica is a godsend. There's no such thing as having too many products for sensitive skin. In fact, it would be great if all products can be as soothing as the wonderful Centella Asiatica.
If your skin type is sensitive, I sincerely hope you found a holy grail product in this shortlist. I wish you a hassle-free and positive skincare journey!