Sometimes, when we have problems, we cannot fix them right away. And the only thing we can do is sleep on it and hope that it will get better the next day.
This philosophy also applies to skincare. When we suddenly get an unpleasant surprise in the form of a breakout and irritation, not only do we sleep on it—we put on a night cream and let it do its magic overnight!
Some creams are too heavy to use during the day. And, because of this, people usually tend to use heavier creams at night and light gel creams in the morning. After all, you wouldn't want to layer your makeup over heavy cream. That would be a greasy, oily mess!
Now back to night creams—they are absolute lifesavers for most members of the skincare community. Whether you have a terrible breakout, dull skin, dry skin, or irritated skin, all your problems will be gone overnight with the perfect night cream! That's the magic of night creams!
Korea has hundreds of night creams that you can choose from, but we have compiled some of the best night creams that you can buy. Read on to find out more about them!
The TOP 5 Korean Night Cream (in no particular order):
1. INNISFREE Youth-Enriched Cream
INNISFREE is one of Korea's top skincare brands for a good reason! They offer a super wide variety of products that address almost all the skin problems you could ever think of, and they are very affordable, too!
Their night cream Youth-Enriched Cream is a cream that is rich and full of peptides and infused with Jeju orchid and natural hyaluronic acid that will give your skin a youthful glow and lessen the appearance of aging.
Before wrinkles and fine lines could even think of showing up on your skin, this cream will go straight to work and target them, all the while hydrating your skin with its nourishing ingredients. Your skin will be firm, bouncy, and balanced with this wonderful cream!
Antioxidant-rich orchid from Jeju Island is only one of the many beneficial ingredients in this night cream. This ingredient is specially known on the island as a highly effective solution to remove signs of aging!
Orchidelixir 2.0™ is a special extraction technique by INNISFREE where they incorporate the entire Jeju orchid into their formulas—from root to petal. This makes the formula potent and more effective when infused into the product. The Jeju Orchid is a special flower that blooms even in the snow, and as a result, it has near-magical antioxidant properties that help with your problem with signs of aging.
This cream's formula also includes hyaluronic acid and peptides, both widely known in the skincare community as some of the best ingredients to put on your skin. One is a strong hydrator, and one balances the skin.
This cream is a 5-in-1 anti-aging solution because of its many benefits. It balances the skin, hydrates it, nourishes it, firms it, and softens it. Those are pretty good benefits if you ask me!
All in all, this night cream is amazing, and it would not hurt for you to try it out at least once.
 This is perfect for dry, dull, sensitive, and combination skin types. 
Likes
Plumps and softens skin
Free from alcohol
Helps with redness and irritation
Results in radiant skin in the morning
Firms and tightens skin texture
Safe for those with fungal acne
Dislikes
Has a strong scent
Fragrance can potentially cause irritation
A little expensive for a night cream
A little too heavy for oily skin
2. Etude House Moistfull Collagen Cream
If you have not heard of Etude House, what exactly are you doing? It is one of the top brands in Korea and is known worldwide for its adorable packaging and highly effective skin formulas. They offer both skincare products and makeup products. They are also represented by many Korean celebrities, which attracts many consumers.
But they're not famous for nothing. Their products speak for themselves. For example, their Moistfull Collagen Cream is one of their best products. The formula contains little particles that burst onto your skin upon application, making it firm, hydrated, and plump. It's a fun experience!
The main ingredient is collagen which is excellent for dry, dull, and aged skin. It is the best ingredient for when you have trouble with dryness and signs of aging.
This cream has a light, gel-like texture that is very easy to apply and is made up of 63% Super Collagen Water. This lightweight formula makes it easier for it to absorb into your skin and give it the moisture that will last until the next day!
When you apply this cream at night, it will feel refreshing and soothing—and once you wake up, you will see that your skin is super hydrated and fresh and supple. You will look younger and radiant than ever!
This cream is a 2-in-1 product: the Super Collagen Water provides your skin with the hydration it needs to make it dewy and moisturized, while White Lupin that contains seed-derived protein, keeps the moisture in your skin for a long amount of time.
Another amazing thing about this cream is that it features 30% Pure Marine-derived Hydrolyzed Collagen and extracts from the Baobab tree. If you don't know, the Baobab tree is dubbed the "Tree of Life" because of its intense hydrating effects on the skin. I don't know about you, but I trust this tree wholeheartedly with my skin. It's called the Tree of Life for a reason!
 This cream is lovely and is perfect for dry and combination skin types. 
Likes
Absorbs beautifully into the skin
One jar of product lasts a long time
Can also be used in the daytime
Has a plumping and radiant effect on skin
Does not cause breakouts
Softens and smoothens skin
Dislikes
Has a strong scent that some people might not like
Does not layer well with other products
Fragrance might cause irritation
3. LANEIGE Water Sleeping Mask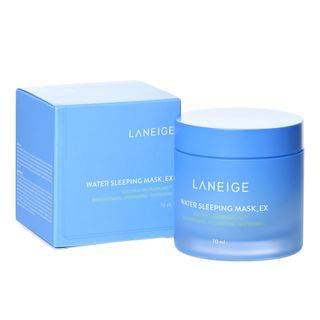 LANEIGE is a luxurious skincare brand that offers top-quality products that specifically target skin dryness. Their products are specifically for dry skin, and they are very well-known for that.
Their Water Sleeping Mask is an overnight get cream that recharges the moisture in your skin, absorbs it into your skin overnight, and deeply hydrates it. It is formulated with a potent Hydro Ionized Mineral Water that delivers a high dosage of moisture into your skin to moisturize and freshen it greatly.
It sounds like a refreshing splash of water onto your skin on a hot summer's day!
LANEIGE's Calming Sleepscent™, orange flower infusion, rose, and sandalwood extracts exude a pleasant and soothing scent that won't overwhelm your nose. This cream also has apricot and evening primrose extracts which contribute to its lovely scent while visibly brightening and revitalizing your skin.
With this highly hydrating night mask, your skin will look and feel bright and radiant, and soft. As you sleep, the formula will work its way into your skin, and you will wake up with soft, refreshed, and glowing skin! LANEIGE's MOISTURE WRAP™ helps a lot in the process by helping to keep the moisture in your skin all throughout the night. This is exactly what you'd expect from a brand that focuses on hydrating!
This mask is lightweight and oil-free and can be used every day. It sinks and absorbs into the skin without a sticky, tacky feeling and even puts up a barrier around your skin to avoid pollutants from penetrating it overnight.
It works even when you have not had a good night's sleep for weeks. Just put on this overnight mask, and in the morning, you will look so radiant and fresh that everyone will think you've slept wonderfully.
Aside from plant extracts, this overnight mask also includes sodium hyaluronate and beta-glucan. Sodium hyaluronate is a popular hydrating ingredient that is a staple for moisturizing products, and beta-glucan helps with redness and irritation by calming down the skin. It is a natural antioxidant and highly benefits skin that is easily irritated.
This night cream comes in a jar that includes a spatula for hygienic purposes, which is a bonus in my book!
 This mask is suitable for all skin types. 
Likes
No sticky, heavy feeling
Does not cause breakouts
Cooling and calming effect
Silky texture that absorbs well into skin
Supple and smooth skin in the morning
Controls oiliness
Dislikes
Contains fragrances that can potentially irritate skin
A bit on the pricey side
Too heavy for morning use
4. Seoul Ceuticals Snail Repair Cream
Another favorite of skincare enthusiasts is Seoul Ceuticals' Snail Repair. So many people have praised this cream because of its luxurious texture and high concentration of snail mucin. It contains a whopping 97.5% of snail mucin, which is a lot compared to other snail products in the market.
This cream is good at moisturizing and healing the skin, and it contains a lot of great ingredients for the skin—shea butter, jojoba oil, aloe, vitamin E, and many more!
It is non-comedogenic, so you won't have to worry about breakouts. Not to mention, the snail mucin extract's healing properties will take care of signs of aging and acne scars. It's the perfect cream for all skin types!
It is an all-in-one treatment cream that will hydrate the skin by boosting collagen production, protect the skin from external stressors, soothe and relax the skin, and help heal damaged skin cells and restore the hydration of parched skin. You can definitely use it to treat your skin's dryness, signs of aging, acne scars and stretch marks, and even rosacea. It's an excellent healing treatment, and it works overnight to make your skin better and healthier.
To top off its amazing skin-healing and beautifying properties—it also has over 3,000 5-star reviews on Amazon with people praising the cream's skin-healing prowess and proclaiming the night cream as their holy grail skincare product. If that does not scream perfect, then I don't know what is!
 This snail repair cream is perfect for all skin types, so you don't have to worry about it not being compatible for your skin. 
Likes
Contains a high concentration of snail mucin
Brings out brighter, healthier, and younger skin
Cruelty-free
Uses organic ingredients
Non-comedogenic
Non-sticky formula
Dislikes
The stickiness of the snail mucin will take some time to get used to
5. MAMONDE Rose Water Gel Cream
When you think about beauty, one of the first things that come to mind is the rose. It is one of the most beautiful flowers in the world and is usually used to symbolize love and affection. It is a popular choice for birthday and Valentines' gifts.
MAMONDE takes advantage of this by making it their key ingredient in their Rose Water Gel Cream. They have made a refreshing rose cream that is highly effective in soothing the skin with its high concentration of rose water and at the same time moisturizing the skin.
MAMONDE does not use just any normal rose water. They use the special Bulgarian Damask roses specially grown in the morning dew that gives it the ability to deliver calming and moisturizing effects to the skin. It is a super luxurious experience, and you can feel your skin becoming as smooth and hydrated as a rose's petals.
The Damask rose has been adored by many people because of its beautiful appearance and fragrance and applying that to a skincare product is a genius way of incorporating its beauty into the skin. The fact that it is one of the best types of roses globally makes it more special and enticing.
This gel-cream with the Bulgarian Damask rose extracts is super lightweight and does not feel sticky on the skin. It soothes and calms dry and irritated skin and keeps its hydration intact. With its healing properties, your skin's texture will be nice and smooth and hydrated—just like the rose.
Its high concentration of 68.7% Damask rose water makes it a potent solution to your skin problems. This allows its anti-inflammatory, antioxidant, and hydrating effects to be extra beneficial to the skin.
 This lovely rosewater gel cream is perfect for dry, combination, and oily skin. 
Likes
Vegan
Rich in antioxidants
Absorbs quickly into the skin without stickiness
Lightweight
Lovely rose scent
Soothes and purifies the skin
Dislikes
The scent can be to overpowering
The flower extracts might cause irritation
Day Creams VS. Night Creams, what's the difference?
There are tons of creams available for you in the skincare market, so it is not easy to just randomly pick one and call it a day or night. You have to consider how and when you'll use the cream.
There are creams that you can only use during daytime and creams that are specifically made for nighttime.
Now, day creams are usually lightweight and easy to layer on. Because most people use makeup or sunscreen in the morning, day creams should be light enough to allow the other products to stay on your skin.
Meanwhile, night creams are typically heavier in texture. You don't usually have a lot to do during the night, which means the skin is less likely to be exposed to pollution. Night creams are the perfect last step to your nighttime skincare routine because they are soothing to the skin and work to improve your skin while you sleep.
Both creams are different in their usage, but it is usually recommended that you have both of them. However, if you are usually in a hurry in the morning, you can skip out on the day cream and settle for a night cream instead. When you are busy in the morning and the rest of the day, applying night cream to your skin is the perfect way to end your day.
But if you have plenty of time to prepare yourself in the morning, you can most certainly use both day and night creams.
It ultimately depends on how much time you have in the day for skincare. If you have the time and luxury to apply day cream, go ahead! But if not, there are always night creams to make up for the stress and exposure you've had during the day.
Conclusion
There you go—these are the night creams you should look out for when browsing through websites and skincare aisles. We guarantee that one of these will be your holy grail night cream.
Even if your skincare routine does not consist of ten different products, a night cream is usually recommended if you want to wake up to bright, plump, and radiant skin. You would not believe your eyes until you have tried one.
Experience the wonders of night creams and prepare to be amazed by the results.
Hopefully, you enjoyed this article and as always, have a happy skin day!