Cleansing is the most important step in your skincare routine. Whatever skin type you have, it is necessary that you cleanse your skin every day to avoid the accumulation of dirt on your face.
It's a great thing that cleansers come in all shapes and forms. There are endless choices of cleansers that you can browse through to make sure your skin is clean and well-taken care of.
We all know about the popular foaming cleansers, but cleansing balms are slowly rising up the ranks as the best kind of cleanser. Cleansing balms penetrates the skin deeply and cleanses your pores without stripping the natural oils of your skin.
These solid balms are oil-based, and they melt into the skin when applied. The oil is amazing at removing dirt from the skin—even heavy makeup and sunscreen! There are some cleansing balms that can do everything. They can remove makeup, cleanse the skin, moisturize, and even exfoliate.
And despite being made from oil, they are actually perfect for acne-prone and oily skin! Cleansing balms truly are amazing products, and you really must try them out at least once in your life.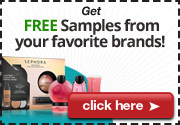 Check out the Best Korean Cleansing Balms in the market:
The TOP 5 Korean Cleansing Balms (in no particular order):
1. Banila Co. Clean it Zero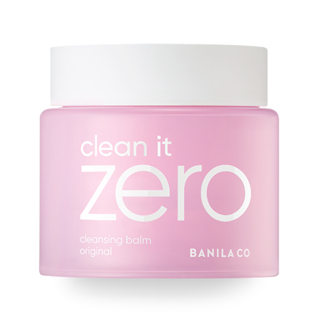 This is by far the most popular cleansing balm in the market. I'm pretty sure you've seen it while browsing for skincare products. It has a distinct minimalist design that Banila Co. is known for. The brand makes products specifically designed to act as a good base for makeup.
Makeup puts a lot of stress on the skin, especially if you use it every day, so having an entire line of skincare products perfect for priming the skin is a godsend!
Their widely-known Clean It Zero cleansing balm has been praised left and right for its buttery texture and how easily it glides on the skin when applied. Cleansing balms are great for removing makeup, and this one definitely does the job well.
The balm is formulated with papaya extract that is rich in vitamin C, therefore naturally exfoliating the skin as well as brightening it.
This balm is best suited for dry and sensitive skin types.

Likes
No scent
Comes in two jar sizes
Has a brightening effect on the skin
Dislikes
Can be a bit too oily if you have oily skin
Plain water is not enough to wash the product off
2. Hanskin Pore Cleansing Balm
BB creams are very well-known in the skincare and makeup industry. But not many people know about what and who started the BB cream rage. Well, it was the Hanskin K-beauty brand. They produced the first BB cream way back before you even knew about it, and they're the reason why it took over the beauty world. Very cool, huh?
Now, they have more products to offer aside from BB creams. They have their Pore Cleansing Balm that contains PHA or polyhydroxy acids—a chemical exfoliant—that exfoliates the skin gently.
Their formula includes plant-based oils such as: olive oil and evening primrose oil, both are great at conditioning the skin. And the Gluconolactone, the source of PHA in this product, can effectively bring out brighter, fresher skin cells and hydrate the skin at the same time.
Despite the chemical exfoliant found in this product, it is still gentle enough for sensitive skin to use! PHAs are the mildest of chemical exfoliants, and it has the lowest risk of irritation.
This is a great product if you're also looking for a mild exfoliant!

The Hanskin Pore Cleansing Balm is suited for acne-prone, sensitive, and combination skin.
Likes
Helps maintain the skin's natural hydration
Cleanses pores
Easy to wash off
Fades acne scars and improves the texture of the skin
Dislikes
Eyes are sensitive to the formula
Contains essential oils that might irritate some skin types
3. Then I Met You Living Cleansing Balm
Then I Met You is a brand that strives to form a deep connection with their customers through their products. They bring so much love and care into their formulas in hopes that everyone who uses their products will have a life-changing experience and gain inspiration about the beauty that lies within.
Their beliefs are indeed very inspiring, and you can definitely see from their line of products that they put consideration and care into every one of them.
Their cleansing balm is one of those products. This balm is designed to nourish the skin with its richness in antioxidants, fatty acids, and vitamin E. Its ingredients are full of fruit-based oils that effectively cleanses and softens skin.
Just one look at its bright orange color gives you the impression that you're putting something luxurious and rich on your skin. The color is from the lycopene and carotenoids that can be found in the ingredients. Carotenoids protect the skin from environmental damage, especially from the harmful rays of the sun.

Your skin will feel cared for and beautiful with this pretty little product.
Best suited for dry, combination, oily, and acne-prone skin.
Likes
A little bit of product goes a long way
Cleanses skin thoroughly and removes all dirt
The texture is like rich butter and melts pleasantly on the skin
Brightens skin immediately after use
Dislikes
A bit on the pricier side
Contains essential oils that are not suited for sensitive skin
4. Beauty of Joseon Radiance Cleansing Balm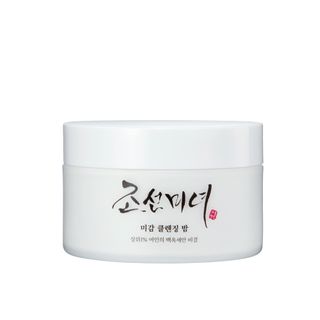 Beauty of Joseon is a Korean skincare brand that has a traditional approach to skincare. Their brand name is inspired by the Joseon women from history who were a part of the upper-class society and had luxurious lifestyles.
They use only natural Korean medicinal herbs in their products, staying true to their beliefs. Traditional ingredients are usually very trustworthy because they have survived generations of use and are proven to be most effective.

Their cleansing balm is formulated with rice water and fermented grains, both are great at brightening the skin and hydrating the skin. It also has Chrysanthemum extract that can soothe your skin from redness and can even protect it from free radicals.
This product is free from any harmful ingredients, so sensitive skin types can confidently use this on their skin. It has a creamier texture compared to other balms, so it glides easily on your skin. The texture and natural ingredients will make your skin feel like royalty!
This balm is great for sensitive, dry, and combination skin.
Likes
Great natural ingredients
Gives your skin a beautiful, healthy glow
Suitable for sensitive skin
Dislikes
5. Glow Recipe Papaya Sorbet Smoothing Enzyme Cleansing Balm
The Glow Recipe brand believes that skincare should be a fun and enjoyable experience for everyone. Their products are all fruit-derived and designed to bring out the beautiful glow from within the skin. You can see from their line of colorful and unique products that they really do make skincare a fun activity!
Their Papaya Sorbet Smoothing Enzyme Cleansing Balm leaves your tongue all twisted. What a long name for a cleansing balm! But what you read is exactly what you get with this product.
Its main ingredients are papaya enzymes and seed oil that work to smoothen and soothe your skin and keep its hydration. It also has blueberry extract, which has skin-protecting benefits.
This product ensures that your skin is smooth, bright, and healthy. What great benefits! The fun color of the tub and the nice fruity smell are just bonuses to the balm's amazing skin benefits.
This cleansing balm is perfect for all skin types, especially dry and combination skin.
Likes
Leaves skin soft, smooth, bright, and clean
Amazing safe and natural ingredients
Purifies pores
Has a silky oil texture when applied to the skin
Dislikes
Fruity smell might not be appealing to some people
The product is very difficult to wash off
Removes make up well except for mascara and eyeliner
Do You Have to Double Cleanse When Using Cleansing Balms?
Sometimes, even the best cleanser is not enough to really clean your skin. Keep in mind that everyone has unique skin, and some skin types require more cleansing.
Double cleansing is usually done with a regular cleanser and an oil-based one. Massaging an oil-based cleanser into your skin will loosen the dirt that has accumulated throughout the day. Followed by a regular water-based cleanser, all of the dirt gathered will be washed away easily.
Recommend reading: Cleansing Balm VS Oil
This cleansing method is to make sure that your skin is 100% free from dirt and is clear enough so that the rest of your skincare regime will go smoothly.
Makeup
If you regularly use makeup, it is recommended that you double cleanse to make sure that all traces of the beauty products are removed from your skin. Makeup formulas, especially the waterproof ones, are very stubborn, and a regular foam cleanser can't possibly clean it all off. That includes some sunscreen products, too.
Oil-based cleansers, like cleansing balms, are very effective at removing stubborn makeup and sunscreen. The oil will break down the product and make it easier for your second cleanser to wash off the remaining residue.
It's so annoying when you use a toner after cleansing and see some makeup stains on the cotton pad. I definitely understand the struggle, and that's why double cleansing is so important!
Always make sure your skin is completely clear of dirt to avoid clogged pores. Double cleanse when you wear makeup on a daily basis, your skin will thank you for it.
Acne
Acne-prone skin requires extra care when it comes to cleansing. Harsh cleansers might irritate your acne and worsen your condition, thus, causing more acne to pop up. It becomes a vicious and painful cycle if you're not using the right kind of cleanser.
It is recommended that you use hypoallergenic and non-comedogenic products if you are prone to acne. Acne products usually include strong acids like salicylic acid and benzoyl peroxide, so you might want something that will clear your acne and soothe your skin at the same time.
Double cleansing is great for every skin type, but it all depends on which products you use.
If you have acne-prone skin, choose gentle cleansers if you plan on double cleansing to avoid aggravating your acne.
Conclusion
The importance of cleansers cannot be ignored. It doesn't matter what kind of cleanser you use, as long as you use one that keeps your skin clean and healthy.
Cleansing balms do their job pretty well. In fact, they might offer more benefits compared to the more popular foam cleansers. They remove waterproof makeup easily and even have hydrating effects on the skin. That's a winner for me!
The items listed in this article are just some of the best Korean cleansing balms. Don't be afraid to try them out. Find one that suits your skin type, and you too can experience the luxurious effects of cleansing balms.
I hope this article helped, and I wish you beautiful, clear, and glowing skin!