Vitamin C—probably the most well-known vitamin on the planet. Most of the time, it can be found in fruits and vegetables (if you have a healthy diet, that is), but in the skincare world, it is usually found in serums.
Serums come in a variety of formulas and can tackle specific skin issues, such as: acne scars, dark spots, skin dehydration, eczema, and many more. It usually contains active ingredients, so it is applied immediately after cleansing for maximum effectiveness, followed by a moisturizer.
Now, we were all taught in school about how important vitamin C is. Our body—and skin—need it as protection from environmental damage. It is an antioxidant and helps lessen the signs of aging by encouraging the production of melanin and collagen.
Contrary to popular belief, our body does not naturally produce vitamin C. This is why we are encouraged to take supplements in order to get a healthy dose of vitamin C.
And what better way is there to reap the benefits of vitamin C than to add it to your skincare regime?
Here are the best Korean Vitamin C Serums!
The TOP 5 Korean Vitamin C Serum (in no particular order):
1. SKINFOOD Peach Sake Pore Serum
SKINFOOD is a Korean skincare brand that revolves its belief around food. Their products nourish the skin the same way food nourishes the body. They use only the best food ingredients to ensure that our skin is at its optimal beauty and health.
Their Peach Sake Pore Serum is made up of—wait for it—Peach extract and sake or rice wine. The name is very straightforward with its ingredients, but what most people don't know is that these two ingredients are effective at minimizing the appearance of pores and even controls the production of oil on the skin.
The formula also has silica powder, which helps absorbs sebum that might cause acne to pop up. This serum is stocked full of benefits because it combines vitamins C with many other ingredients that are great for the skin.
 This serum is perfect for oily, combination, acne-prone, and sensitive skin types. 
Likes
Its ingredients give many benefits to the skin
Nice, clean packaging
Suits all skin types
Helps with acne
Dislikes
Doesn't have a hydrating effect on the skin, so dry skin might need to layer with a good moisturizer
2. PURITO Pure Vitamin C Serum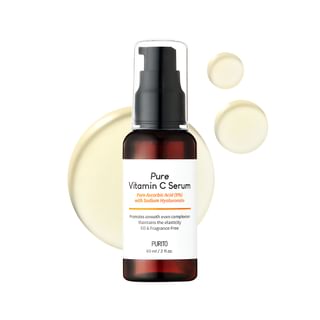 PURITO is another Korean skincare brand that provides natural ingredients and encourages healthy, beautiful skin. Their motto is "Back to Basics"—a healthy tree has healthy roots. The same goes for skin!
Their Vitamin C serum is made of pure ascorbic acid that and is sure to brighten your skin, say goodbye to those annoying dark spots and acne scars. This will also relax and rejuvenate your skin, resulting in a more youthful look.
Its formula includes red ginseng extract that will brighten and firm the skin, and also hyaluronic acid, which is always good to have to ensure your skin's hydration. This formula is great for the skin—it brightens, soothes, and even hydrates!
 This serum best suits dry, sensitive, dull, and combination skin. 
Likes
No fragrance
Non-sticky formula
Moisturizes skin
Effectively refreshes skin
Dislikes
The formula can be a little heavy, which is not suitable for oily skin
This serum can be unpleasant if you live in a humid area and can feel very sticky
3. KLAIRS Freshly Juiced Vitamin Drop Serum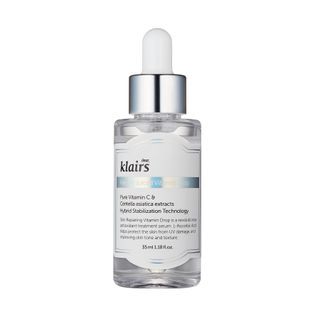 Klairs is a popular skincare brand that prides itself on their simple but highly effective products. Their formulas are designed to suit sensitive skin and they include only natural and necessary ingredients.
The vitamin C used in their serum comes from grape and Yuja extracts and is formulated with Centella Asiatica and Scutellaria baicalensis root extract to combat the ascorbic acid and avoid irritation.
It also includes some hydrating ingredients. And since it contains only 5% ascorbic acid, sensitive skin types will have no trouble handling it. This serum is gentle enough that you can use it every day without worrying about putting too much on your face.
 Perfect for combination, dry, oily, and sensitive skin. 
Likes
Non-oily formula
All-natural ingredients
It has hydrating effects as well as soothing effects
Gentle on the skin
Dislikes
It contains essential oils that might not suit some skin types and can trigger a bad reaction
4. It's SKIN Power 10 Formula VC Effector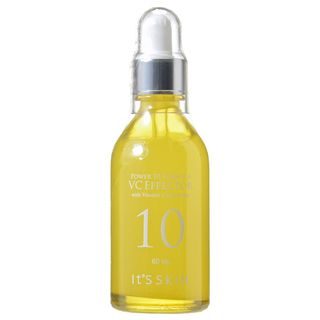 It's SKIN isn't as popular as the big names in the skincare industry but they do offer products that target specific skin problems. They conduct research to create the perfect formula using a variety of ingredients that is sure to suit all skin types.
Their vitamin C serum is only one of their many serums, so make sure to check out the entire line!
The serum is formulated with vitamin C and green tea extracts. The vitamin C helps with dark spots and acne scars, while the green tea extract soothes and refreshes the skin. Both ingredients are antioxidants and are sure to protect your skin from free radicals.
This is gentle enough for sensitive skin, which is good news! The formulation results in firm and smooth skin, giving you a nice, dewy effect. One step closer to glass skin!
 This is suited for acne-prone, combination, dry, and sensitive skin. 
Likes
Smoothens skin
Improves your complexion
Alcohol-free
The bottle has a measuring scale so you can keep track of how much product you've used
Affordable
Dislikes
There's a mild citrus scent that some might find unpleasant
It has a thick consistency, so it's best to just use it at night to avoid it feeling sticky
5. IOPE The Vitamin C23
IOPE's brand relies on its thorough research on skincare so they can provide the best solution for all the different skin problems. They consider themselves a "lab-based functional skin care brand."
Their C23 serum or ampoule is a powerful anti-aging product that also takes care of freckles, dark spots, and hyperpigmentation. It has a whopping 23% concentration of pure ascorbic acid, and it's formulated with vitamin E and retinol that will protect the skin's barrier.
IOPE boasts their Dual VitaC Formula™ in this serum, and the mixture of ingredients results in bright and supple skin. This formula is recommended for people in their 20s or 30s.
 This serum best suits combination, oily, acne-prone, and acne-prone skin. 
Likes
Improves skin texture
Lightweight formula
A high concentration of ascorbic acid
Multivitamin formula
Dislikes
The high concentration of vitamin C makes the product oxidize quickly if not stored properly
What You Should Know Before Using a Vitamin C Serum
Serums are highly beneficial to the skin, and I encourage you to add it to your skincare regime. When it comes to vitamin C, it is so much more effective to apply it topically to maximize its effects.
They usually come in a bottle with either a pump or a dropper. But whatever packaging it has—the issue still stands that vitamin C oxidizes very quickly. If it's not stored properly in a dark, cool area, it will go bad before you can even see its effects on your skin! This is the hassle when it comes to serums, but what can you do?
There are two major things you need to know before applying serums on your face:
Skin Sensitivity
Because it helps the skin heal and stays healthy, there's usually a high concentration of ascorbic acid in serums. Formulas with high acidity might irritate sensitive skin types, so it is best to do a patch test first before applying it to your face.
Even if you don't have a sensitive skin type, it is never a bad idea to do a skin test before using potent serums. There are many vitamin C products in the market with a higher concentration than normal, and you don't want to burn your skin accidentally. If your skin responds well to the product, always apply moisturizer or sunscreen afterward if you plan on going out because the formula does tend to make the skin a little sensitive!
You might feel a slight tingling sensation when you first use a vitamin C serum, but that's normal, and your skin will eventually build up a tolerance to the product, and the tingling feeling will go away. Apply only a thin layer at first, and you can build it up as your skin gets used to it.
If the stinging or tingling feeling doesn't go away, you might have to find one that has a lower percentage of ascorbic acid.
Compatibility with Other Products/Ingredients
There is quite the confusion with vitamin C and its compatibility with other ingredients or products.
It's a popular belief that vitamin C cannot be used together with niacinamide and retinol. But there are actually many skincare products that mix them together!
Vitamin C helps brighten the skin and fades dark spots and acne scars; niacinamide is a powerful ingredient that has anti-aging effects; and retinol encourages the production of newer, fresher skin cells.
Indeed, the benefits of vitamin C will increase when mixed with either niacinamide or retinol. It's been proven that they do not cancel each other's effects on the skin.
In the case of niacinamide and vitamin C, you can layer them on your face because both have different pH levels to ensure their effectiveness. Vitamin C is effective when its pH level is low, whereas niacinamide works better with a higher pH level. Therefore, layering them is way more beneficial than using a product that has them already mixed together.
With retinol and vitamin C, both are safe to use together. They do not cancel each other's effects—rather, they stabilize their formulas. HOWEVER, just because their effects aren't canceled out doesn't mean that your skin will react positively.
There is a high chance that retinol and vitamin C applied at the same time will irritate the skin. So, you can opt to use one in the morning and the other at night so your skin won't be overloaded with actives.
Conclusion
Trying to understand active ingredients and how to use them on your skin is like trying to solve an extremely complicated algebraic equation. Doing the research is overwhelming, and honestly, I feel like I'm back in chemistry class. The horror!
But if I'm being honest, I'd gladly study chemistry again just so I'll know which ingredients are the best for my face. Knowing what you're putting on your face really pays off, and you can see the results in the mirror!
Don't be afraid of using vitamin C in your skincare regime—the overload of information regarding active ingredients can be intimidating, but your skin will thank you for your efforts and give you the beautiful glow you deserve.
Hopefully, this article helped you pick the perfect vitamin C serum and answered your questions revolving around active ingredients.
Always remember, a beautiful and happy skin is a healthy skin!