I cannot emphasize enough the importance of sunscreen in your skincare routine. We live in a wonderful age where skincare products are also infused with SPF, so we can have clear, smooth skin, that can withstand the terrors of harmful sun rays.
Japanese sunscreens are notable for their lightweight formulas and amazing skin benefits. They utilize physical and chemical filters so well and produce products that can suit almost all skin types!
Before we get to talking about the actual products, let us familiarize ourselves with the two types of sunscreens—ones with physical filters and ones with chemical filters.
Physical sunscreens, also known as mineral sunscreens, shield the skin from harmful UV rays by reflecting them and keeping them from getting into the skin. It's like a protective bubble that covers your skin.
Chemical sunscreens, on the other hand, work by absorbing the rays and keeping it from penetrating the skin and damaging skin cells. It sort of reminds you of a laser beam that guards your skin against the sun.
Now, that we know more about sunscreens, let's see Japan's BEST sunscreen products!
The TOP 5 Japanese Sunscreen (in no particular order):
1. Bioré UV Aqua Rich Watery Essence Sunscreen
Bioré is one of the most popular Japanese skincare brands in the market. It is owned by KAO Corporation and they strictly follow Japan's philosophy of beauty—long-lasting functionality and simplicity. The company strives to give everyone the best skin with effective and affordable products.
The Bioré UV Aqua Rich Watery Essence is a water-based sunscreen that has a cooling effect on the skin. It contains hyaluronic acid, a popular ingredient in Japanese products, which can contain the moisture in the skin and, and it also contains citrus essence to give your skin a smooth texture.
It also has Vitamin E that strengthens the skin's barrier—more protection, yay!
 This essence sunscreen is perfect for dry, combination, acne-prone, and sensitive skin. 
Likes
The lightweight formula allows it to absorb very quickly
No white cast
The 50g tube lasts a long time since it spreads easily on the skin
Uses both physical and chemical filters
Dislikes
Because this product is heavy on moisturizing properties, it might not be good for oily skin
2. ANESSA Perfect UV Sunscreen
ANESSA is a brand from the company Shiseido (I'm sure you've heard of it) that provides an array of sunscreens that are specialized for the different skin types.
Their Perfect UV Sunscreen is one product from their line that offers really strong protection against harmful UV rays, hence, the 'perfect' in its name. It utilizes physical and chemical filters, making sure that no sun rays can penetrate your skin. It also contains dimethicone that will give your skin a soothing effect.
It has a thick, milky texture, but it absorbs well into the skin and leaves a dewy effect without making you look greasy.  It is also extremely waterproof, so you don't have to worry about it sliding off your skin. When it's on your skin, it stays on your skin.
 This product is great for sensitive, dry, acne-prone, and combination skin. 
Likes
Comes in a travel-friendly 60ml and 20ml bottle
Hydrates skin
Stays securely on the skin but is still easy to remove
Dislikes
Expensive
The thick texture is not suitable for oily skin
It contains alcohol
3. ALLIE Extra UV Gel
This gel is a product of the KANEBO brand, in their line of sunscreens. This brand celebrates every skin's uniqueness and beauty and aims to empower and strengthen your confidence.
Their Extra UV Gel is super hydrating, despite its lightweight formula. It absorbs quickly into the skin and leaves no residue. It does have a bit of a white cast due to the physical filter zinc oxide, but it isn't too noticeable.
It's also waterproof and smudge-proof—meaning your towels won't remove it so easily when you pat your face!
 This is gel is suited for all skin types, but people with sensitive skin must beware of the alcohol in the product. 
Likes
Effective, yet reasonably-priced product
Lightweight and hydrating formula
No fragrance
Contains hyaluronic acid and collagen
Dislikes
Contains alcohol which might irritate sensitive skin
Might leave a white cast on darker skin
4. ROHTO Skin Aqua UV Super Moisture Milk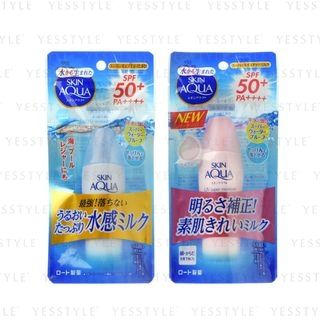 ROHTO Pharmaceutical is a skincare company that believes beautiful skin means a healthy skin. Their Skin Aqua UV Super Moisture Milk is a perfect example of what their company offers—affordable, complete skin protection, with no harmful ingredients.
This product has a runny, milky texture, and you have to shake the bottle properly before dispensing the sunscreen to get the proper mixture of liquid on your hands.
When applied to the skin, the sunscreen feels a little oily and your skin will probably feel greasy at first. But when it's completely absorbed into the skin, it's like magic. It leaves no traces of greasiness and your skin is left feeling smooth with a natural matte finish.
This sunscreen is stocked with so many good ingredients for the skin. It has arginine, which is a chemical that can help with the skin's healing process and encourages the growth of fresh and healthy skin cells.
It also has some very long and complicated ingredients such as the Bis-Ethylhexyl Hydroxydimethoxy Benzylmalonate. Apparently, this is a great ingredient that improves the skin's barrier so it can fight better against pollution, aging, and acne! Despite its intimidating name, it's actually pretty amazing.
 This milk sunscreen is a great choice if you have dry, oily, and combination skin. 
Likes
Great ingredients
Absorbs slowly, but leaves the skin matte with no residue
Affordable
Comes in a travel-friendly bottle
Has physical and chemical filters
Dislikes
The small is a bit small and it's easy to use up all the product
The silicones in the formula are not good for acne-prone skin or sensitive skin and may lead to more acne popping up
5. CANMAKE Mermaid UV Skin Gel
CANMAKE is a very popular cosmetics brand in Japan. Their products are all very eye-catching, trendy, sparkly—basically everything you'd expect a princess would own. But that's not the only thing their products offer. Their products are all high quality and effective and has gained the trust of the Japanese population.
Their Mermaid UV Skin Gel is a lightweight sunscreen that uses physical and chemical filters. It absorbs easily into the skin and leaves a beautiful semi-matte effect that looks natural and healthy. It doesn't leave a sticky feeling, instead, your skin feels refreshed like a mermaid just coming out of the water.
The formula also hydrates the skin which makes it a great makeup primer. Even if you don't wear makeup, this gel will give your skin a smooth appearance, while protecting it from free radicals.
 CANMAKE's Mermaid UV Skin Gel is suitable for all skin types! 
Likes
No alcohol; no fragrance
Smoothens and moisturizes skin
Glides easily on the skin
Serves as a great makeup primer
Suits all skin types
Dislikes
The tube is so small and easy to use up
It is not water or sweat-resistant, so it's only for daily use and not for when you go swimming
What Kind of Sunscreen Should You Use?
As we have discussed above, there are two kinds of sunscreens: those who use physical and chemical filters. They work differently on the skin and can even be used at the same time! In fact, a lot of sunscreens use them both on their formulas.
But which one is best for your skin type?
It's important that you don't irritate your skin by just using what's on the top of the charts. Having both physical and chemical filters is definitely helpful and more effective in blocking the sun's rays, but some skin types can't handle them.
Physical filters have a thicker formula, so they might not be the best option for oily and acne-prone skin. But they're suitable for sensitive skin because they have fewer chemicals that can trigger a reaction.
And not just that, zinc oxide is a physical filter and it gives a noticeable white cast on your skin. If you hate seeing your skin as pale as a pearl, you might want to switch to chemical sunscreens.
Chemical sunscreens, on the other hand, offers more effective protection from the sun by absorbing the rays instead of just blocking them. They're a popular choice for people who hate the thick consistency of physical sunscreens. These are usually in the form of gels or essences, have a lightweight formula, and are non-sticky. They can protect your skin easily from UVA and UVB rays.
However, because they are chemical-based, they are not suitable for sensitive skin. The chemicals might trigger an allergic reaction and cause irritation, which is the complete opposite of what sunscreen should do.
Also, you have to wait at least twenty minutes for the sunscreen to properly absorb into your skin before going out. It won't be too effective if you expose your skin to sunlight directly after applying a chemical sunscreen. You have to let it sit for a while for it to work.
Conclusion
Skincare can be really tough and complicated sometimes, don't you agree? If you told me five years ago that I'd be stressing over what kind of sunscreen to buy, I won't believe you. But look at me now.
There are so many things to consider when choosing a sunscreen, but always go with what's safest for your skin type! Also, the weather is important to take note of. Your sunscreen would be useless if it melts because of humidity.
This is a challenging quest, but hopefully, this post helped you decide which sunscreen to get.
Just remember, keep your skin safe and its beauty will come out naturally!