Our skin goes through a lot. It's frequently exposed to dirt and the ever-changing weather—causing acne, dry skin, and dark spots.
That is why an essential step to your skincare routine is exfoliating. Exfoliating is usually done two to three times a week, and it gets rid of the dead skin cells that have gathered on your face to make way for newer, fresher skin.
Koreans achieve their flawless skin by exfoliating weekly. But not only that, they produced exfoliators that are gentle enough that people with sensitive skin can use them without worry.
There are two types of exfoliators: physical and chemical. Physical exfoliants are the most well-known type. They are usually in the forms of scrubs, masks, pads, and facial washes. While chemical exfoliants make use of acids that can dissolve the dirt deep inside your pores without physically agitating the skin. These are usually made into essences, masks, and toners.
Exfoliating is the key to achieve brighter, smoother, clearer, and younger-looking skin.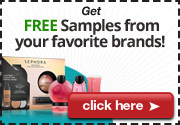 Here are the Best Korean Exfoliators:
The TOP 5 Korean Exfoliator (in no particular order):
1. NAKEUP Face AHA SCALING CREAM – 5% and 10%
Nakeup Face is a Korean cosmetics company that seeks to bring out the beauty of your naked skin and raise your confidence by making your skin healthy and flawless.
Their scaling cream is chock full of AHAs that can effectively rid your face of dead skin cells without drying it out! In fact, because it's a cream, it has moisturizing effects on the skin. It's composed of fruit-based acids that are 100% natural and all of them are great for removing excess sebum, exfoliating the skin, fading acne scars, and brightening dull skin.
It has two concentration options for you to pick from: 5% and 10%. If you're a newbie at using chemical exfoliants, your safe bet is the 5% one. Once you're more confident with it, you can move on to use the 10% variant!
This cream is excellent for dry, combination, acne-prone, and sensitive skin (as long as you use the 5% cream.)
Likes

The container includes a spatula and a protective cover
Since you only use this cream twice a week and you only need a small amount, the little container can last a long time
It has two variations to choose from
Improves skin texture and helps with hyperpigmentation
Dislikes
There's an initial stinging feeling when you first use the product because of the strong acids
The heavy consistency of the cream makes it hard to properly apply it to the skin, even with the use of the spatula
2. SOME BY MI AHA/BHA/PHA 30 Days Miracle Serum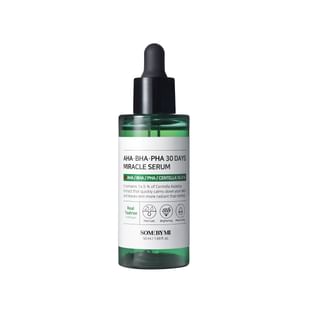 SOME BY MI took over the skincare world with their Miracle skincare line. They proudly say that their products use only the most natural ingredients and in just a month's time, your skin will clear up like a miracle, hence the name.
Their miracle line uses three kinds of chemical exfoliants: AHA, BHA, and PHA. All of these have amazing benefits to the skin when used properly—and SOME BY MI's products have ALL of them.
AHA effectively exfoliates the skin and activates the skin's healing abilities; BHA is great at cleaning out pores and getting rid of excess sebum on the skin; and PHA is a gentle acid that can deal with skin inflammation and keeping the skin's hydration locked in.
What's intriguing about this serum is its dual layers. It has a concentrated amount of tea tree (10,000ppm) and has 14.5% of Centella Asiatica. This combination makes sure that your skin is clear, bright, hydrated, and healthy.
Find out our top 5 Centella Asiatica Products
This serum is perfect for oily, combination, aged, and dry skin.

Likes
Its plant-based oils are great for hydrating the skin
It exfoliates the skin thoroughly yet gently
Works with dry skin
Dislikes
The product needs to be shaken well before application because the oils tend to separate in the bottle
It has an astounding amount of ingredient—if you have sensitive skin and you need to watch out for ingredients, you'll need to look over the ingredients list carefully
3. Neogen Dermalogy Bio-peel Gauze Peeling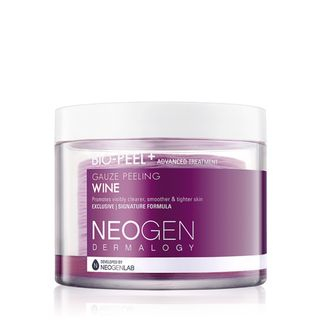 NEOGEN is a skincare company that is famous for its quality formulas and its advanced approach to producing excellent skincare products. They're cruelty-free and they offer solutions to individual skincare concerns with their array of products.
Their peeling pads are one of their best-selling products. The pads exfoliate your skin in two ways: physical and chemical. The pad has two sides, a gauzed side, and a softer, cotton side. When applying it to your skin, you gently wipe the gauzed side all over your skin to get rid of dead skin cells, dirt, and sebum. And then, use the other side to gather the dirt that has been scrubbed off. After rinsing the formula and dirt off, your skin will be smoother and brighter than porcelain!
Each individual pad is drenched with formula and has three variations—wine, green tea, and lemon. All of these formulas work to give you brighter, smoother, firmer, and more relaxed skin.
The wine variant is for combination, acne-prone, and oily skin. Lemon is for dry and dull skin. And green tea is for sensitive skin.
Likes

Exfoliates your skin in two ways
Travel-friendly
Three formulas to choose from
Pleasant scent
Each pad is generously drenched with formula
Dislikes
Since the pads are not reusable, the product is not eco-friendly
Each tub only has 30 pads, which is not much and you can easily use it all up in less than a month
4. SRB Stabilized Rice Bran Enzyme Powder Wash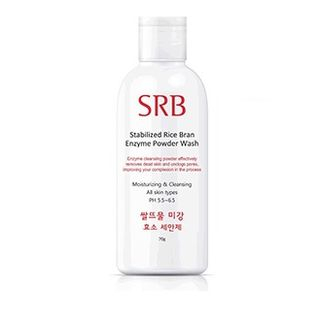 The SRB Enzyme Powder Wash consists of many different kinds of enzymes, nutrients, and antioxidants from its high concentration of rice bran extract—ten times more than your usual rice water. This product can shrink your pores, firm your skin, and promote the production of newer, fresher skin cells.
This product also contains corn starch and papaya enzymes that naturally exfoliates the skin. With the array of organic ingredients, your skin will be thoroughly cleansed and exfoliated.
Because it is in powder form, it also serves as an effective exfoliant. This way, you have a cleanser and an exfoliator in just one product! The best part is that you can control the texture of the cleanser. Add the amount of water you need—all the power is in your hands.
The brightening and moisturizing benefits of the rice bran extract is suitable for all skin types, but it's especially perfect for sensitive skin. It is hypoallergenic and has a pH level of 5.5 to 6.5, making your skin feel nice and clean without the dry and tight feeling.
Likes

Clarifies and brightens skin because of the rice bran extract
Travel-friendly; lighter than liquid products
No harsh ingredients
Easily control the texture
Dislikes
If you're not careful, you might accidentally pour too much powder on your hands
A bit pricy
5. COSRX One Step Original Clear Pad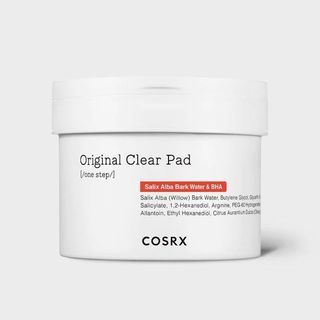 COSRX is easily one of the best Korean skincare brands in the market today. Their products are specifically made with certain skin issues in mind, and they have so many formulas that you can choose from depending on what skin type you have. They give special emphasis on solving acne problems—I'm sure you've heard of their world-famous pimple patches. Their products are a popular go-to for people with acne problems.
Their exfoliating One Step Clear Pad makes good use of BHA or beta hydroxy acids (usually in the form of salicylic acid) to exfoliate the skin and penetrate deep into your pores to clear out dirt and prevent acne from forming.
I know that acids are terrifying to read on your skincare products, but these pads have been infused with willow bark water that has a soothing effect on the skin. It also uses 4% betaine salicylate, the gentler version of salicylic acid, so you can be sure that this is safe even for sensitive skin.
These pads are ideal for sensitive, acne-prone, oil, and combination skin types.  
Likes
No stinging sensation
Alcohol-free and has a gentle formula
Has a generous number of pads (70 pads in one tub!)
Dislikes
Because of the BHA and tea tree, it may cause photosensitivity for some skin types (mainly dry and sensitive skin)
If this occurs, lessen your usage of the product or apply moisturizer and a good sunscreen after using
Which Should You Use: Physical or Chemical Exfoliants?
We have established that exfoliating is an essential step in taking care of your skin. Moisturizers and serums and creams work better when your skin is smooth and properly exfoliated. Also, letting all the dirt and dead skin cells stay on your skin sounds like a horror movie.
The important question now is: should you use physical exfoliants or chemical ones?
There's a clear distinction between the two—physical exfoliants literally scrub off the dirt from your skin, and chemical exfoliants use acids to dissolve dirt and sebum. Both are good ways to exfoliate the skin, but only if you know exactly what you're putting on your face.
Physical Exfoliators
Physical exfoliants are the most popular ones on the market. There are a hundred different kinds of scrubs out there that can help smoothen your skin. After using a scrub, your skin feels absolutely smooth and soft and divine—you feel like a god or goddess.
However, not everyone can handle physical exfoliators. Some are just too rough on the skin and end up doing more damage than good.
So, before you apply the scrub on your face, make sure to put it in a small area at first to test how your skin is going to react. If you encounter no problems, then enjoy your face scrub!
Chemical Exfoliators
Chemical exfoliants use chemicals or acids to 'peel' off the layer of dead skin cells on your skin and leave your skin bright and smooth. The two types of chemical exfoliants are AHA (alpha hydroxy acids) and BHA (beta hydroxy acids).
AHA usually comes from natural ingredients like fruits, sugarcane, etc. This exfoliates the skin deeply and also helps with wrinkles, fine lines, and pigmentation on the surface of the skin. AHA is natural and gentle enough for dry, aged, and sensitive skin. This is a safe choice for when you're starting out with chemical exfoliators.
Meanwhile, BHA offers deeper exfoliation to the skin. It goes deep into the pores to remove dirt and sebum, clearing the skin and preventing the formation of acne. It can also relieve redness on the skin, remove blackheads and whiteheads, and fade acne scars and dark spots. Isn't it amazing?
But keep in mind that BHA is stronger than AHA. It is more suited for oily, combination, and acne-prone skin.
Conclusion
When using exfoliators, it is best to do proper research. I strongly advise against DIY-ing your own scrubs. You are better off buying products that are specifically designed for your skin.
If you want to stay on the safe side of exfoliating, I recommend that you try one of the products listed above. Whatever your skin type is, I am certain that there's an exfoliator that's perfect for you.
And ALWAYS remember, your skin is sensitive and vulnerable after exfoliating—especially if you're using chemical exfoliants—so you must wear sunscreen if you plan on going out after exfoliating your skin.
No matter what type of exfoliators you use, if you take good care of your skin, it will definitely reveal its natural beauty. Happy scrubbing!