There are a plethora of fermented first treatment essences out there in the skincare market, so what makes this any different from the rest? Read on to find out what I love and dislike about it, why this made it to my list of Holy Grails (HG), as well as which high-end product this Secret Key Starting Treatment Essence (Rose Edition) gives a run for their money!
About Secret Key Starting Treatment Essence
Secret Key is a Korean skincare brand known for producing really affordable yet quality skincare products, and this Starting Treatment Essence is no exception, being touted as one of their bestselling products. According to their website, this boosting essence is to be used at the first step of one's skincare routine, and it claims to contain 94% Galactomyces Ferment Filtrate, as well as Rose Water.
It is also marketed to be '10 Free', which is skincare speak for being devoid of 10 'harmful' ingredients that are supposedly bad for skin, namely – parabens, animal oils, benzophenone, artificial fragrance, artificial coloring, triethanolamine, mineral oil, phenoxyethanol, alcohol, and sulfate. Galactomyces Ferment Filtrate is marketed as the star ingredient in this product, which has been found to control melanin production and pigmentation, on top of being anti-inflammatory.
This product thus focuses on wrinkle improvement and whitening, together with other benefits such as skin tone refinement, improving skin elasticity, and providing soothing hydration.
Ingredients List
Galactomyces Ferment Filtrate, Dipropylene Glycol, Niacinamide, Glycerin, Citrus Grandis (Grapefruit) Seed Extract, Acorus Gramineus Root/stem Extract, Perilla Ocymoides Leaf Extract, Rosa Centifolia Flower Water, Adenosine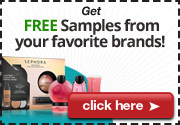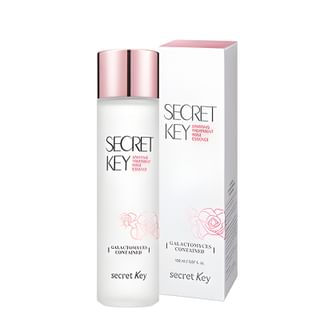 First Impression: My Thoughts and Opinions On the Secret Key Starting Treatment Essence (Rose Edition)
I have a soft spot for skincare products with aesthetically-pleasing packaging, and this totally stole my weak, superficial heart. This is a relatively affordable product yet the packaging – a solid, frosted glass body with a glossy, copper-colored screw-on cap, and a dainty illustration of a rose flower embossed in copper on the bottle – totally screams 'luxury'.
That said, I promise I did not allow my love for the packaging to influence my review of the product itself.
Ok, perhaps a tad bit. 
The essence has a thin, runny consistency that drips rather easily, which is one of the few gripes I have about this product. I usually dispense a small puddle from the bottle into my cupped palm, then distribute the essence across my face with my other hand. If you're someone like me who pats products into their face with enthusiastic vigor, be prepared to have droplets of this raining onto the nearest surfaces(s) from you, which in my case, happens to be my mirror and vanity table. 
Being unfragranced, the essence has a slightly yeasty scent to it which I assume is attributed by the galactomyces ferment filtrate. Nonetheless, I found the scent to be rather pleasant, and an occasional whiff of the rose water can be detected during application. An upside of the watery consistency is that the essence is absorbed fairly quickly by my skin after just seconds of patting it in, as illustrated in the pictures below.
As such, this makes it perfect for the '7-skin' application method, which I will elaborate on in the following section.

My Experience
As recommended, I use this in the first step of my routine, immediately after washing my face and before my hydrating toner. I found this to be a really refreshing first-step, almost akin to a revitalizing splash of water to rehydrate my dry skin after double-cleansing.
I've noticed my skin looking slightly more refined ever since this was introduced to my routine, but the game-changer for me was applying multiple, thin layers of this instead of just a single application. Due to its thin consistency, I am able to pat in at least 2-4 layers of the essence (I don't literally apply 7 skins!), using a small amount per layer and leaving only a wait time of mere seconds between each, without my skin feeling bogged down which some heavier toners/essences tend to do.
This product gave me the first glimpse of what 'the glow' looks like, which also made me realize that my skin loves ferments!
The moment of realization came after my morning cleanse one day and noticed my bare skin looking bright, clear, and just almost translucent-ish, which is something I've never perceived before with other products. On the downside, (which is entirely on me) I went through my first bottle of this in only 2 months!
Secret Key Starting Treatment Essence (Rose Edition) v.s Secret Key Starting Treatment Essence (Original)
After having finished my first bottle of the rose edition, I am currently using the latter as I was curious about how they compare. At first glance, the main difference between these 2 essences lies in their ingredient lists, whereby the original version boasts a much longer list. 
Ingredients of the original for reference:
Water, Galactomyces Ferment Filtrate, Butylene Glycol, Arbutin, Aloe, rh-Oligopeptide-1, Dimethicone, Chamomilla Recutita (Matricaria) Flower Extract, Centella Asiatica Extract, Camellia Sinensis Leaf Extract, Physalis Alkekengi Fruit Extract, Ougidan Extract (Mixture Extract of Paecilomyces japonica, Acanthopanax senticosus, Ganoderma Lucidum, Deer antlers, and Panax Ginseng Root), Hamamelis Virginiana (Witch Hazel) Extract, Oryza Sativa (Rice) Bran Extract, Portulaca Oleracea Extract, Zanthoxylum Piperitum Fruit Extract, Adenosine, Phenoxyethanol, Disodium EDTA
I was definitely attracted to the inclusion of arbutin since at the time of purchase, I've yet to own any other product in my routine that contains arbutin. Arbutin is known to be a skin lightening ingredient in skincare, and I was curious about how it might help with my post-inflammatory hyperpigmentation (PIH) marks. The original version also contains other outstanding ingredients like aloe vera, amino acids, Centella Asiatica extract, and rice bran extract which the rose version lacks.

HOWEVER.
Notice that water is the first ingredient in the list of the original version, while Galactomyces Ferment Filtrate is the first in the rose edition's ingredient list?
On Secret Key's website, Galactomyces is also declared to make up 94% in the rose formula with no mention of water in the list at all, while the exact percentage is undisclosed for the original version. This raises some questions on the proportion of water and Galactomyces Ferment Filtrate actually contained in the original essence.
Performance-wise, while my sensitive skin had no adverse reactions to the original version despite its much longer list of ingredients, I have yet to observe any significant lightening of my PIH spots. I would also say that I find the original essence to provide less of a 'glow' to my face, and doesn't seem to perform much beyond basic soothing and hydration.
All in all, I would definitely reach for the rose edition instead of the original version, as the former seems to do more with less. 
As a bonus, I will also briefly compare this with the highly-raved SK-II First Treatment Essence, of which I tried a small sample for over a week. I have also included a comparison chart I found off Secret Key's website, which features a couple of other competitors' products that are available in the market.
In the name of entertainment, I just wanted to point out how comically shady and redundant the pixelation of their competitors' images was executed, as well as the censorship of the brand names when they could clearly be inferred as 'Missha' and 'SK-II'

Alright dubious infographics aside, the SK-II Facial Treatment Essence does give me a discernible radiance even with its minimal ingredient list, although I can't say that it makes me any glowier than when I use the Secret Key Starting Treatment Essence (Rose Edition). One thing I don't understand why it's not mentioned more often though is its smell.
Oh, the stink!
It starts off innocuously enough when you give it a cautious sniff from the bottle but somehow seems to sour progressively as you pat it into your face. Perhaps to each her own, but towards the end of my sample, I was really just holding my breath every time I applied it. For its exorbitant price and the odor, I would give the SK-II a miss and choose the Secret Key over it any day.
What I like and dislike about the Secret Key Starting Treatment Essence (Rose Edition)
Likes
Beautiful packaging
Simple ingredient list with high ferment concentration
Lightweight, refreshing and hydrating
Quick absorbing
Noticeably brightens my skin
No alcohol nor fragrance, which makes this great for the '7-skin' method
Dislikes

I wish that this came in a pump bottle or something more suitable for liquids with such a runny consistency, instead of just a screw-top bottle with an orifice reducer, which can get rather messy.

If only this came in a larger bottle so that I don't use it up as quickly (just kidding!)
Verdict
For its price and performance, I'd be hard-pressed to find another product to beat this. Out of curiosity, I might possibly try 2 other well-known similar first essences in the future – namely the Missha Time Revolution The First Treatment Essence and the Cosrx Galactomyces 95 Tone Balancing Essence – but I can say with certainty that the Secret Key Starting Treatment Essence (Rose Edition) will be taking an irreplaceable spot in my skincare routine for quite some time to come.
Rating: 5/5
Where can I buy Secret Key Starting Treatment Essence (Rose Edition)?