Canmake's sophisticated little tube was not a difficult choice to make in the least, being a name I've heard repeated for a couple of years now and the main contender for popularity as sunscreen-slash-makeup on Reddit's skincare and Asian Beauty subreddits – not to mention sunscreen alone. This sweet flower of an SPF offers sensitive skin-friendly ingredients, strong broad-spectrum coverage, but most stunningly benefits the skin as both a sunscreen and primer (and moisturizer too, depending on skin type!)
About Canmake Mermaid Skin Gel UV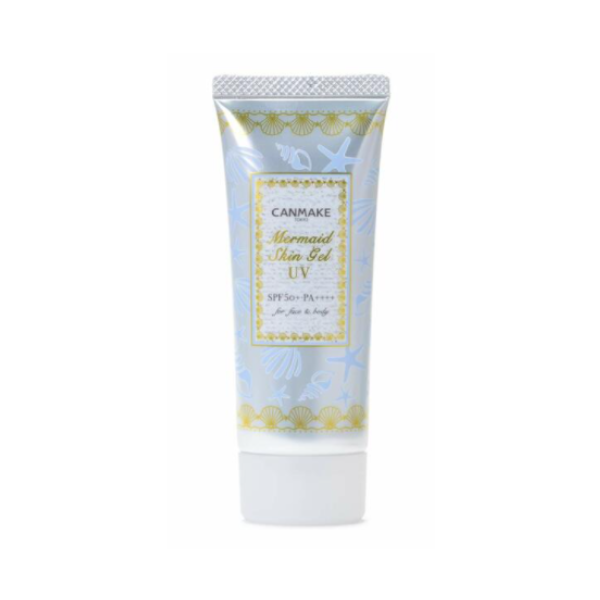 Canmake describes the gel as: "Smooth gel without that roughness or stickiness characteristic of most sunscreens. Recommended for those who prefer a light, refreshing sunscreen. Splash it on like a facial lotion – also serves as a makeup base."
The bottle is a small tube sitting with the oyster pearl-colored, slightly glittery screw-on lid on the bottom. The 40g tube is holographic slightly-blue silver with pastel periwinkle seashells in the background and delicate gold clamshell borders. You can read the title "CANMAKE Tokyo — Mermaid Skin Gel UV," suggesting "for face and body" though I feel this would mostly only apply to the décolletage and ears at most beyond the face – as again, this is quite a small bottle.
It was after this purchase that I ensured I checked the size of items, not just price, for the best deal possible. Canmake also describes this as easily portable, which I certainly agree with. They also suggest "after using a face wash, this is all you need for complete skincare and UV protection," so for more oily-skinned friends, this might work well as a replacement for moisturizer, as a sunscreen-moisturizer combo.
Between the satiny texture of the cream-gel and petite bottle, the product feels delicate, as if I would put this on before using a huge puff at my vanity and meeting for a tea party. This is the only product I've ever purchased from Canmake, but I get similar vibes from all of their products. It makes me nostalgic for the days I dressed in Lolita Japanese Street Fashion. The color palette, designs, and general look/names of Canmake's products, especially their makeup, is straight-up romantic. Perhaps that's odd sounding, but you can't un-read those words, so ha!
This comes with some nice goodies – it offers sunscreen protection via Zinc Oxide and Titanium Dioxide, which is excellent as that provides strong broad-spectrum coverage for both UVA & UVB, very important elements to look for in a sunscreen. It's because of my interest in the best coverage that I may become lax on my general rules of thumb, like dealing with no fragrance or no alcohol – sunscreens need to work with my complexion's needs and must have strong UVA/UVB coverage. Beyond this good news, it boasts no fragrances or harsh alcohols and includes Arginine, Hyaluronic Acid, Alpha-glucan, Phytic acid, and Glucosyl Ceramide, all beneficial to the skin's health and moisture levels. I will also assume partially responsible for the silky moisturizing skin-feel.
Ingredients List
Water, Ethylhexyl methoxycinnamate, Butylene Glycol, Diethylamino Hydroxybenzoyl Hexyl Benzoate, Zinc Oxide, Titanium Dioxide, Dimethicone, BisEthylhexyloxyphenol Methoxyphenyl Triazine, Polymethylsilsesquioxane, Cyclopentasiloxane, PEG-60 Hydrogenated Castor Oil, Stearic Acid, Phenoxyethanol, Polyglyceryl-3 Polydimethylsiloxyethyl Dimethicone, Jojoba ester, Xanthan Gum, Arginine, Hyaluronic Acid, Alpha-glucan, Phytic acid, Saxifraga Sarmentosa Extract, Glucosyl Ceramide, Cherry Extracts, Job's Tears Seed Extract, Morus Alba Root Extract, Oenothera Biennis Oil, Silver Oxide, Bilberry Leaf Extract, Artichoke Leaf Extract, methylheptyl ester of lauric acid, sodium hydroxyethyl acrylate / acryloyldimethyl taurate copolymer diisostearyl malate, hydroxide Al, polyhydroxystearyl acid, Queen of the Meadow flower extract
First Impression: My Thoughts and Opinions On Canmake Mermaid Skin Gel UV
So you're wondering how I came about the Canmake Mermaid Skin Gel? I think the question is, how could I not know about this cute little sunscreen?
I regularly surf r/AsianBeauty on Reddit, and this is name-dropped pretty often. I would say even more so in the past couple of years, as it's a common comparison, Biore UV Aqua Rich Watery Essence reformulated to have more alcohol & is several dollars more than when I purchased it two years ago. (I seriously have to double-check some of these product names to ensure I get them right.) 
This product is excellent for those who regularly wear makeup over their skincare routine, and for those who are dry-skinned as this is creamy and non-mattifying, or if you may consider replacing your moisturizer with this. It smells faintly of lotion and sunscreen.
I ended up going after this sunscreen specifically after reading that Biore Aqua Rich Watery Essence was reformulated with more alcohol, I was expanding the different sunscreens I've tried, and I was trying to ensure a more fragrance-free routine at the time. And of course, because of its reputation! 
So this product is described as a "gel" which I don't disagree with, but I find a little misleading. Perhaps Canmake doesn't use the word gel-cream, which I find more fitting. It comes out seemingly as a thin cream, and upon application is sort of dissolves into a watery gel texture that feels "wet" for a couple of minutes before taking a further ten minutes or so to truly settle if it's been applied over any other moisturizer.
My Experience
I've been using this irregularly for about 6-8 months, never wearing it many days consecutively. If I'm truly going to wear this, I find that I have to commit to a look, which includes wearing a primer underneath this as my oil with definitely breakthrough within a couple of hours and is a bit too dewy by itself.
A little bit of BB cream or foundation over this is excellent, but I quite frankly don't bother with that anymore. I'll most likely dab tinted pressed powder in the "anti-halo zone," in which I leave places I would use a highlighter unmattified so they are still dewy and slightly pearly. I enjoy this look and will probably something I venture to try more if/when I work in the morning, less at night.
It doesn't quite do what I bought it for, though I could arguably use it in that way – I wanted a lazy "slap it on your face" indoor/errands sunscreen that had good value for its size.
Silly of me, however, I mostly just checked a reputable fragrance-free option that was also the lowest price point & easily accessible. This checked all of the boxes, so I, of course, did not notice how teeny the bottle really is. I don't dislike the product, but this does deduct brownie points. In the end, I find it too expensive (per Oz.) and niche (a priming/highlighting makeup base) to just waste it. (It wasn't long after that I purchased Etude House's Mild Watery Light to fulfill this role instead, as described in that review.) 
What I Like & Dislike About Canmake Mermaid Skin Gel UV
Likes
Alcohol-free & fragrance-free

SPF 50+ / PA++++

Doubles as a makeup primer (and highlighter, if you're like me)

Includes Zinc Oxide & Titanium Dioxide, strong broad-spectrum coverage

No white cast

Moisturizing/creamy
Dislikes
Not sweat or sebum resistant/can be removed easily

"Dewy," which may be an issue for some as it commits to a certain look

Contains silicones

Not oily skin-friendly (must doctor it to avoid extra oil)

Several plant/fruit extracts, which may irritate sensitive skin
Alternative Products
Many suggest the Canmake as an alternative to the popular Biore UV Aqua Rich Watery Essence if you ever comb through reviews online or on the subreddit r/SkincareAddiction and r/AsianBeauty. Personally, I don't find this comparable at all, aside from being light and dewy and decent SPF/PPA coverage. I very much like Biore's Watery Essence, but I find it to be a light, citrusy gel and comes with a decent bit of alcohol – not similar in my opinion, but I digress. I'm including this because I have read it repeatedly for a couple of years now.
Now in my personal opinion, I find MISSHA Flash Up! Sunscreen the most similar product I've tried.
It's a little thicker, but is similarly creamy, acts as a primer, and dries down to a similar ultra dewy look (but is more dewy/reflective than Canmake's). I'm a huge advocate for this one, as it seems to be ignored or unknown generally. I adore using MISSHA and Canmake for a "highlighted"/brightened makeup base and usually use them the same way though I would describe Canmake as more casual and lighter.
Verdict
I love this product! I will possibly repurchase, but it's unlikely to be anytime soon, and I would likely repurchase MISSHA's Flash Up! Sunscreen before this one again. The bottle is so small that I avoid using it, and I can't just slap it on and leave it as is – I have to doctor it with a primer underneath and powder on top if I want to use it, as I'm too oily otherwise.
It doesn't quite fit into the three categories I try to slot my sunscreens into physical activity/heavy duty outside, mattifying everyday sunscreen (preferably tinted/replaces makeup), or casual "don't care what I look like" indoors sunscreen. I sort of had to create a fourth "will use with makeup and be extra cute" for this and MISSHA, but I generally only put on real makeup for going out at night and have other, more neglected primers without SPF. If and when my social life changes, I might purchase Canmake's Mermaid Skin Gel UV more often.
Rating: 4/5 due to size & not sebum-resistant/mattifying
Where can I buy Canmake Mermaid Skin Gel UV?