There are lots of things that are out of our control. We can't change the skin type we were born with; we can't stop the sun from going down, and we can't stop time to avoid aging.
Yes, time is always running for everyone. If you see signs of aging on your face, you can blame the sun and time for that.
I know we can't manipulate time—but we can take charge and protect our skin so it will age like fine wine. It is our duty to take care of our skin! After all, we only get one body each.
This is why sunscreens are important, no matter what skin type you have. The sun emits very harmful rays that can damage your skin and give you dark spots that can make you look twice your age. Not only does it make you look old, but it can also cause skin cancer, so it's highly recommended that you use products with SPF if you're frequently exposed to sunlight.
There are hundreds of sunscreens on the market, it can be daunting to go out and look for one if you have no idea which one you actually need.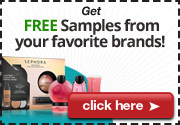 Well, fret no more! I present to you the 5 Best Korean Sunscreens!
The TOP 5 Korean Sunscreens (in no particular order):
1. MISSHA Soft Finish Sun Milk (SPF50+ PA+++)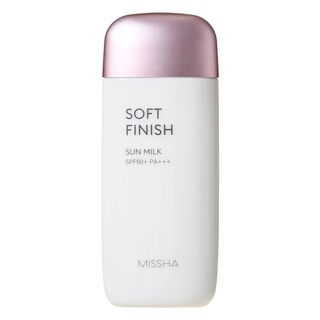 MISSHA is a Korean beauty brand that offers both skincare and makeup. They produce high quality products at an affordable price! They have a huge variety of products that target all kinds of skin problems. Their goal is to provide quality skincare to everyone so they can achieve healthy and flawless skin.
Their Soft Finish sunscreen is a part of their Sun Milk skincare line. There are two other variations aside from this one: Essence and Water Proof. Multiple choices are always nice. And these are designed for different skin types, too!
The Soft Finish variation is for people who want a smoother, non-shiny finish. This sunscreen provides long-lasting protection from harmful UV rays and fights off environmental damage and signs of aging.
The formula contains a double layer UV blocking system that can not only block UV rays but also resist water and sweat. It is also enriched with a natural barrier complex that smoothens and softens the skin, as well as improves your complexion. You'll get the ultimate protection and anti-aging treatment with this sunscreen!
This is perfect for combination, oily, acne-prone, and sensitive skin types.

Likes
No sticky feeling; leaves a natural dewy finish
Smoothens skin texture
Great for oily skin
Strong protection against harmful UV rays
Doesn't cause breakouts or irritation
Dislikes
The sunscreen has a pinkish tint
Contains fragrance
Can be drying for dry skin types
The consistency is a bit runny
2. PURITO Centella Green Level Unscented Sun (SPF50+ PA+++)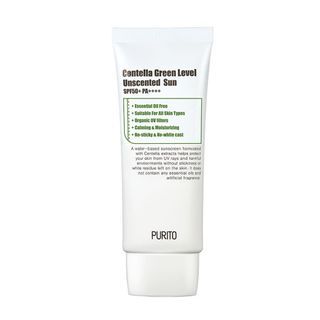 PURITO is an amazing skincare brand that isn't too showy but their products have natural ingredients that have so many benefits for the skin. They are one of the few brands that are proudly cruelty-free and vegan. They don't use any harmful ingredients, so your skin can be clean and healthy. You're also helping the environment when you're using their products because they donate some of their profits to the Korean Federation for Environmental Movement. Isn't that cool?
Their Centella Green Level Unscented sunscreen is a chemical sunscreen, meaning it absorbs the sun rays instead of blocking it. These kinds of sunscreens absorb quickly into the skin and don't have the sticky feeling of physical sunscreens.
This particular sunscreen is actually the unscented version of PURITO's original Centella sunscreen. They designed this with sensitivity in mind. Same effective benefits, but with safer ingredients that won't cause irritation.
This protects the skin from UVA and UVB rays and soothes it with Centella. The sunscreen slides smoothly onto the skin and helps enhance the skin's barrier, protecting it from free radicals.
This is suitable for all skin types but especially sensitive, acne-prone, and dry skin types.

Likes
Safe and clean ingredients that protect and hydrate the skin
Unscented; won't cause irritation for sensitive skin types
Enhances skin barrier
No sticky, heavy feeling after application
Doesn't leave a white cast
Thorough skin protection
Dislikes
Can be too hydrating for oily skin
Skin tends to get shiny the longer the sunscreen stays on
3. Village 11 Factory Daily Mild Sunscreen, Broad Spectrum (SPF50+)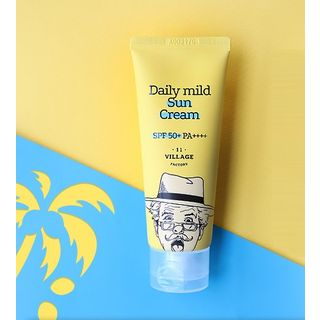 Village 11 isn't a very popular skincare brand but it shows a great personality through its branding. If you look up their products, their packaging and designs are one-of-a-kind and you can't help but want to buy them and try them out! They've got a fun little aesthetic going on and I'm here for it.
They offer affordable but highly effective products that will help with your skin problems. A great example is their Daily Mild Sunscreen, which is a part of their sun care special kit. The other variants of the kit are: Pink Calming Sunblock and Hydra Sun Fluid. I'm a huge fan of personalized products and skincare lines with variations. This helps a lot if you're looking for a product that targets your specific skin concerns.
Their Daily Mild sunscreen moisturizes your skin without the heavy feeling. The cream also calms your skin and protects it from irritation and UV rays. It's basically a sunscreen and a moisturizer in one package.
This is great for dry, combination, oily, and acne-prone skin. .
Likes

Can be applied to both face and body
Travel-friendly packaging
Absorbs quickly and has a natural finish
Moisturizing and doesn't cause breakouts
Dislikes
Has a strong flowery fragrance that might irritate sensitive skin types
Comes in a very small tube
4. NEOGEN Day-Light Protection Sunscreen (SPF50 PA+++)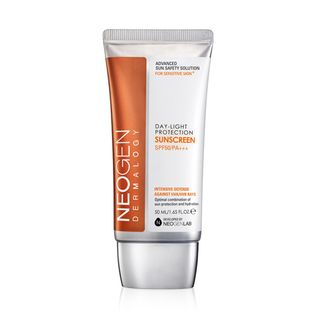 If you have very specific skin problems, NEOGEN is the brand you need to go to. They develop products for people that have particular skin issues, aided with their thorough research about skincare. You can easily create your own personalized skincare regime with just their products alone.
Their Day-Light Protection sunscreen offers strong protection against high UV rays and soothes damaged skin. It will revitalize your skin and make it look healthier.
It also gives a refreshing boost of hydration and guarantees that your skin will be moisturized for the entire day. The light formula absorbs well into the skin and smooths your skin texture, leaving your skin with a beautiful glowing and dewy effect.
It does not leave a white cast, and it sits well under moisturizers and makeup. This is great because it suits people with different skin tones. No need to worry about looking like the undead with this on!
This sunscreen is best suited for dry, sensitive, acne-prone, and combination skin types. .

Likes
Alcohol-free formula
No white cast after application
Smooth makeup application
Contains a lot of hydrating ingredients
Doesn't cause breakouts
Dislikes
Not safe for fungal acne
Contains essential oils that might irritate some skin types
Quite expensive, considering you only get 50ml of product
5. IOPE UV Shield Sun Protector XP (SPF50+ PA++++)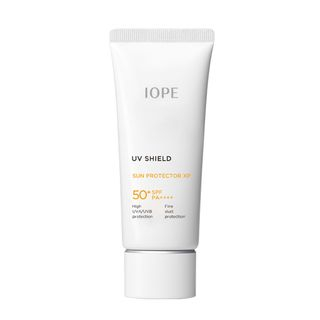 IOPE is a skincare brand that does serious research on skin and the materials that they use in their products. They are proud to say that they are a "lab-based functional skin care brand" and it shows in how effective they address specific skin issues. They are a very trustworthy brand because of their use of plant ingredients that are safe and beneficial to the skin.
Their UV Shield Sun Protector XP (sounds like a fighter robot, right?) is a highly effective sunscreen that offers a triple function system—it has a lightweight texture so it absorbs smoothly and easily on the skin, it protects the skin from harmful UV rays and all kinds of dirt or stressors with their Micro-Filter System™, and it has a V.D. Booster that will treat signs of aging caused by UV rays while also enhancing the skin's barrier and making it more healthy.
Despite the creamy texture, it doesn't leave a sticky feeling. Instead, it actually controls the oil production on the skin and leaves a natural dewy finish. It is light and fresh, and it is everything you'd want from a sunscreen. Glowing, healthy skin is exactly what you'll get from this.
This is perfect for oily, combination, and acne-prone skin. .
Likes
Sits well under makeup
Non-comedogenic
Great oil control and doesn't leave a greasy feeling
Effectively protects the skin from UV rays and dirt
Dislikes
Contains fragrance
Irritates eyes
Expensive
UVA, UVB, and UVC Rays: What Are They?
We all know that ultraviolet rays from the sun are extremely harmful to the skin—the radiation can cause external damage and, in worse cases, cancer. These don't just come from the sun—it can also come from tanning beds and sun lamps, so always be careful when you expose yourself to radiation!
There are actually three types of UV rays: UVA, UVB, and UVC. What exactly are they, and what makes them different from each other?
UVA Rays
This kind of UV rays is what makes up most of the rays on the surface of the planet. It has a longer wavelength, so it pierces deeply into our skin and causes damage from within. This is what tans our skin—and what tanning beds emit.
UVA rays are what ages our skin. It causes wrinkles, dark spots, uneven skin tone, all of those nasty things that we all try to avoid. It also tampers with the skin's production of collagen, exposing our skin to free radicals.
This can cause skin cancer since it penetrates deeply into the dermis. It is very important to use sunscreen that will effectively protect your skin from this.
The PA rating on sunscreen products indicates how much it can protect the skin from UVA rays. The more pluses it has, the more protection!
UVB Rays
UVB Rays have a shorter wavelength compared to UVA rays. They don't penetrate too deeply into the skin but can still cause damage on the skin's surface. These are the rays that can burn our skin. You know that stinging feeling you get after you spend too much time under the sun? Yeah, the UVB rays are the culprit behind that.
These rays actually don't make it to the Earth's surface, but a small amount can make it through. It still poses a risk to us even though most of it is absorbed by the ozone layer. It's still powerful and can be a factor in skin cancer, along with UVA rays.
Since UVB rays damage our body externally, it can be a main cause of cataracts. It damages the proteins in our eyes, leading to cloudy vision. These rays are at its strongest around 10 in the morning up to 4 in the afternoon, so make sure you're properly protected from the harmful rays.
The SPF rating that you can always find on sunscreen and sunblock products stands for Sun Protection Factor, and it's what protects our skin from UVB rays. The higher the SPF rating, the better the protection against UVB rays.
UVC Rays
UVC rays are a bit different from the aforementioned rays. The sun emits these rays, but they cannot reach the Earth's surface because the ozone layer blocks them. Despite having the shortest wavelength among the three, we can still be exposed to them through artificial light sources, such as: lamps or lasers. It's been said that the shorter the wavelength of the rays, the bigger the risk. These are light sources that we encounter on a daily basis, so it poses a huge risk to us—especially our eyes.
UVC rays have the highest energy amongst the three UV types. It can severely burn our skin and damage our eyesight. It's recommended that you avoid direct exposure to UVC rays as much as possible. Even the briefest exposure can result in burns.
It may not penetrate as deeply as UVA rays, but it can be very painful. When your eyes are exposed to UVC rays, the feeling is akin to having sand in your eyes, and your eyesight might be affected for a few days. And this is after only a short exposure to radiation. Scary!
There are no creams, gels, or lotions to protect us from UVC rays. The only thing we can do is to avoid it as much as possible because it is caused by man-made objects. Just be wary of what you expose yourself to, and you'll be okay!
Conclusion
It's terrifying how much harm the sun can do to our skin, so we must do our best to protect our skin! These products are some of the best that can effectively shield your skin from UVA and UVB rays. The best part is that they also offer moisturizing, anti-aging, and brightening benefits to your skin. This is what makes Korean products so appealing—you get more than what you paid for!
I hope you learned a lot about sunscreens and the importance of using them every day. I know it is a lot to take in, but now you are adequately equipped with enough knowledge to confidently choose the perfect sunscreen for your skin!
Stay safe, and I wish you all healthy and beautiful skin!