Korean skincare has had such an enormous impact on our world today. In my elementary years, I have never even heard of a toner, much less a serum! Now everyone knows about the different skincare products and their uses, and of course, the 10-step skincare regime.
But not everyone actually does the full 10 steps. Not all of us have the time for that! That is why you can remove some of the steps and only do those that will benefit your skin. One step that we recommend you keep is putting serum on your face.
Serums contain active ingredients that will work their way deep into your skin to condition it. One of the best kinds of serums are serums that contain Niacinamide. This ingredient is a popular one that has powerful soothing effects on the skin and is great at keeping your skin clear, healthy, and safe from free radicals.
If you have your own personalized skin care routine, we ask that you add a serum to it. Good thing it is super easy to incorporate into your regime!
To give you more information on serums, and help you choose one that will suit your skin, here are some of the Best Korean Niacinamide Serums you can buy:
The TOP 5 Korean Niacinamide Serums (in no particular order):
1. PURITO Galacto Niacin 97 Power Essence
Being natural and organic is everything when it comes to the skincare brand Purito. To them, it is all about going back to our roots, which is letting nature take control. They use only the best natural ingredients in their products so you can be rest assured that what you're using is safe and effective.
Galactomyces Fermented Filtrate is just one of the many beneficial ingredients used by Purito. Their essence consists of 92% of this star ingredient! And of course, we have the Niacinamide with the perfect formulation of 5% to help the product work better on the skin.
These two will make your skin soft, clear, bright, and smooth. The Niacinamide keeps your skin protected from dirt and improves your skin's elasticity so you won't have to worry about aging signs.
Their formula also includes Bifida Ferment Lysate, which can strengthen the skin's barrier, making it stronger against dirt and other impurities.
The watery, light texture of this essence allows it to absorb quickly into the skin. It glides easily and penetrates deep into the pores to clear out dirt and excess sebum.
This serum is free from harsh ingredients and can leave your skin soft and moisturized, so it is best suited for: dry, combination, oily, and sensitive skin types. .
Likes
EWG approved
Brightens and clears skin
Free from harsh chemical
Strengthens skin barrier
Balanced formula to maintain skin's moisture and elasticity
Vegan and cruelty-free
Dislikes
Not safe for fungal acne
Some ingredients might cause irritation depending on your skin
2. man:yo Factory Bifida Biome Complex Ampoule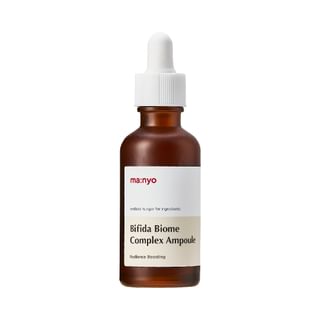 man:yo is a wonderful Korean skincare brand. Their brand name means "sorcerer" and that alone makes it exciting to see what they have available for us. The fact that their brand is called the "sorcerer" makes you think about the magical aspect of their products.
They are all designed to be magical "potions" that will solve all of your skincare problems. And they only use natural and organic ingredients, which feeds even more to its magic.
Their ampoule-serum contains a huge 90% Bifida Complex that will fortify the skin's barrier and gives it the strength to fight against free radicals. The formula itself is lightweight and absorbs instantly into the skin, leaving no oily or greasy film.
This ampoule has a simple list of ingredients: Niacinamide, Adenosine, and Saponin. All of which keeps your skin plump and radiant and even has an anti-aging effect from the power of Niacinamide and Saponin. As we know, Niacinamide is a powerful and solid ingredient that will keep your skin's youthful glow and take care of your skin's texture and sebum. All three of these ingredients are enough to transform your skin into something beautiful—like Cinderella with her fairy godmother!
Behold the magic of man:yo Factory and be amazed by their simple yet powerful products.
This ampoule is best for combination, sensitive, and dry skin types. .
Likes
Absorbs quickly with no oily film
Good for layering products
Hydrating and soothing for the skin
Has anti-aging effects
Affordable price and a generous amount of product
Dislikes
Only prevents anti-aging effects, doesn't really get rid of them
Product is a little hard to find on the market
3. BENTON Snail Bee High Content Essence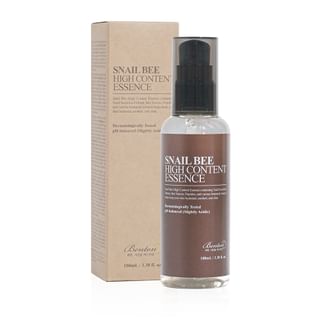 The Korean skincare brand BENTON is not one to be late when it comes to anti-aging and protecting the skin. Their entire brand is based on the story of Benjamin Button and they swear that their products will give you the power to turn back the hands of the clock and look young again!
Their Snail Bee High Content Essence is chock full of ingredients that reverse aging and keeps your skin clear and glowing, such as the star ingredient Snail Secretion Filtrate, and of course, Niacinamide. With these two powerful ingredients, your skin will be properly moisturized, nourished, and protected from environmental stressors.
The high concentration of 90% snail extract and bee venom effectively helps heal acne scars and prevent breakouts. It includes AHA, a chemical exfoliant to remove dead skin cells and make way for younger ones. Just like Benjamin Button, your skin will never produce acne in the future.
Another great ingredient in this product is collagen. There is no anti-aging product in the market that doesn't have collagen. It is the best anti-aging and moisturizing ingredient. Paired with Niacinamide and the other star ingredients, your skin will be young and plump for as long as you use the product!
Niacinamide and Snail mucin are both amazing at maintaining the freshness and youthfulness of your skin. Conveniently, BENTON has both of them in just one product!
The Snail Bee High Content Essence is great for oily, acne-prone, and combination skin types. .
Likes
AHA in the ingredients help remove dead skin cells
Lightweight, watery texture absorbs quickly into skin
Niacinamide and snail extract both moisturize and protect skin
Contains collagen
Fades old acne scars
Gently brightens and clears skin
Dislikes
Snail extract and AHA may cause irritation for sensitive skin
Not vegan
Leaves a sticky feeling because of snail mucin
4. PRIMERA Miracle Seed Essence
PRIMERA is a plant-based skincare brand that combines clinically proven organic ingredients with high-tech and innovative K-skincare science into their wonderful products. Not only are their products 100% clean and safe, but their packaging is also eco-friendly, too! If you are concerned with the welfare of the environment, this brand is perfect for you.
PRIMERA merged Their brand name from the words "prime" and "era." What an interesting name! But it does make sense because they develop skincare products that will segue your skincare into a brand-new era where your skin is at its prime.
Their Miracle Seed essence is full of organic ingredients, like Lotus Seed Extract, which takes up 93.1% of the formula! This ingredient contains many amino acids and linoleic acid to help dry and dull skin by moisturizing and brightening your skin.
Here's the best thing about this product—it comes with 70 pieces of cotton pads in the packaging! How convenient is that?
The star ingredient of this article, Niacinamide, is also a part of this essence's list of ingredients. Mixed with many other ingredients, Niacinamide can effectively brighten your skin and keep the signs of aging at bay.
A few other ingredients that are super beneficial for your skin are flavonoid and polyphenol. Both work to reduce the production of active oxygen in the skin to improve its health.
This product has a gel-like texture that will plump up your skin and even its texture and tone. This makes it perfect as a prepping step for the rest of your skincare regime.
Perfect for dry and acne-prone skin types. .
Likes
Comes with 70 cotton pads
Refreshing feeling upon application
Instant results
Makes skin clearer, plumper, and softer
Paraben-free, fragrance-free
Skin firming
Works well with retinol
Dislikes
Very easy to use up all of the product
They suggest to use it all up in just 30 days which will make you repurchase the product so soon
5. IUNIK Propolis Vitamin Synergy Serum
IUNIK is exactly what they sound like—unique! They are unique in a way that their products and ingredients are all so simple and do not include anything complex and unneeded. They believe that simplicity and minimalism is the way for a successful skincare routine. IUNIK breaks through the normal fad of overpriced skincare products with countless ingredients by providing us with simple yet effective products.
Their Propolis Vitamin Synergy Serum contains 70% propolis extract, which is an effective soothing and relaxing agent that will help with irritation and redness, and also 12% hippophae rhamnoides fruit extract, also known as sea buckthorn, which revitalizes the skin, so you'll get a natural, beautiful glow!
And it comes with no surprise that Niacinamide and Adenosine are paired together again in this formula. After all, both are the main agents that will give you a youthful appearance and keep fine lines and wrinkles away.
This also contains Centella Asiatica, which helps give you instant soothing effects. This ingredient is the best when it comes to soothing irritated skin and calms the redness that is caused by breakouts.
The formula provides immediate soothing and brightening effects on the skin and improves aging signs, so you'll look revitalized and healthy.
This serum is perfect for combination, dry, acne-prone, and sensitive skin. .
Likes
Can be used day and night for optimal results
Serum's texture can add a moisture barrier to keep skin hydrated
Has powerful soothing and anti-aging effects
Leaves your skin glowing and healthy
Dislikes
Feels sticky on the skin
Results aren't always noticeable
Texture is too heavy for oily skin
How & When To Use A Serum
Serums are optional when it comes to making a personalized skincare routine. But with the many benefits it has on your skin. It is highly recommended that you add one to your regime. It could be the final step to your routine, right after moisturizing. It will be a good final step to lock in the moisture and plumpness to your skin and provide even more vitamins and hydration.
As we have enumerated above, the different kinds of serum offer different benefits to the skin. Since serums consist of many active agents, they can help brighten your skin and even treat your acne and redness.
Adding this to your skincare routine is easy! Use it after your moisturizer. Apply it to your face and gently pat it down to activate its effects. Serums mostly have a watery, runny texture, so it shouldn't be too hard to layer it.
When should you use a serum? Typically, people use it at night so that they can wake up to a fresh and revitalized face. It is best to use it at night, but some serums are light enough that you can use them in the morning. It depends on your serum's texture—if it's lightweight and layerable, you can definitely use it in the morning.
But if it is a bit on the heavy side and cannot absorb easily, it's best if you use it at night and welcome the new day with a fresh face.
Conclusion
There you go! Aren't serums amazing? I believe that more people should incorporate them into their skincare routines. They have countless benefits and can probably solve most of your skincare problems. The ingredients' active agents are more than enough to take care of those pesky dark spots and dry patches.
The serums listed above are only some of the best in the market. There are plenty more serums out there, but hopefully, you will find your holy grail serum in these five products.
What are you waiting for? Go and get yourself a nice face serum!
And as always, have a happy skin day!