On the topic of skincare, you absolutely cannot forget about moisturizing! Moisturizers are a staple in most people's regimes—especially those who live in colder climates. Dry, itchy, and cracked skin is not fun!
Keeping your skin plump, smooth, and soft is important. The role of the moisturizer is to keep the skin hydrated and also act as a protective barrier against environmental damage.  If your skin is dull, dry, and irritated, you might need a good moisturizer to solve your problem.
I know some people have a love-hate relationship with moisturizers. Oily and acne-prone skin types have a difficult time finding the right moisturizers because almost all of them are too heavy on the skin, therefore making your skin sticky and can lead to clogged pores, which will then cause more acne to pop up.
But the reason for that is you're using the wrong kind of moisturizer!
Oily and acne-prone skin types must use moisturizers with a lighter, oil-free formula. While dry skin types should use heavier cream moisturizers to get enough hydration for their skin.
If you haven't found the perfect moisturizer for your skin, you're in luck! Here are the best Korean moisturizers in the market:
The TOP 5 Korean Moisturizers (in no particular order):
1. MIZON Snail Repair Black Cream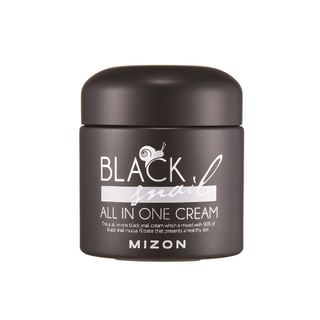 MIZON is a Korean skincare brand that values beauty and health. Their slogan even says "Only natural ingredients, innovation, pure energy of nature." They put great faith in the power of natural ingredients to bring out the beauty in your skin.
Their Snail Repair Black Cream is just one of their many great products. It is made up of 90% black snail filtrate. That's a huge amount! This main ingredient can improve the skin's texture, tone and can even help with skin troubles such as wrinkles and redness.
As with all snail products, its texture is a bit slimy, thick, and creamy. But this cream won't leave a sticky feeling on your skin, instead, it absorbs well and leaves your skin soft and supple.
The formula has peptides that encourage the production of collagen in the skin and plant ingredients that can soothe and heal the skin.
 The best thing about this cream is that it suits ALL skin types! 
Likes
Pretty affordable considering it takes a long time to use up all of the product
Improves skin texture
Amazing ingredients that have countless benefits for the skin
All-in-one cream
Can also take care of redness
Dislikes
The jar doesn't come with a spatula, which makes it unhygienic
2. BENTON Aloe Propolis Soothing Gel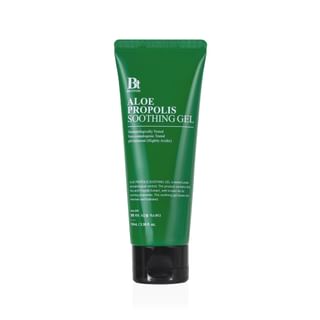 BENTON is a brand that took its name from the story of Benjamin Button, the man who grew younger instead of older. They believe that with the research and work put into their products, your skin will be restored in all its youthful glory—just like Benjamin in the story. If that isn't inspiring, then I don't know what is!
Their Aloe Propolis Soothing Gel has two main ingredients: aloe and propolis. Aloe, as we all know, has soothing and cooling effects on the skin, while propolis has anti-bacterial and anti-inflammatory effects, which is great for acne. Together, they're the ultimate solution for dull and acne-prone skin!
Its texture is thicker than other aloe gels, but it still absorbs quickly into the skin and hydrates it well. Perfect for those hot summer days! If you live in a hot area, you will be refreshed by this soothing product.
 This is great for oily, combination, acne-prone, and sensitive skin types. 
Likes
Affordable product
Has healing and soothing effects
Has a lightweight formula
Plumps and hydrates skin well
Doesn't clog pores
No fragrances
Dislikes
It doesn't offer enough hydration for dry skin types
You might have to layer with a cream moisturizer
3. KLAIRS Fundamental Water Gel Cream
KLAIRS has a wide array of products that have mild formulas but are very efficient in treating skin problems. They use, simple, natural, organic ingredients that won't irritate the skin, therefore making their products safe for sensitive skin types to use.
Their Fundamental Water Gel Cream is an interesting product. Its texture is a mixture of gel and cream, so it's almost as light as a gel but not as thick as a cream. It is made of 63.7% Jeju Green Tea water and panthenol. The green tea water plus the added benefits of panthenol will moisturize and nourish your skin deeply. The antioxidant effects of the green tea water will also strengthen the skin's barrier, protecting it from free radicals.
KLAIRS proudly incorporates their hydra emulsification system in this moisturizer—meaning it hydrates the skin deeper and makes it healthier and stronger.
The product leaves a light, dewy finish on the skin that almost resembles a glass skin effect!
 Great for all skin types, but especially dry, combination, and acne-prone skin. 
Likes
The jar comes with a spatula
The lightweight gel-cream formula absorbs swiftly into the skin
Has anti-aging effects
Unscented
Dislikes
The gel-cream texture makes it difficult to apply makeup over it
The near-watery consistency makes it difficult to scoop the product out of the jar
4. SKIN&LAB Red Cream
SKIN&LAB is a Korean skincare brand that produces products for every skin type and problem. They consider all the unique skin problems that people have and formulate solutions that will work for you. Their formulas are hypoallergenic and are mild enough for sensitive skin to use!
Their Red Cream moisturizer is one of their best products. With its vibrant red jar and minimalistic design, it certainly screams beauty and luxury. This cream can brighten skin and reverse the signs of aging.
It has Damask rose stem cells extract as its main ingredient, hence the red theme, which is an antioxidant and will revitalize even the dullest skin. The product even smells like roses—very pleasant but can be overbearing and strong for some people.
Aside from the rose extract, this cream is also full of natural fruit ingredients, such as: pomegranate, cloudberry, raspberry, blueberry, Chinese desert-thorn, and acai berry. All of these are rich in lycopene and ellagic acid that will protect the skin from environmental damage and also improve the skin's elasticity and control the production of sebum. Just looking at the ingredients list is making me hungry…
This cream leaves a smooth, translucent finish on the skin. Despite the creamy texture, it absorbs well and doesn't leave a sticky residue.
 This cream is best suited for dry, oily, combination, mature, and acne-prone skin. 
Likes
Doesn't clog pores
Amazing natural ingredients
Powerful anti-aging and brightening effects
Alcohol-free
Affordable
Dislikes
Contains fragrance which might irritate sensitive skin types
5. Belif The True Cream Moisturizing Bomb
Belif is a Korean skincare brand that uses traditional herbs in their products, and along with modern skincare science, they manage to produce some amazing products free from harmful chemicals and caters to all skin types.
Their approach to skincare is similar to traditional apothecary treatments. Since apothecary is a centuries-old practice, it isn't hard to believe that there are amazing skin benefits from Belif's products.
Their moisturizing bomb is a cream with a heavy and thick consistency. It is composed of comfrey leaf, a powerful moisturizing herb that has been traditionally used to heal dry, rough hands, and oat extract, which has a soothing effect on the skin. Sometimes, the traditional route is better, and Belif has absolute faith in their approach.
The cream's formula is guaranteed to leave your skin smooth and nourished for a long amount of time—26 hours in fact! They said it on their website. One application of this moisturizing bomb is enough to moisturize your skin for more than a day! Your skin will never know dehydration if you have this product.
 This moisturizer is best suited for dry, sensitive, acne-prone, and combination skin. 
Likes
The product is vegan
It is a strong moisturizer that retains moisture in the skin for a long time
Won't clog pores
Has a soothing and healing effect on the skin
Dislikes
The cream may be too heavy for oily and combination skin types
It's very pricey
Oily and Acne-Prone Skin vs. Moisturizers: Do You Need It?
Short answer: YES.
Long answer:👇
Oily Skin
Oily and combination skin types still need some moisture. But you need to know the distinction between oily skin and hydrated skin.
The sebum that generates on your skin is what causes acne, and just because your skin generates more sebum than normal doesn't mean that it's hydrated. Hydration must happen deep within the skin so the surface will be clear, smooth, and healthy.
Skin can regenerate quickly when it is hydrated and strong. Signs of aging can also be avoided if you keep your skin plump and moisturized. Oily skin is not an exemption to environmental damage, so it's important that some moisture be maintained on the skin. Those winter days and nights are merciless, the cold air can rip at your skin easily if you're not properly hydrated!
It can be extremely difficult to find the right kind of moisturizer if you have oily skin. But, when you know exactly what you're looking for, you will see that there are actually a lot of options.
The most important thing is to find a light gel moisturizer instead of a thick, creamy one. Thick formulas have a tendency to clog pores, and pair that with oily skin? It's a terrible combination. It's a good idea to stick to the nice, cool gels that won't suffocate your skin!
Acne-Prone Skin
There are endless spot treatments to take care of all kinds of acne, be it cystic acne, fungal acne, etc. Usually, those treatments include popular acne-fighting ingredients, such as: benzoyl peroxide, salicylic acid, adapalene, witch hazel, tea tree oil, and many more. These ingredients are strong chemicals that can irritate the skin. You usually feel a sting or some itchiness when applying these ingredients.
Although they are very effective in treating acne, they can easily dry out the skin because of its strength. Sure, they're effective, but you might be putting more stress on your skin by using harsh acids!
If you have acne-prone skin, you absolutely must use hypoallergenic, non-comedogenic moisturizers. Preferably ones with mild ingredients, so it won't irritate and worsen your acne. Your skin tends to feel dry and sensitive after using acne treatment products, so you need to replenish the moisture in your skin so it can heal properly.
Nothing is more painful than having a huge pimple, applying a strong spot treatment on it, and then ending up with red, dried skin. Okay, I'm exaggerating, but it's still painful! And it's embarrassing walking around with a huge red splotch on your face. Trust me, I've been through that experience back in college.
Put on some moisturizer to protect your skin's barrier and save yourself the pain and trouble of dealing with the pain of dry or burned skin.
For those with oily and acne-prone skin types, please do not skip out on moisturizing! Moisturizers don't just hydrate your skin; they also contain vitamins and other great ingredients that are super beneficial to your skin.
Conclusion
This was quite an overload of information, wasn't it? Skincare isn't as simple as people think. There is so much thought and consideration needed when choosing products. Maybe that's why some people tend to keep their skincare routines short and sweet?
It really all depends on you. Know what your skin needs—if it needs only a little hydration, then grab a lightweight moisturizer. But, if it needs a lot more hydration, get yourself a nice face cream!
It doesn't matter if you have a three-step skincare routine or a ten-step one. If it's enough to keep your skin healthy, then there is no reason to stop doing it.
And if you still have a love-hate relationship with moisturizers, maybe it's time to give them a chance and find one that works for you! Check out one of the products mentioned above, maybe you'll finally find your holy grail moisturizer.
I hope this article helped. As always, stay healthy and beautiful!