Foam cleaners have been around for decades and they're usually what comes into your mind when you think about facial cleansers. Most people use them because of the clean feeling they give once you rinse them off. It's so satisfying, and you can clearly see how clean your skin is!
Now that the skincare industry is booming, new types of cleansers are being created—cleansing oils, cleansing balms, creams, and gels. Our options are now wider, but the foam cleanser still reigns supreme. It's a classic and with modern technology, they are so much better and effective now than they were before.
But, like any other skincare product, foam cleansers are not perfect. They have earned a bad reputation for containing sulfates—specifically Sodium Lauryl Sulfate or SLS. This ingredient can be very harmful to your skin and might cause more harm than good.
Korean cleansers are some of the best in the market. They are known to have safer, milder, natural ingredients that have low chances of causing irritation and drying. They offer an endless amount of foam cleansers and I won't be surprised if you feel overwhelmed looking through each of them.
If you need a little help choosing a cleanser, here are the Best Korean Foam Cleansers!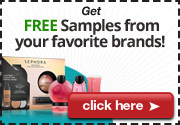 The TOP 5 Korean Foam Cleansers (in no particular order):
1. SULWHASOO Snowise Brightening Cleansing Foam
Skincare is a luxury, and Sulwhasoo makes sure that nobody forgets that. They are a very luxurious skincare brand in Korea, and they specialize in providing anti-aging and brightening benefits to their customers.
They firmly believe that beauty is ageless. Using their technology, Sulwhasoo has created some amazing skincare products that will keep your skin healthy, glowing, and youthful.
Their cleansing foam is a clear example of what their brand offers—simple, gentle, and effective skincare. The cleanser has a milky texture that leaves your skin soft and hydrated. The milk-to-foam consistency feels amazing on the skin and it rinses off easily.
The formula is infused with white clay, whose components help with removing skin impurities, and gives a refreshed, clean feeling to your skin without drying it out.
The ingredients contain traditional Korean herbs that make this product highly effective in addressing your skin issues.
Best for sensitive, oily, combination, and acne-prone skin.

Likes
Great milky texture
Clears impurities on the skin thoroughly
Has a hydrating and calming effect on the skin
Balances and brightens the skin
Generous amount of product in the bottle
Dislikes
Expensive
Has a mild scent
2. make p:rem Safe Me. Relief Moisture Cleansing Foam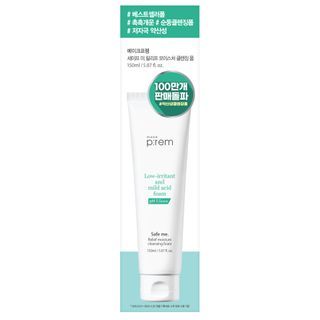 The Korean brand make p:rem is a great skincare brand that gives you simple solutions to your skin problems. Whatever your skin needs, they have the perfect solution for it. Their products are very simple, but it's their simplicity that makes them very effective in targeting skincare problems.
Even their formulas are simple—no harmful ingredients, just the right kind of ingredients that will make your skin happy and healthy. High quality, gentle, and effective are the exact words you can use to describe make p:rem's brand.
Their cleansing foam has a formula that is slightly acidic, but not too acidic that it will cause irritation. It is designed to be safe even for sensitive skin, so you won't have to worry about the acidic ingredients.
This cleanser will remove your makeup and dead skin cells without compromising your skin's natural hydration. The formula is infused with soothing and hydrating ingredients, such as: glycerin and plant extracts, namely coconut, raspberry, and lavender extracts. These extracts retain the skin's moisture balance and are verified by the EWG as safe ingredients.
The low irritant formula is what makes this a great foam cleanser.

This is great for dry, sensitive, oily, and combination skin types.
Likes
Specifically designed for sensitive skin
Doesn't strip away the skin's natural moisture
Can be used for double cleansing
Mild and gentle formula with low risk of irritation
Good for dry skin
Dislikes
Citric acid might cause a little irritation for some people, depending on your skin's sensitivity
The ingredients are not good for those with fungal acne
3. TONY MOLY Peach Punch Foam Cleanser
TONY MOLY, as many of you already know, is an internationally famous skincare brand that offers a variety of different beauty products, ranging from lipsticks to luxurious face masks. Their products and brand packaging are very chic and modern, and they never fail to catch people's attention and interest. But they don't just offer aesthetically pleasing product—these are all high quality and have been created with modern technology to address many skin concerns.
Their foam cleanser has a creamy texture that transforms into foam when wet. It smells like fresh peaches and it's absolutely amazing on the skin. It leaves your skin hydrated, clean and refreshed.
Its main ingredients are Peach Water and 10,000ppm peach extract, along with olive oil. These ingredients are refreshing to the skin and can both cleanse and moisturize. Olive oil has antioxidant properties, so your skin will be clean, healthy, and radiant.
This cleanser makes your skin feel completely clean from dirt and makeup without drying it out.

Best for oily, combination, acne-prone, and sensitive skin types.
Likes
Amazing peachy scent
Does not cause breakouts or irritation
Mild and gentle formula
Softens, brightens, and moisturizes the skin
Helps control acne
Dislikes
Fragrance might not suit some people
Does not offer enough moisture for dryer skin types
4. NEOGEN Real Fresh Foam Green Tea Cleanser
NEOGEN uses biotechnology when creating their products. This enhances the natural ingredients that they use in their skincare products. Because of this, they are one of the best skincare brands to go to when you have very specific skincare issues. They offer the best solutions, in a simple way.
Natural ingredients, advanced research on skin problems, and hypoallergenic products are what you can expect from NEOGEN.
Their Foam Green Tea cleanser is a gentle, hydrating cleanser with 100% real green tea as its main ingredient. Green tea is a strong and natural antioxidant and it has a soothing, refreshing feeling on the skin. The formula is hypoallergenic, so your skin will be cleansed without the risk of irritation.

This cleanser is water-based and can be used in your double cleansing routine. It detoxifies and brightens your skin, so you'll look fresh and revitalized after use.
One of its ingredients is tea tree which help control oil production and the formation of acne. It also gets its foamy texture from a natural ingredient—Quillaja Saponaria. No sulfates or other harmful ingredients in this foam cleanser!
This is great for oily, acne-prone, and combination skin types.
Likes
Great at dealing with acne and oil production
Has a soothing effect on skin that can control redness
Contains powerful antioxidants
Uses all-natural ingredients with many skin benefits
Dislikes
Can be drying for some skin types
Contains fragrance
Not good for fungal acne
The container is not travel-friendly
5. KLAVUU Pure Pearlsation Revitalizing Facial Cleansing Foam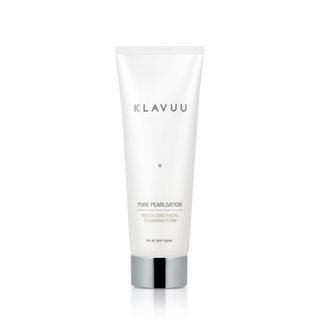 KLAVUU is a Korean skincare brand that took inspiration from the Swedish words "klar" and "vuu", which together means "clear view." What a fitting name for a skincare brand! This brand offers some of the best brightening, hydrating, and anti-aging products on the market—all of which will give your skin a bright and clear finish.
Their branding is clear as a pearl and is very simplistic which gives off a modern, luxurious vibe. Their formulas are the same way, they are known for using Jeju pearl extracts in their products, which are great at brightening and clearing skin.
This foam cleanser has a cream-to-foam texture and is infused with a whopping 30 natural plant extracts. That's a lot of vitamins and minerals! And all of them have great skin benefits that will condition your skin and make sure that it is healthy.
This is super effective in removing makeup and dirt and leaves a clean and hydrated feeling on the skin.
The Pearl extract has amazing anti-aging and brightening benefits, which solidifies the purpose of their brand. This cleanser also contains seaweed and algae extracts which offer more hydration for the skin.
This is also perfect for your double cleansing routine because it is water-based and cleanses thoroughly.
It is claimed to have 4 functions, and it is: to remove makeup and dirt, to brighten, to cleanse, and to hydrate the skin.
Perfect for oily, combination, and dry skin types.
Likes
Doesn't leave a tight feeling on skin because of its hydrating effects
Maintains the skin's natural moisture
Anti-aging and brightening
Offers a generous amount of product in one package
Great for double cleansing
The price is great for the amount of product you get
Dislikes
Contains alcohol and fragrance that might irritate sensitive skin
Some of the ingredients are not good for fungal acne
Important Things You Should Know About Foam Cleansers
If You Have Sensitive and/or Dry Skin
Depending on how sensitive your skin is, it can be quite a challenge to find a good foam cleanser that won't irritate your skin. Most cleansers contain fragrance and plant extracts that can potentially trigger irritation or allergic reactions.
Some sensitive skin types can handle a little fragrance, so you can opt to choose a foam cleanser that has a lower percentage of fragrance in its formula. You can find out by checking the ingredients list and 'Fragrance' is at the very end of the list.
Another ingredient to look out for when you have sensitive and dry skin is 'Alcohol'. Alcohol is used in beauty products to lighten the formula and help it absorb quickly into the skin. But it has a high risk of irritation and is one of the main causes of skin dryness, so it's best to avoid products with alcohol.
When fragrance and other potential irritants like dyes or essential oils have a negative effect on the skin, it might cause inflammation or dryness that will compromise the skin's protective barrier. If your skin does not react positively to a formula, it is advisable that you stop using the product completely.
To be safe, test out a little bit of the product on a small area of your face so you can tell if it will cause irritation or not.
If you have both sensitive and dry skin, try to find cleaners that have soothing and hydrating ingredients, like aloe vera, hyaluronic acid, glycerin, and Centella Asiatica. Of course, these are only a few examples of good ingredients, but they are commonly found in skincare products, so keep an eye out for them!
Check out the Best Centella Asiatica products here.
Sodium Lauryl Sulfate
I have mentioned Sodium Lauryl Sulfate (SLS) before, and I highly suggest that you keep this ingredient in mind when choosing your beauty products.
SLS is a super common ingredient in beauty products, including shampoos and soaps.
This chemical is what causes cleansers to bubble or foam and it gives you the squeaky clean feeling when you rinse off your cleanser.
Even though your skin feels good afterward, SLS makes it vulnerable to severe irritation and dryness.
It strips away the skin's natural oils and will actually force your skin to produce more oil to compensate for the loss. This is a nightmare for oily skin! Your skin's protective barrier is also compromised because of the extreme dryness that SLS can cause, resulting to acne, discomfort, and an unpleasant tight feeling on your skin.
Overall, it just makes a mess on your skin and your skincare routine will work better without it. Thank goodness we live in the modern age where many skincare products no longer contain SLS!
Conclusion
Despite its bad reputation in the past, foaming cleansers are still one of the best types of cleansers in the beauty industry. Beauty companies are now incorporating safer, more natural ingredients in their formulas so there is no need to completely leave out foam cleansers in your skincare routine. They are perfect for double cleansing, so take advantage of that!
Hopefully, your skin will love one of these cleansers and result in beautiful, radiant, healthy skin!
Have a happy skin day!
Check out the Best Korean Cleansing Oils here that you can use before your foam cleanser.