I know all working adults (and students, too!) can suffer from eye bags after a late night of working or studying. It's very frustrating to look in the mirror and see yourself look exhausted with the bags and bags and bags of eyebags. Even your eyebags have eyebags!
Sometimes you might resort to prayer just for them to go away, but they never do. It's a hopeless feeling. I get it, I understand the struggle—you are not alone. Eyebags are the bane of the population!
However, South Korea has a different outlook on them. Interestingly, they find eyebags to be beautiful enough that they would get plastic surgery to have permanent eyebags. It is bizarre but they do look good! They call it aegyo-sal which means "cute". It is generally known as double-eyelid surgery and a lot of Koreans encourage it.
But if you're like me, and you want to get rid of your unflattering eyebags, you will need to find the perfect eye mask for you. Koreans might like the appearance of eye bags, but not all of them! In fact, there are a number of eye masks that are designed specially to brighten the skin under your eyes.
Let's take a look at some of the best Korean eye masks!
The TOP 5 Korean Eye Masks (in no particular order):
1. MIZON Snail Repair Intensive Gold Eye Gel Patch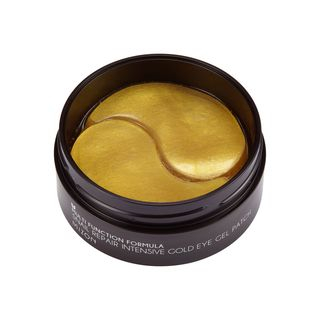 MIZON is an innovative Korean beauty brand that researches the world of health and beauty to provide effective products to their consumers—all while using natural, organic ingredients. Their slogan is "Only natural ingredients, innovation, pure energy of nature." Nature is the best source for beauty products and this brand's line of products proves that!
Their Snail Repair Intensive Gold Eye Gel Patch is an effective and luxurious eye mask that is formulated with snail mucin, which is a great ingredient for maintaining moisture in the skin and producing collagen. It also has 24K gold that nourishes the skin and makes you feel like a million bucks.
Aside from those two ingredients, it also has grapefruit seed extract, bamboo extract, and mushroom extract—all of which brighten, hydrate, and moisturize the skin. What an amazing lineup of natural ingredients!
These eye patches will help revitalize your skin to get rid of signs of aging and stress. The peptides found in the product are specifically designed to help with dullness, making your skin bright and healthy.
With these many ingredients, the delicate skin around your eyes will be strengthened and bright.
 This product is great for all skin types, but especially sensitive, dull, and dry skin. 
Likes
You can see instant results after using the product
Has a plumping effect on the skin
Effectively removes wrinkles and fine lines
The patches are generously soaked with serum
Contains a spatula and has a safety lid
Dislikes
Contains a little fragrance
Helps with puffiness and wrinkles but is not very effective in removing dark circles
2. SECRET KEY Marine Racoony Hydro Gel Eye and Multi Patch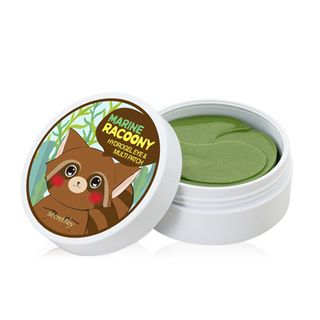 SECRET KEY is another beauty brand that gets their inspiration from nature and research on skin science. Their products are designed to be a whole skincare routine, so you won't have to worry about looking for other brands! They also target the most common skin problems, such as clogged pores and dull skin. And to add more to their amazing brand, they also offer makeup and hair products!
SECRET KEY is definitely an all-in-one brand.
Their eye mask Marine Racoony Hydro Gel gives your skin intensive care and helps a lot with wrinkles around the eyes, the nose bridge, and also your nasolabial folds. Basically, it helps with getting rid of all sorts of aging! It's an all-in-one package that gets rid of all signs of aging.
I love how the name is so ironic because raccoons naturally have dark circles and this product is made especially to get rid of them!
It is made of hydrogel which is a special type of eye mask wherein its texture is jelly-like and sticks well on the skin and melts upon making contact with your body's heat. SECRET KEY claims that this product will be akin to going to a sauna but only for your eyes. Isn't that cool?
Another thing that's cool about this product, is that it is infused with gold specks on the hydro gel's surface. Because you can use the patches on all the areas around your skin—like your forehead and cheeks, these can look very luxurious.
The warm and steamy effect of the eye mask allows the active compounds inside to penetrate the skin deeply. Seaweed is one of this mask's ingredients and its antioxidant effects help remove toxins and skin swelling. You will be left with skin that is strong, tight, and hydrated! Hydrogels are indeed the ultimate anti-aging solution.
 This is best suited for all skin types, especially dry and sensitive skin. 
Likes
Very affordable
Has a cooling effect on the skin upon first use
Eventually heats up as minutes pass
Contains a generous amount of serum
Includes a spatula in the container
Has 24k gold specks that are from Jeju Island
Safe for fungal acne
Dislikes
The serum makes the patches very slippery
Patches are so thin and sharp nails might rip them
3. A'PIEU Steam Eye Mask
You've heard of the brand Missha, am I right? Well, A'PIEU is their daughter brand! From the connection of the two brands, you can already imagine how well their products work.
A'PIEU gets their name from a French word—and it means "first." Now, why would they use that specific word? That's because A'PIEU's target consumers are the younger population. Those who are getting into skincare for the first time and have no idea where to start. It's very convenient because it provides a solution to many skincare beginners' problems.
Their Steam Eye Mask is a wonderful mask to use, whether you're a newbie or not. This is a unique type of eye mask because once it's applied to your eye area it heats up a little to warm and soothe your skin. This particular mask can heat up to 40 Celsius. It's a wonderful product to use before going to bed!
Not only does it help with black circles and wrinkles, but it also relaxes the eyes because of its steam. As your skin relaxes from the steam, it'll be easier for the mask to get rid of stress lines.
After using it, you'll find that your skin looks more rejuvenated in the morning. There will be no signs of eye fatigue here! You'll look so radiant that people won't be able to tell that you only had five hours of sleep.
This mask is effective because of its variety of plant ingredients which act as an elixir that penetrates the skin deeply and maintains the hydration inside.
 This product is great for sensitive, combination, and oily skin. 
Likes
Soothing feeling
Pleasant warm effect
Affordable
Fits perfectly on the eye area
The temperature is just right, not enough to burn you
Dislikes
Doesn't really steam
Skin dries out after usage
Pack only includes 5 patches
Results tend to be inconsistent
4. LANEIGE Eye Sleeping Mask
LANEIGE, one of Korea's most luxurious skincare brands, obviously has their own eye mask, and it definitely lives up to the brand name!
The LANEIGE Eye Sleeping Mask is an overnight eye mask and it has a unique ceramic ball massager that helps a lot with puffiness. This tool can efficiently help to make the skin around your skin hydrated, healthy, and bright.
The brand incorporates its Eye Moisture Wrap Technology in this product. It means to maintain the hydration in the skin while you sleep soundly. The ceramic ball massager further helps give a cooling feeling when you apply it to your skin. It minimizes swelling, leaves your eye area smooth and firm.
LANEIGE never disappoints! Their high-technology products are amazing with dealing with different sorts of skin problems, and they show it off in creative but efficient ways.
Their products may be a bit pricey, but they are absolutely worth every dollar. Clean, effective, beautiful Those are words that perfectly describe this widely known brand.
 Suits all skin types, especially dry, sensitive, and dull skin. 
Likes
Contains no parabens
The ceramic massager makes it easier to use the product
Makes your skin brighter and clearer
Easily glides on skin
Dislikes
A bit pricey for an eye mask
The product can be used up quickly
Contains only a small amount of product in the container
5. Petitfee Black Pearl and Golden Hydro Gel Eye Patch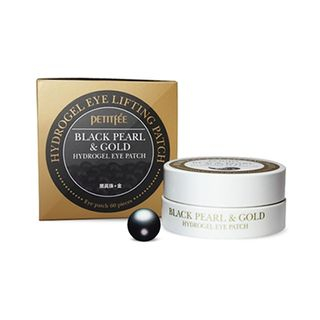 When we're talking about eye masks, we cannot leave out Petitfee! Their eye patches are known throughout the planet because of how effective they are. Their eye masks can efficiently remove your eyebags, wrinkles, and dark circles at an affordable! No wonder they're famous!
Not only that, but they also use unique ingredients that are beneficial to the skin, such as pearl powder, ruby powder, 24k gold, and plant extracts! The luxurious line up of their ingredients forms a formula that is sure to solve your skin problems.
Petitfee's Black Pearl and Golden Hydro Gel Eye Patch are one of their most popular products. It has wonderful ingredients like black pearl, which makes your skin glow like a fresh pearl from the ocean, and my personal favorite, 24K gold which greatly helps bring out the radiance of your skin.
Aside from those two unique ingredients, this hydrogel eye mask also consists of rose centifolia water, aloe vera extract, and green tea extract. All of which moisturizes the skin and helps maintain its hydration.
 This hydrogel eye mask is best suited for all skin types. 
Likes
Patches are big enough to cover the entire area around the eyes
Cold, refreshing feeling upon application
Soften fine lines and reduces the appearance of aging
Premium quality ingredients
Has a high percentage of moisturizing and anti-aging ingredients that invigorate skin
Dislikes
Changes take a while to show
Skin improvement is very subtle and cannot be noticed
Its shelf life is only 2 months
EYE BAGS: What causes them?
Eye bags are inevitable. Life, with its many twists and turns and sudden drops, eventually gets too much for us to handle, and we end up with bags under our eyes. Overtimes, school projects, K-dramas—all of these force us to keep on grinding, but at what cost? We have raccoon eyes!
Nobody likes eye bags, so let's find out exactly what causes them.
First of all, eye bags form as we age. It's a natural occurrence when time catches up to us. Our muscles get weaker and that includes the muscles that help firm our skin. The delicate skin under our eyes will then sag because of the loss of muscle and fat.
Second, eye bags are not a medical condition, so there's no need to panic when you wake up and see them! They might be annoying to see, but it is mostly an aesthetics issue.
Now that we know what causes eye bags to appear and why the next step is to go and find a way to deal with them. Eye masks are the obvious choice! After all, there are thousands of eye masks you can find in the market. There is no way that there isn't one that's suited for you. You've read the top 5 Korean eye masks above—did one catch your eye?
If you resonated with one of these products, don't be afraid to try them out! Nobody likes looking like a raccoon, right?
Conclusion
There we go! Although this article is not a guaranteed magic way to make your eye bags disappear, you now know which products to look into. I'm confident that at least one of them will help make your undereye skin brighter and firmer.
Keep in mind that, while eye bags can be the bane of your existence, it is still a natural occurrence in life and you shouldn't be ashamed of them. Maybe when people see you, they'll think "Wow that person looks tired, look at their eyebags. What a hard worker!"
Okay, that doesn't sound convincing, but I do hope you learned something from this article
As always, stay safe and have a happy skin day!