Still using your old regular foaming cleanser? Everybody starts out using them on their skincare journey, but with the wide array of products available with the booming business of skincare, it's a little hard to stick to one product. Sometimes you need a little change.
If you're thinking of changing your facial cleanser, then I suggest you take a leap and try cleansing oils.
It's understandable if you're nervous about trying them out. After all, they're basically oils, and it's not an appealing thought to consciously spread oil over your face. But you'd be surprised how well they actually work!
Did you know that cleansing oils are actually perfect for oily skin? I'm not going to be all scientific here, but it is a fact that oil attracts oil. And therefore, cleansing oils can effectively gather up all the oil and dirt on your face and make it easier to wash them off.
You can use them alone as your main cleanser—that's perfectly fine if they work for you! But they're mostly used for double cleansing, where you use a cleansing oil first to remove all the dirt and then wash them off with a regular foam cleanser.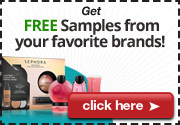 Interested? Check out the Best Korean Cleansing Oils here:
The TOP 5 Korean Cleansing Oils (in no particular order):
1. LANEIGE Perfect Pore Cleansing Oil
LANEIGE is one of Korea's most luxurious and loved skincare brands. Their brand name Laneige is a French word that means "the snow." Sounds magical, right? It's very fitting because their products work like magic.
They make use of the power of water to bring out the radiant beauty of our skin. They have researched the science of water for years and have designed products that will hydrate your skin and leave it clear, beautiful, and youthful.
LANEIGE's Perfect Pore Cleansing Oil does exactly what it says in its name. This cleans your pores deeply and improves your skin's texture along the way. The formula includes natural virgin coconut oil, which is amazing at getting rid of dirt, and mugwort extract that clears your skin, particularly those nasty whiteheads and blackheads.
You don't have to worry about this cleansing oil clogging your pores. It is made specifically for clearing out the dirt in your pores. And despite being an oil, it has a light texture and does not weigh down your skin.
This cleansing oil is suitable for all skin types!

Likes
Has antibacterial properties
Doesn't clog pores
Easily glides on your skin because of its silky texture
Good to use alone as a cleanser
Dislikes
Removes makeup well, except for extremely waterproof ones
Very expensive
2. The Face Shop Natural Rice Water Light Cleansing Oil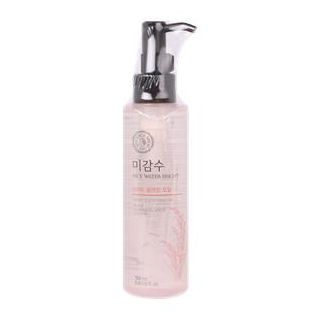 The Face Shop is another well-known Korean skincare brand. They specialize in products that are made from natural ingredients. They use a variety of plants, flowers, fruits, grains, and some traditional herbal medicine and all of these have great benefits for all the different skin types.
Their Rice Water Light Cleansing Oil has a lighter texture compared to other oil cleansers. It definitely freshens up your skin and makes it a perfect first step to your double cleansing routine.
It is formulated with jojoba oil that helps dissolve dirt, makeup, sunscreen, and other impurities. You can expect a thorough cleanse with this cleanser. The formula is also hydrating to your skin, so your skin's natural hydration is intact. The rice water ingredient gives the skin a brighter effect, giving it a radiant appearance. Who doesn't want glowing skin?
Because of its lighter consistency, it doesn't leave an oily or heavy feeling after washing it off.
This is perfect for oily, combination, and acne-prone skin.

Likes
Leaves your skin very soft and clean
Light formula but effective at cleansing
Affordable
Easy to wash off
Dislikes
Since the oil is too light, it is not as effective at removing makeup completely
There is a floral scent
Not travel friendly; the pump bottle doesn't have a lock
3. SKINFOOD Egg White Perfect Pore Cleansing Oil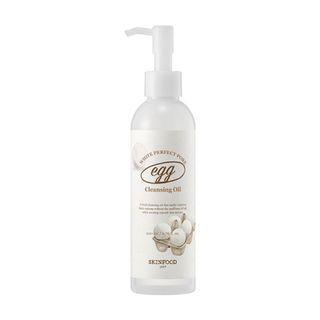 SKINFOOD takes the saying "you are what you eat" very seriously. Their brand is completely derived from food and its benefits to the body. They've been producing skincare products since 1957, and they use high quality food ingredients to make your skin beautiful and healthy.
From a skincare perspective, instead of "you are what you eat"—it is "your skin is as healthy as what you put on it." If you slather products with parabens and other harmful chemicals, your skin will definitely reflect that. But if you use safe and natural products that take care of your skin, your skin will become clear and radiant and healthy.
SKINFOOD's cleansing oil uses egg whites as its main ingredient. Egg whites are not only good for your health, it is also a good ingredient for clearing out the sebum in your pores and control the oil production on your skin.
This product is an effective pore cleanser; it removes all impurities, and the formula is rich in amino acids so your skin will maintain its hydration. This can be used alone if you're not a fan of double cleansing.
After washing it off, your skin will feel soft, smooth, and refreshed.

This is best suited for acne-prone, oily, and combination skin types.
Likes
Smoothens your skin texture
Affordable
Clears and tightens pores
Prevents acne
Gentle on skin
Dislikes
Removes makeup but doesn't remove eye makeup like eyeliners or mascaras
Very runny texture
Contains fragrance
4. Wandering Seoul No. 35 Camellia Cleansing Oil
Wandering Seoul perfectly captures the beauty of Korean skincare with their Camellia Cleansing Oil. They only use plant-derived ingredients that help bring out the graceful beauty inside your skin.
This cleansing oil contains 34.98% camellia oil, which is also known as the Rose of Winter. Sounds very poetic. The camellia oil has a lower molecular weight compared to other oils, allowing it to absorb easily into the skin.
Aside from camellia, the formula also includes olive fruit oil and bergamot. Both ingredients are packed with vitamins that help remove dirt and exfoliate the skin. These also have anti-aging effects, so your skin will have a youthful glow.

The natural ingredients make this a safe option for those with sensitive skin types, and it won't clog your pores, so you don't have to worry about breakouts!
This is great for dry, acne-prone, sensitive, and combination skin types.
Likes
No parabens, dyes, or fragrances
Plenty of great plant-based ingredients
Soothes skin
Clears pores and exfoliates the skin
Hypoallergenic
Dislikes
The oil has a thick consistency, which might not be pleasant for oily skin types
Removes dirt, but it doesn't really remove makeup well
5. TONY MOLY Wonder Apricot Deep Cleansing Oil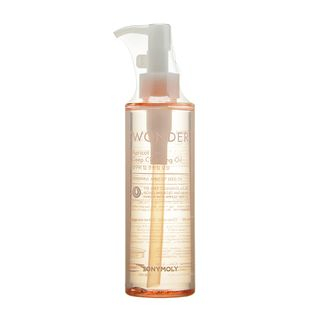 TONY MOLY is a big brand in Korea. If you haven't heard of them, you should go and see their products for yourself. The reason why they're so popular is because they produce natural, skin-loving formulas and they package them in fun designs and containers. Effective and eye-catching!
Their cleansing oil has a formula that's entirely natural and fruit-derived. It contains 1000ppm of Apricot Seed Oil. Apricot is amazing for the skin because it is light and makes your skin soft and smooth. It hydrates the skin for a long amount of time to prevent your skin from drying out.
This amazing formula clears your skin from deep within. It removes makeup and clears pores well, and leaves your skin hydrated and nourished.
This is great for combination, dry, and acne-prone skin.
Likes
Emulsifies quickly
Has a pleasant apricot scent
Gentle and softens skin
Affordable
Dislikes
The fragrance is not suitable for sensitive skin
The formula is not good for oily skin
The Oil Cleansing Method
Now that you know about the top Korean cleansing oils on the market, it is time to talk about the oil cleansing method (or OCM) so you can utilize your cleansing oil properly.
The OCM is a great method if you're trying to stray away from harsh moisture-stripping products. Some of us use makeup daily, either for work or for aesthetic purposes, and it is extremely stressful to take them all off at the end of the day. It's an arduous process, but it is necessary. After all, it's a well-known rule that you should never sleep with your makeup still on. Actually, you should never sleep without having washed your face first.
The OCM helps make the makeup removal routine so much easier—and enjoyable.  Oil is a whole lot better than water and foam at removing makeup. Micellar water is a popular makeup remover, but cleansing oils definitely work better when it comes to heavier makeup.
Even if you don't wear makeup, sunscreens or SPF products need to be removed thoroughly, too.
How to Do the Oil Cleansing Method
The oil cleansing method is a soothing ritual. Once you've applied the oil to your skin, you can immediately see the dirt or makeup loosen along with the oil. As you're gently massaging it on your skin, you encourage the blood flow and allow your other skincare products to work better on your skin, such as moisturizers or serums.
There is something very satisfying about seeing how the dirt on your skin clings to the oil. I would never have imagined that putting oil on my face would feel so nice. Not only does it clear your face of dirt, but it also removes the excess sebum that may clog up your pores. This will result in fewer acne breakouts and cleaner pores!
After massaging the oil around and getting rid of all the impurities, comes the process of removing it all off of your skin. You're going to need to get a clean face cloth, and drench it with hot water, and place it onto your skin.
The hot water in the washcloth will easily clear out the impurities and oil on your skin. You leave this on for about a minute and use the other side to gently wipe away the remaining oil.
What's amazing about the OCM is that you rarely need to use a moisturizer afterward. If you have dry skin, you might need to hydrate your skin, but generally, the cleansing oil will have moisturizing benefits, and you'll see your skin moisturized after wiping the oil off.
It's a completely different experience than what you're used to with your regular foaming cleansers, but it does the job, and it does it well.
Conclusion
Although cleansing oils are not for everybody, they are still great at cleansing your skin. Plus, the oil cleansing method gives you a different perspective on cleaning your face.
If you're enticed by the amazing effects of cleansing oils, feel free to go ahead and try one! You can either do a double-cleansing method or the OCM. Whichever works for your skin.
Just beware of what kind of products or ingredients you're using. Oils have a tendency to clog pores, so make sure to use non-comedogenic products to avoid breakouts.
Oils are also mostly plant-derived, so if you're prone to allergic reactions to plants, it's safer to stay away from them.
Aside from those warnings, cleansing oils are completely safe and healthy for your skin. Whether you have dry or oily skin, there is a perfect cleansing oil designed for you.
Don't be afraid to try new stuff! Always remember that skincare should be a fun and exciting experience.