What do you first see when you walk into a skincare shop or the skincare aisle? Let me answer for you: moisturizers, moisturizers, and moisturizers. Moisturizers are the most desired skincare product in the industry because even though you're not a skincare expert, you still understand that moisturizers are what you need when you have dry or flaky skin.
There are many types of moistures, and one example is the ceramide cream. Ceramides are great at protecting your skin from external stressors, such as dirt and bacteria. It's a great ingredient for a moisturizer because it creates a barrier that keeps the free radicals away, and at the same time, locks in the moisture in your skin.
Ceramide creams are basically the key to having healthier skin because it's the one thing that holds the skin together and makes them work better. Ceramides are naturally found in the skin. Once it has formed a barrier on top of the skin, it retains its moisture and forms a protective layer.
Ceramides are one of the star ingredients in the skincare world, so to help you know more about them, here are the top 5 Korean Ceramide Creams!
The TOP 5 Korean Ceramide Cream (in no particular order):
1. ILLIYOON Ceramide Ato Lotion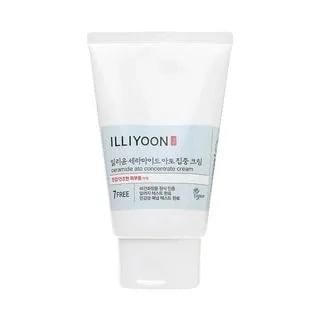 ILLIYOON is a skincare brand that specializes in products that target dryness. They are focused on providing moisturizing products for their customers to combat the flakiness and tightness of the skin. By amping up the skin's hydration, their products also provide anti-aging effects by improving the skin's elasticity and keeping it plump and soft.
They also specialize in treating dry and sensitive skin, so their products are gentle and mild, not to trigger any irritation or redness.
Their Ceramide Ato Lotion has a light and fresh consistency and non-greasy formula. You can find small ceramide capsules in the product that bursts when applied to the skin and helps it absorb faster and deeper. This cream has a small chance of causing irritation, and its rich texture is gentle enough to care for sensitive skin.
This product protects the skin from free radicals to improve the skin's condition from deep within, therefore hydrating the skin thoroughly and giving it a fresh, dewy finish.
This light and fresh cream are exactly what you need when you need a fix for dry skin and sensitive skin. It's rich, non-greasy, and hydrating!
Best suited for sensitive, combination, oily, and acne-prone skin types.
You can also read an in-depth review by one of our writers, Rebekah Rovira, you can read it here. 
Likes
Feels silky on the skin
No greasy residue
Great for layering under makeup
Hydrates and nourishes the skin
Fragrance-free
Dislikes
Does not help much with irritation
Not safe for fungal acne
Does not give enough moisture for dry skin types
2. HOLIKA HOLIKA Good Cera Super Ceramide Cream
Holika Holika is a skincare brand with a good array of products that have adorable and cute packaging. But don't let the packaging fool you! Their formulas are super effective and can be your holy grail product if you give it a chance.
The ingredients they use are very unique, such as black caviar and pink clay. All of the stuff that's good for your skin can probably be found in their line of products.
Their Good Cera Super Ceramide Cream is one of their highly effective products. It addresses skin concerns such as dryness and dullness. The rich ceramides found in this cream have the power to restore the skin's moisture barrier and make it stronger.
This product is formulated with beta-glucan, aloe vera, and shea butter. All of which intensify the moisturizing effects of the ceramides and keep the skin hydrated all day.
And because the ingredients penetrate the skin deeply, it provides instant nourishment to the skin cells and balances the skin from within with vitamins and minerals. The formula itself is designed specifically to provide a solution for dry skin and all skin types during the cold seasons.
When the skin's barrier is damaged, it is the ceramides' job to fill in the gaps and reduce weak spots and water loss. This keeps the skin's elasticity intact and keeps your skin younger-looking, fresh, and plump.
This super ceramide cream is best suited for dry, combination, and oily skin types.
Likes
Intensive hydration
Has anti-aging effects on skin
Keeps skin moisturized during cold seasons
Moisture lasts the entire day
Dislikes
Some ingredients can potentially clog pores
Essential oils found in the formula might irritate sensitive skin types
3. The Face Shop Rice Ceramide Moisturizing Cream
The hugely popular skincare brand The Face Shop also have their own ceramide cream, and it is completely on-brand with its formula. It includes rice extracts, rice bran oil, ceramides, and lecithin. The Face Shop is widely known to use organic ingredients, and rice is one of their top ingredients. They have an entire line of products dedicated to rice extracts.
Their ceramide moisturizing cream has a thick, creamy texture that is intensely hydrating to the skin and provides long-lasting moisture. It has a mild, soothing scent and absorbs quickly, and does not leave any stickiness.
This cream can go deep inside the skin and hydrates the deepest layers to take care of dryness from within. The formula is perfectly created to nourish and revitalize the skin, so the next steps of your skincare routine will go smoothly and be extra effective.
Because this cream moisturizes the skin from deep inside, it can also avoid early signs of aging. Those fine lines and wrinkles better run away because this cream is after them! When the skin's elasticity is improved by the ceramides present in the cream, your skin will be smooth and soft, and radiant. What you get at the end is a plump and moisturized skin that has no trace of dry patches or irritation.
This is perfect for sensitive, dry, and acne-prone skin types.
Likes
Soothing and moisturizing
Does not cause breakouts
Has a dewy, radiant effect on the skin
Pleasant, mild scent
Dislikes
Unhygienic tub packaging
Fragrance might irritate some skin types
May be too sticky for oily skin types
Small container
Only provides temporary hydration
4. Ample:n Ceramide Shot Cream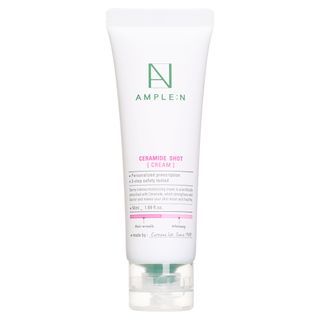 Ample:n is a skincare line from the brand Coreana Cosmetics family. They specialize in providing ampoules of all kinds to target specific skincare problems. But, aside from their ampoules, they also have the Ceramide Shot Cream on their list.
The Ceramide Shot Cream's formula provides moisture and strengthens the skin's barrier, which results in hydrated and healthy-looking skin. The formula contains Ample:n's patented Arctigenin, which is perfect for enhancing the skin's barrier.
This product has a nice, creamy texture that is mild and non-irritating and can be used by all skin types.
Ample:n is a skincare brand based on years and years of meticulous scientific researches on skincare science. That means that their products have been tested and proven by their scientists and have passed hypoallergenic tests. This means that their products have a low chance of irritating your skin.
Among the ingredients, there is also allantoin. It helps to soothe cracked skin and calm inflammation. If you often suffer from irritated skin, this ingredient is there to help you out.
All in all, this product constructs a strong barrier for the enhanced skin so that no moisture can escape, and free radicals won't be able to make their way inside your pores.
This is suitable for all skin types!
Likes
Fragrance-free
Thick, creamy texture that feels luxurious
No oily feeling
Very hydrating and soothing
Smoothens skin texture
Affordable price
Dislikes
Only comes in a small container
Might be heavy for some oily skin types
5. Jart+ Ceramidin Cream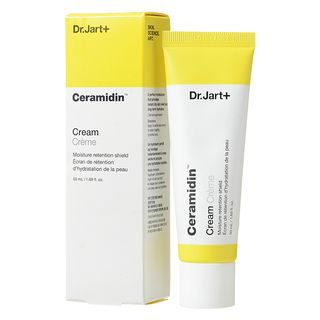 Dr. Jart is another skincare brand centered on doing skincare research and providing solutions for everyone's problems. Their longtime goal is to satisfy their customers' needs and help them prevent future skin problems by improving the skin's overall health.
Their Ceramidin cream is deeply moisturizing and formulated with their 5-Cera Complex, strengthening the skin's barrier and keeping it from losing moisture. Aside from providing hydration, it also improves the skin's barrier to maintain its health during extreme climates.
This powerful cream has ultra-moisturizing and elasticity-boosting properties, highly beneficial for people with dull and aged skin. Your skin will instantly look hydrated and radiant with this!
With the skin's improvement, this cream can also help relieve the itchiness of flakiness and damaged skin. This will relieve your skin and keep it balanced and healthy.
The cream itself is lightweight, but its hydrating capabilities have not been compromised. Despite its light texture, it can still hydrate the skin deeply and solve almost all problems relating to dryness and flakiness.
Your skin will look plump, fresh, and young with this cream, with no fine lines or wrinkles in sight!
Perfect for dry and sensitive skin types.
Likes
Rich, silky texture
Amazing moisturizing effects
Retains moisture in skin for a long time
Great for cold seasons
Can also be used as a night cream
Helps soothe redness and irritation
Layers well under makeup
Non-greasy formula
Dislikes
Comes in a small tube
Pricey for its size
Some ingredients can potentially clog pores
Why Should You Use A Ceramide Cream?
As we have said at the beginning of the article, Ceramides are naturally occurring fatty acids in the skin.
If they are already in the skin, then why should we even bother using ceramide products?
Good question. The simple answer is that, as time flies by, our skin gets duller and older, leading to lower amounts of ceramides in the skin. We cannot avoid aging no matter how many creams we use, but what we can do is make sure that the amount of ceramides we have in our skin is maintained to avoid premature aging.
It's easy to get lazy and avoid applying these kinds of creams. But I promise you that your skin will thank you in the long haul. Ceramides play a huge role in keeping the skin's barrier intact and the moisture balanced. This is exactly the reason why we need to have ceramides in our skincare routine.
The skin needs moisture to keep it from looking aged and dry. If you have the choice of switching to a ceramide cream from your everyday cream, do it! You're not getting any younger, and it's safest to use ceramides early on in your skincare journey.
That answers the question—you should use ceramide creams to keep your skin stay hydrated and young. It's as simple as that!
Conclusion
It looks like we learned a lot in this article! Skincare science is a complicated thing, but it's a great thing to have some knowledge of the things you put on your face.
Ceramides might be natural-occurring fatty acids in your skin, but that doesn't mean you have to let yourself go and not use any ceramide product. It's just like collagen—it can be naturally found in your body, but its benefits will be multiplied if you include it in your skincare routine.
So, what are your thoughts on ceramide creams? Yay or nay? You never know when you will find your holy grail product, so why not start with one of the products mentioned above? Who knows, your skin might love them!
Now, let's stop with the information overload and settle on one thing: which of these ceramide creams do you think you're going to try?
We sincerely hope you'll find your holy grail cream on this list. There is nothing more glorious than finally finding the perfect product for your skin.
We wish you happy shopping and a happy skin day!