Some people were born with perfect and flawless skin. But if you're NOT like other people—if you have absolutely flawed skin like me, then you do crazy things just to cover up your face. There is nothing shameful about having imperfect skin, but somedays it gets hard to ignore breakouts and dark spots!
What do we do on those days? We grab our concealers, foundations, and BB creams, in hopes that they'll make our skin look clearer.
The skincare industry has evolved since long ago. We used to only have a foundation to cover up imperfections, but now we have a huge array of products that can help cover up spots. And that includes CC creams.
CC creams stand for "color-correcting cream" or "complexion-corrector cream," and it is designed to have more coverage compared to BB creams. It's a lifesaver for people who suffer from stubborn acne scars, redness, and uneven skin tone.
These are formulated to have anti-aging benefits. It targets fine lines, wrinkles and maintains the skin's elasticity. It doesn't only cover up imperfections—it also nourishes your skin so it will be healthier and clearer.
When you're feeling lazy for concealer and foundation, check out the 5 Best Korean CC Cream you can use instead!
The TOP 5 Korean CC Cream (in no particular order):
1. moonshot Multi Protection UV CC Special Edition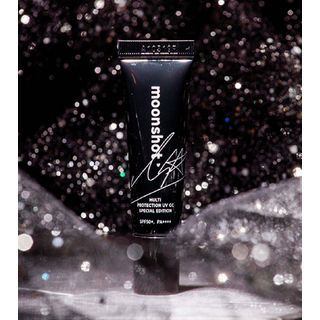 Now, this is a brand that's very exciting to see.
moonshot is owned by YG Entertainment and it is their official debut into the beauty industry. YG Entertainment is widely known for their highly successful Korean groups, like 2NE1 and BLACKPINK. Both groups are extremely popular and their success helped jumpstart moonshot.
But moonshot is not just all talk—they actually produce high-quality skincare that is fun and effective. They have great, minimalistic designs on their products, which are really appealing to the eyes.
Their CC cream has an outstanding formula that provides you SPF50+ PA++++ broad-spectrum protection for your skin. Not only does it completely conceal your pores and imperfections, but it also protects your skin from the sun and keeps your makeup in place.
It contains micro color capsules that allow the cream to blend into your skin tone. Yes, it only has one shade, but that's alright because it adjusts for you!
The cream has a nice texture that spreads evenly on your skin and easily covers your pores, and leaves your skin looking natural. You can finally achieve that beautiful "no makeup" look.
 This CC cream is best suited for oily, combination, dry, and sensitive skin. 
Likes
Very strong protection against UV rays
Effectively covers acne scars, enlarged pores, dark spots, wrinkles, and other imperfections
Non-greasy formula
Very cheap!
Small tube makes it great for traveling
Dislikes
The tube contains only 10ml of product, and there's no bigger size
The cream can feel heavy on the skin if you use too much of the product
2. Erborian CC Cream High Definition Radiance Skin Perfector
Erborian is a skincare brand that gives special attention to skin complexions. They make it their duty to provide skin care products that will moisturize, correct, and nourish your skin. Their formulas are made for instant results and long-term care that will improve the condition of your skin. This is exactly what you should be looking for in a beauty product. Don't just settle for concealing your imperfections—you need to find good products that will also help your skin.
Their CC cream's formula is high tech with its instantaneous results. The moment you put it on your face, it shows results immediately. The cream improves your skin complexion upon application and for the long haul.
It has a broad spectrum SPF25 for protection against harmful UV rays, and it has three shades: Clair, Dore, and Caramel. All three are formulated to suit different skin undertones and shades. The cream is white but transforms to blend into your skin tone, giving you luminous, soft, and flawless skin.
It has Centella Asiatica, adenosine, and vitamin B3—all of these ingredients are great at fighting signs of aging and protecting the skin from free radicals.
 This CC cream is perfect for all skin types, but especially acne-prone, combination, and sensitive skin. 
Likes
Evens skin tone of all shades
Controls oil production on the skin
Improves skin condition
Has SPF25
Has hydrating benefits
Dislikes
Expensive for a small tube
Can leave an orange tint on some skin tones
3. INNISFREE Serum CC Cream
If you're a fan of 100% natural and eco-friendly skin care, INNISFREE is the brand for you. We love clean and organic ingredients and INNISFREE never disappoints with their products. They definitely embody Korea's skincare tradition by sticking to the trusty ingredients found in nature, specifically Jeju Island which is like the holy land for skin care ingredients.
They're popular for their skincare products, but their beauty products or makeup do not disappoint. Their serum CC cream is amazing and has SPF35 PA++ for a good amount of protection from the sun, and the formula is formulated with a ton of antioxidants that will nourish and strengthen your skin.
It is made up of 52% moisturizing ingredients and can maintain hydration in your skin for the entire day. You won't feel any dry patches when you're using this! The moisture also forms a barrier on your skin's surface to protect it from environmental damage.
 This cream is great for dry and combination skin types. 
Likes
Conceals imperfections
Revitalizes skin with antioxidant ingredients
Keeps your skin hydrated all-day
Lightweight formula
Dislikes
Contains stearic acid, which is bad for oily and acne-prone skin
Fragrance
You'll need to apply a setting powder after this to keep your skin from looking too shiny
4. The Face Shop Face It Aura CC Cream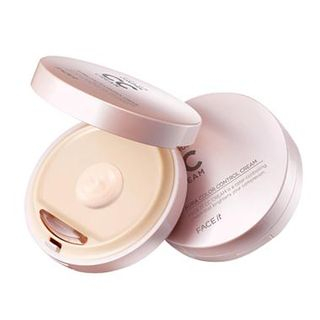 If you're only starting out with taking your skin care seriously, The Face Shop is a great place to go to. They use natural ingredients in their products and have a huge variety of products you can choose from. Anything your skin might need; I am certain they have it. You also don't have to worry about irritation because most of their formulas are safe, mild, but still effective.
Their CC cream is packaged in a compact instead of a tube. It color-corrects your skin tone and brightens your complexion with its Silver Vine Complex. The cream stays on your skin for a long time and is hydrating at the same time. Its texture is light enough that you can easily layer it on your skin if you want more coverage!
This will leave your skin clear and fresh-looking, and properly protected from UV rays with its SPF30 PA+++. It claims to have three functions: taking care of signs of aging, whitening your complexion, and protecting your skin from the sun.
 This is best suited for dry, acne-prone, and sensitive skin. 
Likes
Comes in a unique, hygienic compact container
Has medium to full coverage, which is enough to cover imperfections
Gives you fresher and brighter skin
Natural finish on the skin with no heavy feeling
Doesn't cause irritation or breakouts
Dislikes
Can get cakey after several hours
Not good for oily skin
5. Banila Co. Water Radiance CC Cream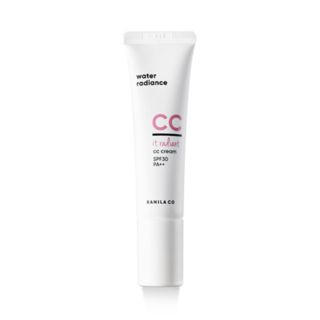 Glass skin is extremely difficult to achieve, but Banila Co. is here to help you reach your goal! They are popular for their highly effective skincare products that make your skin clear and radiant. They have a minimalistic aesthetic which reflects the ingredients they use—clean and simple.
Their CC cream is a water-based cream—the first-ever water-based cream in the market! It is 50% full of hydrating content because they infused it with their Herb Water Complex, which offers great moisturizing and brightening effects to your skin.
You'll be flaunting smooth and even skin that is also protected by the cream's SPF30 PA++ broad-spectrum sun protection.
 Great for dry, acne-prone, combination, and sensitive skin. 
Likes
Makes your skin glow
Has a fresh and natural finish
Very hydrating and brightening
Offers a good amount of sun protection
Works well even in humid weather
Great at blurring out imperfections
Dislikes
Comes in only one shade and only suits very fair skin
Expensive for a small tube
Leaves a white cast on darker skin tones
Very sheer coverage
The tube makes it hard to pump out the last bit of product
BB Creams and CC Creams: Which One Does Your Skin Need?
Beauty Balm and Color Correcting creams. Despite being formulated for different skin issues, these two are very similar. Skin problems such as acne, discoloration, and dullness can all be solved by either of the two creams. How are you supposed to tell which one you need?
You could choose to buy one of each, but nobody has the money for that! If you're ever put in a situation where you need to pick between BB creams and CC creams, you need to be ready. We're not talking life and death here, but you can save a bit of money!
If you have Dry and Combination skin…
I would have to say that BB creams are what's best for you. BB creams have more moisturizing powers compared to CC creams, and they will work better in locking the hydration in your skin and will less likely result in flaky patches.
Some brands do provide CC creams with effective moisturizing benefits, but BB creams already have those formulated into them. Dry skin needs to be hydrated well enough, and BB creams can do just that and even cover up some imperfections.
Combination skin can honestly use either one of the two creams, but the formula of BB creams can easily balance your skin. It can hydrate the dry parts of your face are light enough so that your oily T-zone won't look greasy. 
If you have Sensitive, Oily, and Acne-prone skin…
CC creams are the perfect product for you! Unlike BB creams, CC creams can cover up most if not all of your imperfections while also providing some antioxidant benefits to your skin. As you can guess from the name, it corrects the discoloration in your skin—therefore making it perfect for people who suffer from acne scars and redness.
Sensitive skin tends to have a little redness on their skin due to sensitivity to some ingredients. Good thing CC creams are designed to be mild and safe enough so as not to irritate your skin. They contain soothing ingredients to make sure that your skin is both clear and relaxed.
Oily and acne-prone skin come together hand-in-hand in most cases, and oily formulas are a no-no for those skin types. The lighter texture of CC creams will best suit oily and acne-prone skin because it won't feel heavy on the skin and the chances of it clogging up pores are slim.
Conclusion
So, there you have it. These are the best Korean CC creams! Now that you know a bit more about the benefits of CC creams, you may want to grab one when your BB cream runs out. Who knows? Maybe you'll like them more.
Like all products, CC creams are not a perfect all-in-one solution to your skin problems. As you can see from the creams listed above, some are great at hydrating the skin, while others provide full coverage and complete protection from UV rays.
It's all about finding the balance and understanding the needs of your skin.
When you finally choose the perfect CC cream for you, I hope it makes you and your skin happy, radiant, and glowing!