Taking care of your skin is more than just slathering facial wash on your face. When we are talking about skincare, we must also include the rest of our body. Our body is the same as our face—it needs constant care and attention. The skin on our body goes through so much during the day. It is usually exposed to the sun, stretched, squeezed by our clothing, and scratched at constantly. You won't realize it, but you're actually mistreating your skin most of the time.
That is why lotion is so important. Your body needs to be moisturized for the skin to stay strong and smooth. The body's skin is often prone to dryness, and body lotions can fix that.
I am sure when you go to your local department store or pharmacy, you'll see a lineup of dozens of body lotions in different scents and sizes. How in the world are you going to find one that will work well on your skin?
No need to fret. We are here to list down the Best Korean Body Lotions that your skin desperately needs! Read on and get ready to find your holy grail product:
The TOP 5 Korean Body Lotion(in no particular order):
1. KLAIRS Supple Preparation All-Over Lotion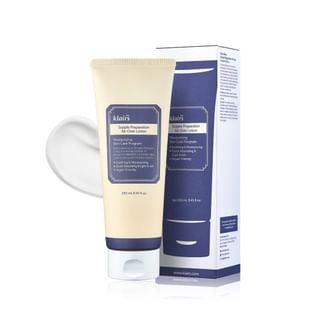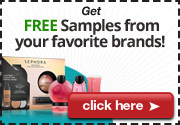 Klairs have also released their own head-to-toe lotion, the Supple Preparation All-Over Lotion. It is a lightweight and hydrating lotion to be used for both the face and body. It absorbs quickly into the skin and makes it softer, smoother, and moisturized. It doesn't leave a greasy or sticky feeling, which is very convenient!
The formula consists of nourishing ingredients like beta-glucan and ceramides. Beta-glucan is an ingredient that helps strengthen the skin's barrier and protects it from external stressors. Ceramides form a moisture barrier to keep the moisture inside the skin and keep it from drying. This lotion also contains hyaluronic acid, a very popular hydrating ingredient that deeply moisturizes the skin and gives it a supple, fresh look.
The formula also has polyquaternium-51 which is a molecule that helps enhance the skin's ability to retain moisture. This is very helpful when you need to combat dryness during colder seasons.
This face and body lotion is great for its moisturizing and nourishing ingredients. If you live somewhere with harsh, cold seasons, this is the perfect lotion for you. Its powerful moisturizing effects can effectively keep the skin from drying out and can prevent flakiness. Not to mention, it also protects the skin from free radicals so that it can stay hydrated and healthy.
Perfect for dry, acne-prone, sensitive, and combination skin types.
Likes
Multi-purpose lotion for both face and body
Contains safe and moisturizing ingredients
Absorbs quickly into skin
Doesn't leave a greasy or sticky feeling
Strengthens skin barrier
Smoothen skin texture
Fragrance-free
Generous amount of product
Dislikes

Can be a bit sticky for oily skin types
Can cause breakouts on the face
2. Somang Milk Body Lotion
This is a cult favorite amongst skincare enthusiasts. Most of us know that milk is a great ingredient for the skin—it softens and nourishes. And this body lotion contains milk extract that forms a protective barrier around the skin to lock in moisture and supply nourishment all around. This also soothes and softens your skin to make it look and feel like a baby's.
Somang's Milk Body Lotion is fast-absorbing and dissolves into the skin without any greasiness and stickiness. Its fast absorption allows it to moisturize the skin deeply and keep it soft and supple. It will protect your skin from dirt and other impurities with this lotion's effective formula. The skin's outer layer will be strong and hydrated, which is exactly how your skin should be!
This lotion's rich and creamy texture feels extravagant on the skin, almost like you're rubbing creamy milk on your skin. You can feel your skin getting softer and more hydrated after application, and you can definitely notice it helping with dry patches and flakiness. It'll leave you with soft and supple skin—the best feeling in the world.
It has a subtle powdery scent that is reminiscent of baby powder. Perfectly on-brand with its name.
This is best suited for people with dry, oily, and combination skin types.
Likes
Smoothens, softens, nourishes, and brightens skin
Protects the skin barrier
Light, fast-absorbing lotion
Makes your skin radiant and glowing
No sticky or greasy feeling
Dislikes

Strong scent might be unpleasant for some people
Some ingredients might irritate sensitive skin types
3. ILLIYOON Ceramide Ato Concentrate Cream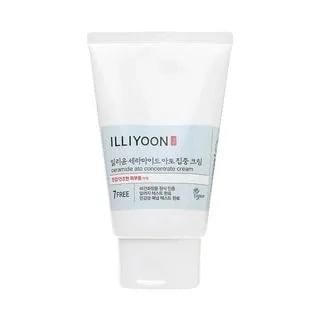 ILLIYOON is a great Korean skincare brand specializing in hypoallergenic products suited for sensitive skin types. They also use Asian-grown ingredients such as ginseng root water, liriope muscari (lilyturf), and angelica acutiloba root. They are an amazing brand for those looking for products with all-natural ingredients.
Their Ceramide Ato Concentrate Cream is exactly what the name says—it contains a high concentration of ceramides that deeply hydrates skin and soothes it to prevent inflammation. You can use this cream for both the face and the body for the ultimate skin hydration.
This cream is refreshing to the skin and absorbs quickly into the skin, and moisturizes it deeply. Plus, it is vegan, mineral oil-free, fragrance-free, dye-free, and paraben-free. ILLIYOON definitely wins with this vegan and cruelty-free lotion.
ILLIYOON uses their patented Ceramide Skin Complex™ to help strengthen the skin barrier and boost the skin's self-hydrating abilities. Your skin will be strong enough to fight off free radicals and other impurities while at the same time keep its hydration intact.
The cream has a high concentration of incapsulated ceramides that provides a fast-absorbing and refreshing experience upon application. Despite its rich and thick texture, it absorbs cleanly and immediately into the skin. No need to sit around and wait for the cream to absorb, just spread this over your skin, and you'll be ready to go in no time!
This is best suited for dry and combination skin types.
Click here to see our review of this product.

Likes
Generous amount of product in the container
Fragrance-free, dye-free, paraben-free
Contains a lot of ceramides
Deeply hydrating
Doesn't leave a greasy feeling
Has soothing effects on skin
Dislikes
Contains ingredients that can potentially clog pores and cause irritation
Might cause breakouts on the face
4. BENTON Shea Butter and Coconut Body Lotion
BENTON has always held pride in their branding by supplying skincare products that will bring out the beauty from within you—and they showcase their best formula in a lotion that is suitable for everyone, their Shea Butter and Coconut Body Lotion.
There are very few things more moisturizing than this body lotion—its ingredients include shea butter and coconut oil, hence the name, and an impressive five types of hyaluronic acid in the formula. If that doesn't scream moisture, then I don't know what does.
This lotion's formula seeks to improve moisture retention in the skin and balance the skin's acidity. As a body lotion, it will make your skin and hands soft and silky smooth.
The star ingredients, coconut oil and shea butter are extremely moisturizing to the skin and will absorb deeply to hydrate the skin from within. This deep moisture will result in soft and plump skin. Many body lotions use these ingredients for skin moisturization, but this body lotion has both and more!

The insane amount of five types of hyaluronic acid add to the lotion's effectiveness. These acids deliver moisture and nutrients to the skin and maintain the skin's moisture barrier to make it look fresh and moist.
The mix of ingredients in this lotion's formula makes it one of the most hydrating products on the market. And since Benton's goal is to make the skin healthier and younger, you will not only hydrate your skin with this lotion, you will also fight off signs of aging with its moisturizing properties!
This lotion is perfect for dry, sensitive, and combination skin types.
Likes
Silky, creamy consistency absorbs well
Fragrance-free
Contains many hydrating ingredients
Gentle enough for infant use
Leaves skin soft and supple
Does not leave a greasy or oily feeling
Dislikes
A bit expensive for a body lotion
Takes a while to absorb
5. Botanical Therapy Moisture Therapy Lotion
The Botanical Therapy skincare brand uses natural ingredients that imitate the healthy condition of the skin. Each of their products is designed for use on sensitive skin types. They are proud to say that their products are safe for people of all ages, even infants! They use only clean, safe, and effective ingredients that will help cleanse, heal, and protect the skin.
Their Moisture Therapy Lotion is super hydrating and creates a strong and long-lasting moisture barrier around the skin to protect it from external stressors. It contains their own fast-acting ceramide complex that restores lipids in the skin.
The non-greasy formula absorbs well into the skin without greasy residue and leaves the skin feeling soft and smooth. It is also pH-balanced to maintain the skin's healthy condition. This is great for treating and preventing flareups of eczema.
Other ingredients found in this lotion are sage flower and skullcap extract, both of which calms and soothes the skin with their anti-irritation and anti-inflammatory properties. These ingredients are all-natural, and they provide quick relief to dry and sensitive skin.
This product also has calendula, hibiscus flower extract, and witch hazel that help cleanse, moisturize, and protect the skin from bacteria. The mix of anti-inflammatory and moisturizing ingredients makes this the perfect lotion for sensitive and dry skin.
Best suited for dry and sensitive skin.
Likes
Safe for infants
Has anti-inflammatory and anti-bacterial properties
Natural ingredients
Non-greasy formula
Dislikes
The Importance of Body Lotion
The skin is our biggest organ, and it can be very fragile if it is not well-taken care of. It is constantly under exposure to sunlight, dust, smoke, and air. Whether we realize it or not, our skin may need to be treated with a good lotion to combat dryness and flakiness. If left alone, our skin will suffer and will show signs of aging too early.
I cannot emphasize enough how important it is to moisturize the rest of your body, along with your face. By applying lotion every day, you can prevent your skin from getting too dry or too oily. Body parts such as the elbows are usually in rough situations, and we must make sure that the skin there is properly protected and hydrated.
Aside from the scratches and scrapes that our body goes through, we must also note how much exposure our skin gets from the sun. Body lotions will give our skin's barrier an extra boost so we can be properly protected from the sun's rays. If possible, get a body lotion with SPF so your skin will be moisturized and strong.
Our skin will get weaker as we get older, and body lotions can help prevent the skin from aging as fast as we do. For our skin to be plump and supple, daily application of lotions is required.
There are so many benefits to applying lotion every day. It can prevent early aging, dryness, flakiness, and blemishes. Nobody wants any of those! It would not take much of your time and energy, so pick up a lotion and take care of your body!
Conclusion
Lotions are one of the most popular skincare products in the industry. You can tell by just walking along the skincare aisles. There are countless lotions available to us, and Korea provides a few of the best lotions you can find.
Korea is the land of skincare, and their products have proof of their quality and effectiveness. You really can't go wrong with choosing a Korean brand! Each and every one of these five products has great benefits for the skin, so it is up to you to choose one that speaks to you.
There you have it! I hope you learned a lot about body lotions and their benefits in this article. I truly hope you find your holy grail product amongst these few.
As always, have a happy skin day!