Nobody likes getting old. When you get into the 20s, every birthday is a reminder that your skin is getting weaker and weaker. With the added effects of the ever-changing weather, the skin undergoes so much stress and exposure. It needs some special treatment and attention. If you are not using anti-aging products, you should use them now because time won't stop for anyone!
Many people in the skincare community praise anti-aging products for how they effectively deal with problems such as wrinkles, fine lines, and dark spots. All of these impurities show on the skin if it is not properly taken care of.
Korea has an unbelievable amount of anti-aging products. Koreans put a special emphasis on anti-aging ingredients in their skincare products because looking radiant and youthful is a huge thing in the country. There is a reason why they look so good all the time!
But it is never too late to try and turn back time! Your skin can still look young and radiant if you start using anti-aging products now. If you're confused as to where to start, you can count on us. We have compiled the Best Korean Anti-Aging Skincare Products available in the market, and they can help you decide which one to get!
The TOP 5 Korean Anti-Aging Skincare Products (in no particular order):
1. THE PLANT BASE Time Stop Collagen Ampoule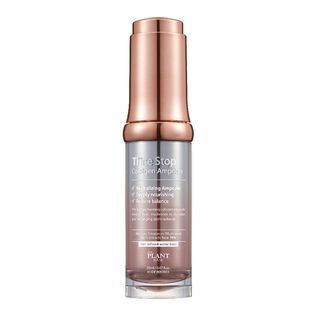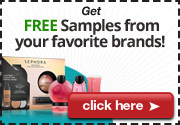 THE PLANT BASE is a skincare brand from South Korea that specializes in super-effective hypoallergenic products. It is one of Korea's best brands when it comes to naturally derived products. Originally known for their handmade soaps, THE PLANT BASE grew to offer other skincare products such as ampoules that help battle aging.
Their Time Stop Collagen Ampoule is formulated with a huge 76.52% of mushroom extract that will help boost the skin's collagen production and therefore reduce the appearance of wrinkles and fine lines.
This product is well-known in Korea as a product that encourages collagen production and reduces the signs of aging. Anyone concerned with signs of aging, sun damage, and other skin conditions can depend on this ampoule to take care of them.
Aside from mushroom extract, the formula includes a ton of ingredients with great benefits to the skin. It has panthenol, sodium hyaluronate, and macadamia seed oil to ensure that the skin is properly hydrated. And also, aloe and Centella give a soothing effect on the skin and prevent irritation and inflammation.
The formula also has THE PLANT BASE's patented ingredient: a mix of licorice, persimmon leaf, and more botanical extracts rich in antioxidants. This will brighten, soothe, and strengthen your skin. Plus, with the help of adenosine and beta-glucans, your skin will look smoother and firmer.
This product is all-natural and is free from parabens, artificial fragrances, and mineral oils. It also has a healthy pH of 6.56.
You can rejoice because this ampoule works well with all skin types!

Likes
Glowing effect on skin
Lightweight consistency
Very hydrating and plumping
Has great packaging
Gentle and soothing formula
Dislikes
Only has a small amount of product in tube
Contains colorant
2. BELIF Peat Miracle Revital Eye Cream
Koreans follow a strict skincare routine, and Belif follows this while incorporating 19th-century apothecary rituals into their products. Their Peat Miracle Revital Eye Cream is a unique eye treatment powered by peat extract and Korean skincare technology. Combining the two effectively improves the skin's elasticity, smoothens fine lines, and nourishes the skin.
Peat is a potent ingredient that is rich in antioxidant herbs. Extracts of this ingredient are stock full of minerals and organic acids that boost the skin's natural turnover to look smooth and youthful. Don't be fooled by this ingredient's origins. Although it is commonly found in swampy environments, it is actually great for the skin and has strong anti-bacterial and antifungal powers.
This velvety cream actually contains peat water from Finland, which is rich in humic and fulvic acids. Both promote the skin's elasticity and reduce the appearance of wrinkles and fine lines. It also helps to deeply moisturize the skin with the apothecary herbs found in its ingredients and revitalize dull and tired skin.
The creamy consistency absorbs quickly into the skin and blends easily around the eye area and leaves the skin looking plump and smooth.
The formula is free from mineral oils, dyes, petrolatum, fragrances, and animal-derived ingredients.

This is best suited for sensitive, dry, and combination skin types.
Likes
Does not cause irritation
Strong anti-aging properties
Rich, thick texture that absorbs easily
No greasy or oily feeling
Generous amount of product
Soothing and relaxing
Dislikes
3. MISSHA Time Revolution Night Repair Probio Ampoule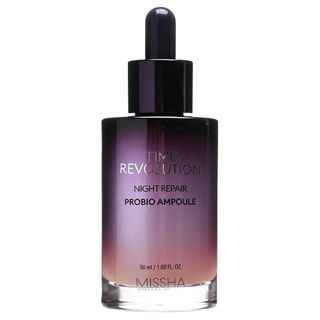 Here is another product from the skincare brand MISSHA, which you must already know. They are quite popular in the skincare community for providing a wide array of products. Their Time Revolution Night Repair Probio Ampoule moisturizes, repairs, and firms the skin aside from reversing the signs of aging.
It is formulated with ten probiotics that are highly beneficial to the skin. They bolster the skin's barrier, improve its moisture levels, and boost its elasticity by taking care of problem areas. It also helps even your skin tone, firm, and balances your skin, making it look hydrated and radiant.
This is a night-time ampoule that contains a lot of fermented ingredients, mainly Bifida Ferment Lysate—a fermented yeast that reduces the appearance of wrinkles and fine lines and helps enhance the skin's elasticity. This product contains more than 50% of Bifida Ferment Lysate and has a special technology that helps the skin absorb the product better.
MISSHA's exclusive absorption process ensures that the formula will sink into the skin deeply, quickening the skin's healing process. This will keep your skin young and glowing, and looking crystal clear.

This ampoule is also gentle enough that sensitive and acne-prone skin types can use it without a problem.
Likes
Smoothens skin's complexion and evens skin tone
Great for night and morning use
Absorbs quickly
Helps control breakouts
Does not cause irritation
No oily residue
Very moisturizing
Dislikes
4. SMD Cosmetics Inhyunjin Cream Intensive Night Repair
For over 20 years, SMD Cosmetics has provided skin care products created with advanced technology mixed with ancient herbal medicine. Their products are known to have powerful healing and transforming skin benefits. Each of their products is carefully formulated to maintain its high quality and effectiveness. The best thing about their products is that they are all-natural, safe from toxic ingredients, and cruelty-free.
Their Inhyunjin line is a set of premium products that deeply exfoliates, hydrates, and brightens the skin. The ingredients from this product line are steamed, dried, and processed nine times in 50 days. The technology used to create the formula is cutting-edge and works meticulously to balance the skin.
Their Cream Intensive Night Repair is an anti-aging cream that deeply moisturizes the skin and makes sure that the moisture stays for a long time. It also rejuvenates the skin to fight off signs of aging. Their exclusive fermented Chinese matrimony vine extracts help boost the skin's condition and make it look younger and more radiant.

As it is a night cream, the potent formula works overnight so you can wake up to youthful, smooth, and soft skin in the morning. SMD Cosmetics uses skincare technology that makes the formula easily absorbed by the skin for the best results. Dull and tired skin will turn into healthy and balanced skin because of the cream's deeply hydrating and nourishing effects.
The formula also includes squalene, beta-glucan, and powerful antioxidants to keep the skin strong and balanced.
Perfect for dry and acne-prone skin types.
Likes
Makes skin smooth and radiant
Does not cause breakouts
Leaves skin fresh and dewy
Preps for makeup
Helps with dryness and flakiness
Keeps skin moisturized for a long time
Dislikes
May be too heavy for oily skin types
5. IT'S SKIN Power 10 Formula – Ye (Vitality)
IT'S SKIN is a skincare brand that uses special technology to create formulas that produce the best effects on the skin and bring out the skin's inner beauty. They provide clinical solutions to common skincare problems that result in a clear and beautiful complexion.
Their Power 10 Formula line is a collection of serums with different benefits to the skin. Each product in the line has potent formulas that target specific skin problems. The Ye serum, or Yeast Extract serum, promotes the renewal of skin cells. Our skin cells regenerate every 28 days, but this serum speeds up the process with the help of yeast extract. The skin will then look smooth and plump after being revitalized.
This serum's formula is full of antioxidants that fight off free radicals and boosts the skin's barrier. As we age, the skin's natural healing abilities will weaken, and this serum is the perfect product to keep the skin healthy and strong. By boosting the skin's cell renewal, it results in smoother, younger, plumper skin with no fine lines and wrinkles.
The star ingredient is the best part of this serum. Fermented Yeast Extract infused with plenty of antioxidants with moisture and brightening properties helps the skin recover and bring out fresher skin cells and will give it a natural, beautiful glow. Dry and dull skin can benefit greatly from this serum.
This line comes in many different types, but this one is the best at keeping the signs of aging away.
Perfect for all skin types, especially dry and sensitive skin.
Likes
Powerful anti-aging effects
Protects skin against free radicals
Improves skin regeneration
Hydrates and brightens skin
Alcohol-free, dye-free
Affordable
Dislikes
Doesn't moisturize deeply
Has a strong scent
Other Ways to Prevent Signs of Aging
Our skin needs special care when it comes to avoiding early signs of aging. Aside from using an anti-aging product, there are many things you can do to look young as long as possible.
The most obvious thing to do is to avoid sun exposure. Everybody knows that the sun's UV rays are harmful to the skin and can even cause skin cancer. Always try and avoid it like the plague! Make it a habit to wear sunscreen when you decide to go out into the sun. The sunlight might feel nice sometimes, but your skin will suffer from too much exposure, and it will do more harm than good.
Check out the Best Korean Sunscreens in our article here.
Another thing to look out for is your diet. Your food and water intake plays a huge part in the condition of your skin. If you consume a lot of sugar and carbs, chances are it will show on your skin in the form of acne and inflammation. A healthy diet is an essential part of skincare, and not many people talk about it. You can use all the skincare products you want, but if you don't take care of your body, your skin will reflect that.
Drinking water is also important. You need to drink at least 8 glasses of water a day to keep your body hydrated. If your body is dehydrated, your skin will be prone to dryness and flakiness. Drinking plenty of water can help maintain your skin's plumpness and firmness, so keep in mind to drink water regularly.
In this day and age, pollution is rampant globally, and it is almost impossible to avoid it. But if you can afford to avoid it, then try your best to avoid places where there are environmental pollutants. To keep your skin from falling victim to free radicals, use the anti-aging products mentioned in this article to make your skin strong and healthy.
Conclusion
We cannot avoid aging, but this is not the case when it comes to our skin. Reversing the signs of aging is completely possible as long as you use the right products. The products mentioned above are some of the best in the skincare community. They will protect your skin properly and keep it balanced and hydrated, so signs of aging won't appear prematurely.
Even though we get older every day, it does not mean our skin should, too. Go out there and purchase one of these anti-aging products so you can look as young as you want. Walk confidently in your own skin, knowing that it is appropriately protected and balanced.
I hope you enjoyed this article and as always, have a happy skin day!