Japan is one of the countries that put out the best skin care product you could ever get in the market. From cleansers to moisturizers, they have it all and more. And it's very easy to see that their products are trustworthy because their citizens have the clearest skin, next to Koreans.
To those of us who are highly interested in Asian skincare, we know that Japanese products are a safe choice. And when it comes to eye creams, they are definitely number one in the market.
There are endless kinds of eye creams in Japan. It's like it is a staple in every beauty brand to have at least one eye cream in their line. I was astounded by the number of eye creams on the market—it was overwhelmingly broad. It is frightening to go into the eye cream aisle and pick just ONE.
But, to save you time (and stress and frustration), we have compiled five of the best Japanese eye creams you can choose from.
Continue reading below and discover the perfect eye cream for you!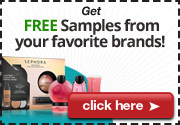 The TOP 5 Japanese Eye Creams (in no particular order):
1. TATCHA The Silk Peony
TATCHA is probably one of the world's most luxurious beauty brands. It is known to be a very effective and revitalizing brand for the skin—and they have stunning packaging! Their products are top of the line and from the bottles alone, you can see how extravagant their products are and that you are putting something sacred on your skin.
Their The Silk Peony eye cream is a favorite of many people. The name already indicates the cream's texture, and it is indeed smooth as silk! It glides easily on the skin and creates a barrier that will protect your skin. The liquid silk, along with Japanese White Peony helps the skin fight free radicals and maintain its elasticity and moisture.
This cream is also very comforting to the skin, soothing away the signs of stress and aging with its gentle formula. Overall, the formula is amazing and can keep the delicate skin around your eyes firm and plump.
Best suited for dry, combination, and oily skin types.
Likes
Smooth, silky texture
Luxurious packaging and consistency
Formula is full of antioxidants to help protect the skin's barrier
Non-comedogenic
Does not cause irritation
Cruelty-free
No fragrance
Dislikes

Very expensive for an eye cream
Packaging is not travel-friendly
2. DHC COQ10 Eye Cream Firming Moisturizer
DHC, another luxurious Japanese skincare brand, also has their own eye cream. They have a wide variety of skincare products in their brand, so it is not a surprise that they have more than one type of eye cream.
Their COQ10 Eye Firming Moisturizer is an eye cream that focuses on hydrating the soft skin around your eyes. DHC incorporates their coenzyme Q10, which is a strong antioxidant, to protect the skin's barrier and also improves the skin's elasticity, making it appear younger and firmer.
The antioxidant-rich formula is chock-full of nourishing vitamins A, C, and E. The ingredients target wrinkles, fine lines, and crow's feet by hydrating the skin deeply. The skin will be supple and bright as a result.
The cream's formula also includes beautifying essences, such as the placenta extract, which can leave the skin bright, and retinol for suppleness and hydration.
Your skin will not know dryness with this eye cream. The COQ10 is very effective in plumping and firming the skin around the eye area, so you can be sure you're getting your money's worth!
This cream is perfect for dry, combination, sensitive, and acne-prone skin types.
Likes

Targets dryness and signs of aging
Formula contains medicated and beautifying ingredients
Also helps with crow's feet and puffiness
Settles well under makeup
Cream is very easy to apply on skin and absorbs quickly
Fragrance-free
Dislikes
You may get a burning sensation when the cream gets into your eyes
A bit heavy for oily skin types
3. HADA LABO Tokyo Age Correcting Eye Cream
HADA LABO is a highly popular Japanese skincare brand that is both effective and cheap! It is a go-to brand of many skincare connoisseurs. It promises safe, clean ingredients, and clear, hydrated skin.
Their Tokyo Age Correcting Eye Cream is formulated with Super Hyaluronic acid, botanical extracts, collagen, and many more, to ensure that your skin's moisture will be maintained. It also helps smoothen your fine lines and wrinkles and even takes care of dark circles around your eyes.
It contains Pink Silk Tree Bark Extract, which strengthens skin and improves blood circulation in the skin to enhance and firm the eye area.
The cream is lightweight, as is all HADA LABO products, and safe for people who wear contacts—meaning it won't cause irritation. It is free from fragrances, colorants, and parabens. It is completely safe to use for all skin types, especially those with really sensitive skin!
Overall, this is a gentle eye cream that has multiple functions and takes care of signs of aging around the eye area effectively. Your skin will be bright, hydrated, and luminous.
This is best suited for sensitive, oily, dry, and combination skin types.

Likes
Ingredients are safe to use for sensitive skin types
Multifunctional eye cream that deals with all signs of aging
Strengthens skin barrier
Lightweight formula
Brightens skin and improves complexion
Dislikes
The tube is small and doesn't have much of the product
Only noticeably effective for mild eye area imperfections
4. BOSCIA Indigo Eye Cream
BOSCIA is a skincare brand that boasts their use of natural and organic ingredients that are all plant derived. They have full faith that their products are effective because of the power of plants. They let the natural ingredients do their job and instantly repair and beautify skin damage.
Their Indigo Eye Cream, aside from its anti-aging properties, also color-corrects the skin around your eyes to take care of dark circles and brightens it as a result. This all-in-one cream hydrates, color-corrects, and takes care of puffiness, which is exactly what you want from an eye cream.
The formula includes Wild Indigo, which illuminates the skin and fades dull skin and dark circles. It also has Hand Harvested Fucus Algae, which has antioxidant and anti-inflammatory properties that will encourage collagen production and reduce puffiness.
This cream deals with discoloration, dryness, dark circles, puffiness, aging—it really is an all-in-one eye cream!

This is best for all skin types, especially dry, acne-prone, and sensitive skin.
Likes
Moisturizes skin
Prevents breakouts
Noticeably fades signs of aging
Can be used as a moisturizer
Dislikes
Formula might be sticky for oily skin
Does not sit well under makeup
The jar is not travel-friendly
5. MEISHOKU Medicated Placenta Whitening Eye Cream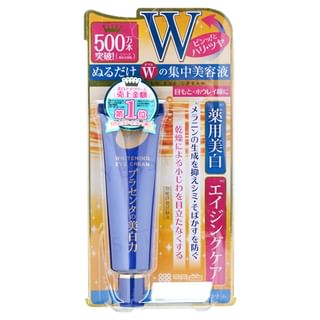 MEISHOKU is a Japanese skincare brand that was originally based on medicine, so their products are all formulated as medicine-to-skincare. Its products are specifically made to target skincare problems through medicated formulas.
Their Placenta Whitening Eye Cream contains placenta extract, which improves the skin's elasticity, hydrates, and firms the skin. The formula offers you brighter and firmer skin. It also contains collagen and Job's tears extract, which are both very effective at improving the skin's elasticity, moisture, and texture.
The cream absorbs deep into the skin, making it hydrated and firm. And the barley extract inside the formula takes care of fine lines around your eye area and firms the skin to prevent sagging.
With this product, you get 30g of the cream, which is a generous amount, considering you only need to use a bead-sized amount for every application.
This cream is best suited for dry, combination, acne-prone, and sensitive skin types.
Likes
Contains beneficial ingredients, such as Vitamin E and soybean
A little goes a long way making the product lasts for months
The moisture lasts the whole day
Affordable
Tube packaging is travel-friendly
Dislikes
Pig-derived ingredients make it not halal
Makeup can get runny on top of this cream
Heavy for oily skin
What causes dark circles and fine lines?
Skin concerns can be caused by a variety of reasons. They could be caused by your diet, your surroundings, your genes, and it could even be caused by your own skincare routine!
But when we're talking about the delicate skin around your eyes, there are some specific reasons why you have dark circles and fine lines.
The most obvious reason for dark circles is that you are not getting enough sleep. I understand—we all understand. Sometimes you have to work late at night to get through those deadlines and/or homework. Sometimes you just can't help but stay up late even though you have an early start the next day.
The other reasons for dark circles are genetics and aging. These two we don't have much control over. When dark circles are permanently embedded into our genes, that's when we go and rely on eye creams and concealers. If you want to lessen the way they look or want to conceal them—makeup and skincare are there to help you out.
And what about fine lines? The eye area is prone to getting fine lines because of how much stress it goes through. We rub at our eyes, we wash our face and pull at the delicate skin too hard, and we basically just do so many expressions that require squinting and any other movement from the eyes.
As we age, our skin loses its elasticity, and that results in sagging. On the eye areas, you can see fine lines and wrinkles and crow's feet when you get to a certain age. It is frustrating to see, and most people would want to get rid of them.
One of the reasons why we get fine lines under and around our eyes is radiation from the sun. We all know how harmful the sun is to our skin, and that also applies to our eye area. The natural collagen we have is targeted by the UV rays, therefore causing a loss of elasticity and resulting in fine lines and wrinkles. It's highly recommended that you use protection before going into the sunlight. But if you can't help it, the products stated above can get rid of those pesky fine lines for you!
Another reason is smoking. Smoking is bad for your health, overall—especially your lungs. But did you know that it's also the main cause in getting fine lines? It also impacts the skin's elasticity and collagen production, therefore resulting in skin problems. They restrict the blood vessels and reduce the blood circulation in our skin, which will make our skin barrier weaker and more prone to free radicals. Scary!
So, there are all sorts of reasons for our undereye skin concerns. Some people may not have control over their genes, but there are still ways to take care of that. Creams such as BOSCIA's Indigo Eye Cream also color-corrects your eye area, so your skin can look brighter and clearer!
Now that you know some of the causes, you can now avoid further stress on your delicate skin and prevent the formation of dark circles and fine lines.
Conclusion
We all suffer from at least one eye area skin concern. And with the top products above, I am pretty sure you'll find one that will solve your skincare problems.
Whether you are looking for more hydration or firming to your skin, these Japanese products can handle them all. Choose one that resonates with you and see how great the results will be!
We listed down only the best of the best so you won't have to panic over choosing an eye cream and further put stress on your eye area. We got your back! Now you just have to weigh the pros and cons.
We hope that you learned something from this article and that we inspired you to go out and buy an eye cream. It's definitely a product that everyone needs to have. Aging is a natural thing, but you don't have to look the part!
Thank you for reading and as always, have a happy skin day!