If there is one thing that I truly admire about Japan, it is their dedication to skincare. As we all know, the majority of the Japanese population has insanely great skin. They look spotless and bright and young. How do they do it? How do they look so young and flawless?
The answer to that question is COLLAGEN.
Collagen is the body's most plentiful protein. It may seem like it is an ingredient that you can slather all over your skin, but it is actually already in your skin. The body naturally produces collagen, but as time flies by, the collagen production will grow slower. It is the job of many different collagen products to maintain and improve the skin's elasticity and encourage the production of more collagen, therefore helping keep our skin from sagging and prevent wrinkles from forming.
Younger-looking skin is achieved through the collagen in our skin. Who doesn't want to get rid of signs of aging? Japanese cosmetics companies have provided a solution by making products specifically to encourage collagen production in our skin. Isn't that amazing?!
Aside from collagen products, which can be easily obtained, Japan also sells collagen supplements! It's like they have everything you never knew you needed! It is definitely a different approach to getting more collagen in your skin, but it still does wonders and it won't hurt to try them out at least once. If you're not willing to change up your skincare routine, this is a great alternative for you.
But, before you go out and buy the first collagen product you see, let us take a look at Japan's top ten collagen skincare products!
The TOP 5 Japanese Collagen Products (in no particular order):
1. HADA LABO Tokyo Skin Plumping Gel Cream
HADA LABO is one of Japan's biggest skincare brands. People all around the world trust this brand so much when it comes to taking care of their skin. When you talk about Japanese skincare products, this brand comes up first. They are widely known for their moisturizing products, such as their lotion and their other products that contain hyaluronic acid. Hyaluronic acid is one of the most effective ingredients when fighting against aging.
HADA LABO believes that beauty is simplicity. As shown on their product branding, the color white dominates the product name and descriptions, giving it a clean and neat effect. It's very easy to distinguish them from the products on the shelf.
Their Skin Plumping Gel Cream is a great representative of their whole brand. It's a luxurious, but affordable, gel-cream that acts both as a serum and a moisturizer. It has amazing benefits for the skin and intensely hydrates it.
This cream contains a ton of hyaluronic acid that will revive your skin and provide some much-needed hydration so you can look fresh and young.
It will plump up the skin and reduce the appearance of wrinkles and fine lines and other signs of aging. The result? Hydrated, smooth, and soft skin.
This product is great for combination, dry, sensitive, and acne-prone skin types.
Likes
Lightweight formula
Affordable
Absorbs quickly into the skin
Free of fragrances and dyes
Contains no parabens
Also acts as a serum and moisturizer
Dislikes
May sting upon application depending on skin type
Does not provide enough moisture for dry skin types
Sticky feeling with oily skin types
2. DHC Vitamin C Super Collagen Cream
Nobody and nothing is perfect. DHC, one of Japan's biggest beauty brand names, acknowledges this but turns it around and makes the perfect products to allow you to be perfectly imperfect. They turn your imperfections into perfection so you can feel beautiful in your natural skin.
DHC puts emphasis on their research in skin science so they can make formulas that will target the most common skincare problems that people have, like aging, dullness, and dryness.
Their Super Collagen Cream is the perfect solution to your problems! As usual, the cream has an advanced formula that contains peptides derived from collagen. DHC's dipeptide-8 makes sure your skin is as plump and youthful as ever.
It also contains vitamin C, revitalizing plant ingredients, jojoba oil, and squalene. These are all great for healthier, brighter, smoother skin.
The cream's rich texture makes you feel luxurious. It does not contain fragrances, dyes, or parabens. It's completely safe for your sensitive skin types!
Using this product will result in a smoother and brighter complexion that can withstand free radicals that cause aging.
Perfect for sensitive, dry, combination, and acne-prone skin types.
Likes
Does not clog pores
Improves overall skin texture and complexion
Fades wrinkles
Moisturizes skin deeply
Dislikes
Very expensive for a cream
Can be greasy on oily skin
3. EISAI Chocola BB Collagen
EISAI is a Japanese brand that has been making skin and health products for over 70 years. They are focused on providing proper healthcare to their customers all over the world. Their products are medical, so your health is also taken care of along with your skin.
They have a Chocola BB series that includes their collagen formula. The EISAI Chocola BB Collagen contains 7 types of natural ingredients that will boost your skin's health and appearance. It also has vitamin B1 and B2, niacin, and pantothenic acid, which all help reduce the signs of aging, as well as soothing and healing the skin.
This product is in the form of a tablet that is easy to take. You have to take it thrice a day, at any time you want. And since it's enclosed in a tablet form, you won't get the icky feeling of swallowing a pill. It goes down the throat smoothly and isn't a chore to take.
The formula also takes care of acne scars on your skin because of its healing properties. It boosts the skin's blood flow, therefore making the regeneration of new, healthy skin cells faster.
This collagen tablet is best for all skin types, but since it is a fish-derived product, it is better to stay away from it if you have a fish allergy.
Likes
No smell
Easier to take compared to powdered collagen
Easiest way to improve your skin and health
Dislikes
Can't be taken by people who have fish allergies
Not proven to be halal
4. SANA HADANOMY Collagen Mist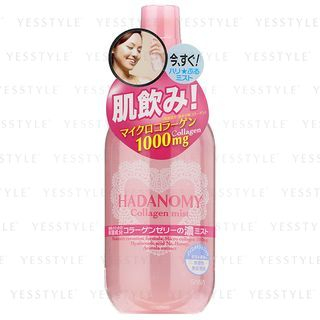 Nothing beats the refreshing feeling of spraying mist on your face. It works great to wake you up, brighten your skin, and cool it down. SANA HADANOMY offers all of these with their Collagen Mist. SANA is a skincare brand that produces makeup and skincare products, from BB powders to collagen mists.
But right now, we are going to talk about their Collagen Mist.
This mist has a gel-type texture that is refreshing to use and sinks into the skin easily and deeply. This makes the skin supple and bright—exactly what you want if you want to look younger!
It has a mild, barely-there floral scent that adds up to the soothing effect. On top of that, it gives your skin a dewy finish so you can look like the main character of a Japanese drama show.
The mist contains 1000mg of micro collagen that brightens up skin with the help of other ingredients like hyaluronic acid, acerola extract, and honey.
This collagen mist is perfect for combination, acne-prone, and dry skin types.
Likes
Makes skin soft and silky and plump
Goes deep into the skin and hydrates it well
Refreshing to use
Dislikes
Faint fragrance might irritate very sensitive skin
Can feel a bit greasy on the face
The force of the spray from the product is a bit too strong
5. MEIJI Amino Collagen Premium
Yes. MEIJI, the brand known worldwide for their delicious chocolate products, also produces collagen supplements. Are we surprised? Not really, because Japan is a plentiful country where even chocolate brands or medicine brands all offer at least one skincare product.
We already know how amazing MEIJI chocolates are, and that is to be expected of their Amino Collagen Premium. This collagen product is made of hydrolyzed fish collagen, glucosamine, arginine, and vitamin C. All are effective in maintaining the skin's elasticity and keeping your skin looking plump and young.
The formula eliminates the smell of fish where the collagen came from, so it is very easy to include it in your drinks or food. It comes in powder form so you can just mix it in easily. However, despite not having the foul smell of fish, it doesn't compromise quality. The powder is made of only the highest quality fish collagen—but without the intense odor!
This is one of Japan's best-selling collagen supplements so you can be sure that it's effective.
This is suitable for all skin types, except for people who have fish allergies!
Likes
Odorless
Won't ruin the taste of beverages and food
Shows great results in hair, skin, and overall health
Easy to drink throughout the day
Powder form makes it convenient to mix in food
Dislikes
Not safe for people with fish allergies
Which Should You Use: Collagen Skincare Products or Supplements?
We all have different lifestyles, and that means we have different preferences in skincare and healthcare.
It may not be so difficult to choose between a collagen cream and a collagen supplement if you have a free lifestyle, but if you're a busy working adult with no time for a full 10-step skincare routine, collagen supplements are the best way to get more collagen in your diet!
Collagen supplements can come in different forms, such as powdered, tablets, drinks, gels, and capsules. So many varieties to choose from! And you are sure to find one that will suit your lifestyle. It will be so easy to get the benefits of collagen in the convenient form of these. You can take them anywhere, anytime, anyway! It's very convenient for an adult and it can effortlessly improve your skin texture and appearance.
However, if you're not too fond of ingesting collagen supplements, you can always go and choose from the endless collagen skincare products in the market! The collagen that we put on our skin is mostly derived from animals, such as fish, cows, pigs, and chickens. Surprising, isn't it?
But when they come in the form of creams and facial washes, it makes it easier to use. It's a soothing routine to use your collagen cream at the end of the day or in the morning and massage it to your skin to encourage the blood flow, therefore helping the product react faster.
If you have space in your skincare routine for a collagen product, go buy yourself a collagen cream and add it to your routine! It will be a wonderful addition to your skincare collection and you won't regret it when you see how smooth and youthful your skin will look after application.
Conclusion
Despite our body already generating collagen, the process will inevitably get slower and that's why we use collagen products. The Japanese know what they're doing when it comes to collagen, and the products above prove it. Whether it's in tablet form or cream form, you'll still benefit from them and your skin will thank you for it.
Have you chosen what kind of collagen product you're going to use? Hopefully, you will find your holy grail collagen product from the ones stated above. Be prepared to have smooth, bright, plump skin!
Thank you for reading this article and, as always, have a happy skin day!