Everybody loves pets! No, wait. Some don't because of allergies or trauma—but the majority of us love them! The most common pets are cats and dogs, and we all know how joyful it is to have a pet in the house. They give us comfort, company, and love.
All animals have a big impact on the planet, in one way or another. In the skincare community, many people stay away from products that have been tested on animals. When used on animals, Formulas may harm them, so it is understandable to switch to cruelty-free brands.
Are you thinking of living a cruelty-free life? In this modern world, plenty of companies offer cruelty-free products. In fact, while you're browsing through the skincare aisle, I'm betting that you'll find at least one cruelty-free product there, especially in the moisturizer aisle.
Moisturizing is an essential part of your skincare routine, so you can't skip it. You don't want to have flaky, dry skin, right? And yes, we know it's a daunting task to switch to a cruelty-free lifestyle and find the perfect product for your skin, but we're here to help!
Here are the Best Cruelty-Free Moisturizers on the market!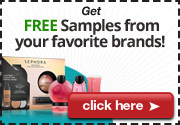 The TOP 5 Cruelty-Free Moisturizers (in no particular order):
1. KLAIRS Midnight Blue Calming Cream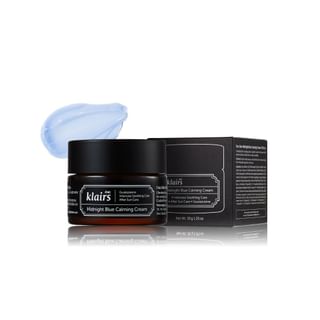 When you want something very specific for your skincare routine, Klairs is the brand to go to. They have almost everything your skin could ever want! Whatever skin type you have, they'll have a specific product designed just for you. They're an amazing brand, and they are completely cruelty-free!
Plus points for Klairs!
Their Midnight Blue Calming Cream is a gentle cream formulated to soothe redness and irritation as fast as lightning. If you suffer from redness like me, this product will take care of it immediately!
The formula contains guaiazulene, which is a natural ingredient derived from chamomile oil. This ingredient effectively calms irritated skin.
The cream also has Centella Asiatica, a moisturizing ingredient found in many moisturizers, which helps hydrate and further soothe your skin and even leave it looking smooth. And also, shea butter is another strong moisturizing ingredient.
This cruelty-free cream is in a nice, lovely shade of blue that is caused by guaiazulene. The color is soothing—definitely the perfect shade to express relaxation!

Overall, the Midnight Blue Calming Cream is a moisturizer full of healing properties that will repair damage on your skin and maintain the moisture while also improving your complexion.
This is perfect for oily, acne-prone, and sensitive skin types. .
Likes
Has soothing and healing abilities
Hydrates skin deeply
Helps reduce redness
Protects the skin's moisture barrier
Prevents breakouts
Makes skin clear and supple
Dislikes
A bit expensive
Has a greasy feeling
Heavy on skin
2. COSRX Hyaluronic Acid Intensive Cream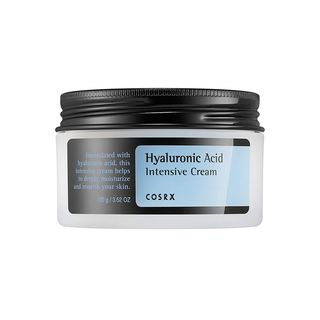 You cannot leave out COSRX when talking about skincare. This brand is one of the top beauty brands on the market right now, and if you haven't tried their products yet, you are missing out!
Their name is a combination of "cosmetics" and "Rx"—which means they merge beauty and medicine to solve all sorts of skincare concerns. They are also a cruelty-free brand, so you are safe to use any of their products without feeling any guilt!
Their Hyaluronic Acid Intensive Cream is one of their moisturizing products that contains 3,000ppm of sodium hyaluronate! From the name alone, you can already tell that it's a moisturizing product.

The ingredients include 57.8% of Hippophae Rhamnoides Water and hyaluronic acid, both of which deeply moisturize your skin and strengthens your moisture barrier. Not only do they hydrate your skin, but they also repair it by protecting the barrier from free radicals!
It has a lightweight, non-sticky texture that leaves no residue on your skin. Its light texture does not compromise its moisturizing power. In fact, it's powerful enough to deeply moisturize dry skin!
This is perfect for dry, combination, sensitive, and acne-prone skin types.
Likes
Can be used as a makeup base
Hydrates gently and deeply
Can help with eczema
Doesn't clog pores
Fragrance-free
Dislikes
The silicone texture makes the formula slippery
Might be too oily for oily skin types
Takes a while to fully absorb into the skin
3. ROVECTIN Activating Treatment Lotion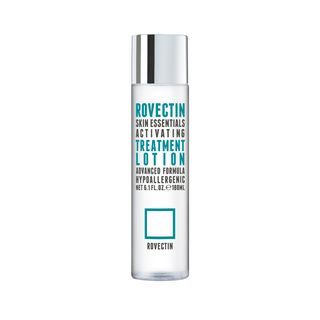 ROVECTIN is a Korean skincare brand that focuses on skin dryness and irritation. Our skin goes through so much in just one day—dust, smoke, and dirt can get inside our pores! And the weather, hot or cold, can make it dry and/or oily. Rovectin realizes all of these and they made it their goal to solve these skin issues.
Their Activating Treatment Lotion is a product that provides hydration to the skin to make it look young and supple. From its name, it is designed to make activate the skin by making way for fresher, brighter skin cells and getting rid of dead skin cells.

This has an Anti-Aging Barrier Complex™ that moisturizes the skin, even the texture and protects it from free radicals. All of these will make your skin look young and fresh.
It is formulated with seven different kinds of hyaluronic acid, all of which have different particles that will help them penetrate the skin deeper. It also has niacinamide, a powerful antioxidant that can improve uneven skin tone and reduce the appearance of fine lines and wrinkles. And also, papaya fruit extract, a natural exfoliator that will remove dead skin cells and make way for newer, fresher ones.
This moisturizer even includes caffeine as an ingredient. Caffeine helps lessen puffiness, so your skin will look as smooth as ever!
This lotion is best suited for dry, combination, oily, and sensitive skin types.
Likes
Perfect for oily skin
Lightweight texture
Good for prepping skin
Protects moisture barrier
Makes skin smooth and supple
Worth the price
Dislikes
Feels sticky after applying
Doesn't provide enough hydration for dry skin types
Has a watery texture that is not for everyone
4. BOSCIA Green Tea Oil-free Moisturizer

BOSCIA is a skincare brand that you can absolutely depend on if you are cruelty-free and vegan. They use only the best natural and organic ingredients in their products. They believe that nature is where true beauty resides and that is why they borrow the power of nature and put it in their formulas.
When you depend on nature to bring out the best in your skin, you will look radiant and beautiful!
Boscia's products are specifically designed for sensitive skin. That is why their Green Tea Oil-free moisturizer has a lightweight formula and includes powerful antioxidants like Japanese green tea. Green tea is widely known to be a strong antioxidant, which is why it's included in so many beauty products.
This is formulated to soothe redness after a breakout and help reduce sebum production to avoid further breakouts. It controls the excess oils on your skin, preventing acne from forming.
Its ingredients include Burdock root, which is good for absorbing oil and making the skin look matte and smooth. This is great to have as a makeup base. There is also seaweed, which has an anti-aging effect, making your skin look younger and more radiant.
This is great for oily, combination, acne-prone, and sensitive skin types.
Likes
The lightweight formula absorbs quickly
Prevents future breakouts
Contains many antioxidants
Has a mattifying effect on the skin
Controls sebum
Dislikes
Expensive for only 50g of product
Does not provide enough moisture for dry skin
5. BENTON Aloe Propolis Soothing Gel
Do you know about the story of Benjamin Button? It is about a man who ages backwards. Instead of growing older, he gets younger as the years pass. Benton gets their idea from that story. Instead of our skin growing older, their products will help us achieve younger-looking skin no matter how old we are! Their products will revitalize our skin and unlock our natural, fresh glory.
The Benton brand is 100% cruelty-free, so you are free to try out any of their products and not just their moisturizer!
This moisturizer includes aloe, which is a popular soothing and cooling ingredient. Applying this to your face feels cool and amazing, and you really feel your skin relaxing upon contact. The formula also includes Propolis, an anti-bacterial agent with anti-inflammatory effects perfect for dull and acne-prone skin!
Although this moisturizer is a gel type, it has a thicker texture than expected. But despite this, it still absorbs quickly on the skin. The gel's thickness won't leave a sticky feeling, making it perfect for humid and dry weather. The summer days and winter nights will be so much better with this in your skincare routine.
Perfect for oily, combination, acne-prone, and sensitive skin types.
Likes
Affordable price
Has healing and soothing effects
Lightweight gel texture
Plumps and hydrates skin
Does not clog pores
Fragrance-free
Dislikes
Does not provide enough moisture for dry skin
You might need to layer it with a cream moisturizer
Switching to Cruelty-Free Products
The skin is a fickle thing. One day this product gives you dewy, glowing skin. And the next day, pimples will pop out of your pores, and your skin texture will be horrible. Sometimes products just don't work the way we want them to.
If you are content with the products you use, switching to a cruelty-free lifestyle might be a high hurdle for you to cross.
It all depends on what you believe in. If you agree that animal testing is immoral, you can refer to the products' list above to support that idea. After all, animals can't speak for themselves, so we must make the best choice for them.
It's a big decision—not many people have the option to switch to a cruelty-free lifestyle. Companies tend to overprice their products, so even if you want to live cruelty-free, you won't be able to afford it.
So, in the end, if you can afford to buy cruelty-free products, then do so! If not, you can find a more affordable and natural alternative.
Conclusion
We all have the freedom to use whatever we want on our skin. We can make a conscious decision to choose what specific product or brand to buy. And we can also choose to support a cruelty-free brand.
If you want to dedicate your life to saving animals from harm, please do your research if the brand you are looking at is cruelty-free. The animals cannot speak for themselves, so let us do our best to speak for them and make sure they are being treated properly.
So, there you go! I hope you found the perfect cruelty-free moisturizer for your skin. It's a great investment, and you can help so many animals just by buying one of these products.
Thank you for reading, and have a happy skin day!