If you're into Korean skincare, there is one brand that you cannot ignore and escape from—COSRX. This brand has made its way to the top Korean skincare brands in the world with its simple but effective products. From pimple patches, gel cleansers, and toners, COSRX has them all.
The minimalistic packaging of their products will instantly catch your eyes. They look clean and effective, just like their products. They offer only the safest ingredients known to improve your skin. You don't need to worry about checking their ingredients list, because COSRX proudly says that their products are safe even for sensitive skin.
They are popular for their wide range of products that target all the different skin issues that we suffer from. Their range is impressive, which makes it difficult to find one that you really need. It can be easy to overspend when looking through them.
When you see a minimalistic skincare product while perusing through the beauty aisles at the mall, chances are that it's a COSRX product. Despite their minimal design, they are good enough to be noticed in a sea of colorful products.
You can create your own skincare routine with just their products, but how do you decide which toner or moisturizer, or cleanser to use? Don't panic! Breathe slowly and relax because we will help you with this problem.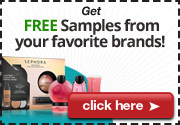 Let's go and find the top 5 COSRX products that you need and/or absolutely must try (in no order whatsoever):
The TOP 5 COSRX products (in no particular order):
1. Centella Water Alcohol-Free Toner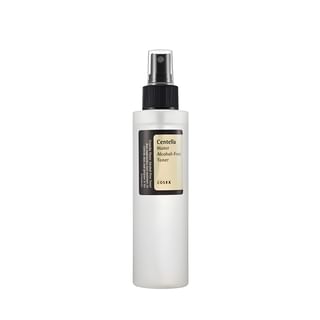 COSRX'S Centella Toner is a great choice if you want a simple toner. Centella Asiatica is a versatile ingredient that comes from Asia and is 100% natural. It was first used in traditional medicine and is now a popular ingredient in skincare. Its healing capabilities make it a good ingredient for sensitive and acne-prone skin to relieve redness and irritation.
This toner helps make your skin healthy and even deals with breakouts. It is gentle on the skin with its healing properties and the perfect pH level of 6.0—meaning your skin balance will be maintained. Also, this is great when paired with COSRX's Centella Blemish Cream. Make sure you have both products to maximize their effectiveness!
The water in this toner is taken from Jeju Island and it makes up 84.69% of the product! It works great with the Centella Asiatica to soothe your skin's redness and acne scars.
This is a great toner for those who are just starting out with skincare. It is 100% safe and alcohol-free and it does its job well.
Perfect for all skin types!

Likes
Alcohol-free
Balanced pH formula
Minimal ingredients to avoid irritation
No fragrance
Can be used as an overnight mask
Dislikes
Only a basic toner that doesn't offer much of anything else
The changes in your skin are very subtle and it feels like it's not working
Check out our Centella Asiatica article here.
2. One Step Pimple Clear Pad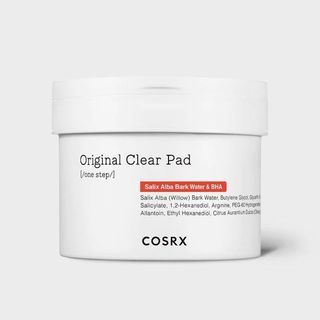 Everybody suffers from one or more pimples, and COSRX knows that and they formulated the perfect product to combat these annoying pimples.
Their One Step Pimple Clear Pad is a holy grail for acne-prone skin. It's specialized to be effective in treating acne. It contains 85% Willow Bark Water which is a natural ingredient that helps with inflammation and can soothe your skin from redness. Your problem areas will be clear and the irritation you get from acne will lessen.
It also contains 1% betaine salicylate BHA to exfoliate your skin and clear your pores—keeping pimples from forming.
The ingredients in this product are mild but very effective despite the minimal ingredients used.

The Pimple Pad is a nice step to add to your skincare routine because massaging your face with the cotton will allow blood to flow easier and will encourage healing. At the end of the day, that's exactly what your skin needs.
This is the perfect product for you if you have acne-prone, sensitive, combination, and oily skin.
Likes
Cotton pads are soaked generously with serum
No dry feeling after application
Great for exfoliating
Soothing and relaxing
Dislikes
Smells of tea tree oil and might not be pleasant for some people
Not environment-friendly
3. AHA/BHA Clarifying Treatment Toner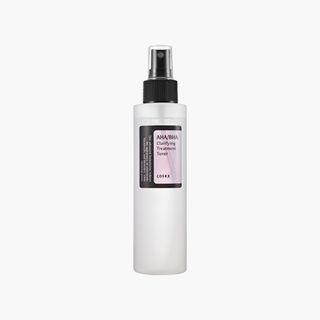 COSRX'S AHA/BHA Clarifying Treatment Toner is another popular product that is loved by many skincare gurus. Chemical exfoliators are slowly taking over the place of physical exfoliators. Although it might dry out some skin types, it is the most effective way to exfoliate your skin.
This treatment toner offers from AHA and BHA exfoliation. AHA is known as alpha hydroxy acid, and BHA is known as beta hydroxy acid. These two are effective at keeping your pores clean and your skin bright.
If you're just starting out with chemical exfoliants, this toner is a good place to start. It contains natural ingredients, like 10% apple fruit water (which is the source of AHA) and 10% Willow Bark Water (the BHA source.)

It gently exfoliates your skin, and you won't experience any irritation. This toner is recommended to use in the nighttime, but as long as you wear some protection during the day, you are free to use this in the morning.
Aside from exfoliating, this product also removes impurities and prevents whiteheads and blackheads from popping up—resulting to a clearer and brighter complexion.
As you use this every day, you will eventually notice a huge difference in your skin texture.
Best suited for combination, oil, and acne-prone skin.
Likes
No fragrance
Clears pores and removes impurities
Gentle exfoliation
Prevent acne from forming
The product lasts a long time
Dislikes
Can be drying for dry skin types
Check out our review for this product here.

4. Low pH Good Morning Gel Cleanser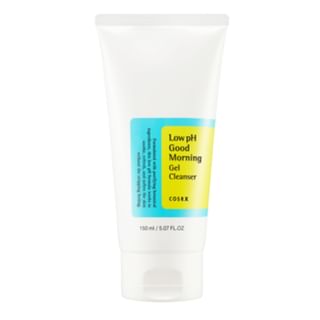 Speaking of famous products, COSRX's most popular product is their Low pH Good Morning Gel Cleanser. This cleanser is on every skincare fanatics' favorites list. It is a gentle cleanser that won't strip off your skin's natural oils.
It contains mild, natural purifying ingredients that make your skin supple and clean. It is also specially designed to be able to remove makeup and other heavy creams and oil-based products.
The formula has the perfect pH balance of 5, so your skin can surely be balanced.
Because this is a gel cleanser, it won't lather as much as foam cleansers. A good thing about gel cleansers is that they're designed to keep the skin hydrated and keep the natural moisture without the squeaky, tight feeling you usually get.
This is a widely known product and is recommended by everyone so you can purchase this with no second thinking. It is mild and gentle, and it does its job effectively. It's also fairly cheap so you can go ahead and grab one the next time you go skincare shopping!
This gel cleanser is best suited for sensitive, dry, combination, and oily skin types.
Likes
Doesn't strip skin's natural oils
No squeaky, tight feeling after usage
Gentle, mild formula
Washes off makeup and heavy oils well
A little goes a long way with the amount of product
Helps prevent acne from forming
Dislikes
Does not offer enough moisture for dry skin types
Plant extracts might irritate some skin types
5. Centella Blemish Cream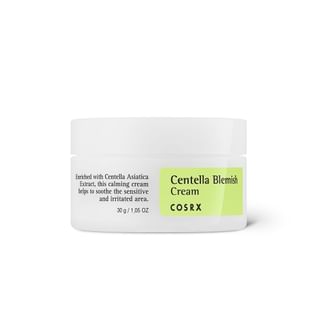 This blemish cream is perfect if you suffer from acne and dry skin! COSRX has got your back and will help you solve two problems with just one compact product.
The Centella Blemish Cream prevents acne from forming on your face and helps control the oil production to further avoid excess oil.
This also tightens your pores and keeps your complexion clean, clear, and bright.
The cream is specially infused with Centella Asiatica and is best paired with the Centella Water Alcohol-Free Toner. These two are an unstoppable duo! The Centella Asiatica is super effective in healing and improving blood circulation on your skin, which helps your skin heal faster.
Overall, it gives a nourishing and refreshing feeling upon use. This is exactly what you need at the end of a long, tiring day.
Best suited for combination, oily, and sensitive skin types.
Likes
Good moisturizer
Works well with oily skin types
Won't leave an oily feeling
Keeps acne at bay
Dislikes
Formula contains fragrance
The product does not remove pimples, rather, it prevents pimples from popping up
What/Who is COSRX?
COSRX is a very popular skincare brand. It reigns from South Korea, the land of many wonderful skincare products. The name COSRX comes from the words 'cosmetics' and 'rx' which is the symbol of prescriptions.
This brand's goal is to offer their customers personalized solutions to their unique skin concerns. As you can see from their wide array of products above, it is easy to see that they certainly have studied skincare science and used it to provide better products for their customers.
They believe that beauty should not only be on the outside, but it must also reside inside. After all, beauty is not only skin-deep. COSRX does their best in bringing out the beauty in all of us, while also maintaining our beauty outside.
The one selling point that really gets me is their safe and gentle ingredients. Sure, it might seem that the products aren't doing much because of their mild effects—but as time goes by, your skin will improve greatly, and you won't regret purchasing their products.
A little goes a long way with COSRX, which makes them an affordable brand. You literally only need a pea-sized amount of product and it will cover all of your face. No serum or cream will be wasted because you can make use of the entire tub or bottle for months to come!
They are cheap and effective—my most favorite duo. You should definitely give them a try if you want to try out something new or something cheap.
Are COSRX products good?
This is a legitimate question that everybody asks about when you're looking for a new product. It's a general question, too, but the question still stands—is this brand good enough for me to invest in?  Sometimes, big brands are all show and no tell. Some products may work on others, while some products will aggressively irritate the rest.
It's a good question—so is COSRX a good brand to buy skincare products from?
I'd say…yes!
COSRX is affordable, they use safe, minimal ingredients that target each and every skincare concern, and they have many products to choose from.
You cannot go wrong with choosing COSRX. Their goal is to bring out the natural beauty from the inside of us and I'd say they had already succeeded. Simple, yet effective.
Although the results might take a while to show, it's only because their formula digs in deep into your skin to make sure it is healthy inside. Eventually, your face will be glowing and clear as you use their products.
Choose one from the list above and find your inner beauty!
Conclusion
COSRX is only one of the thousands of skincare brands from Korea. But with all the things we've discussed in this article, it is very easy to see why they are one of the best brands.
From their creams to their toners, you get only the best results. Skincare shouldn't be showy or fancy-looking. Most times, simplicity is the most beautiful. COSRX is the perfect example of that.
Their goal is to help you achieve beauty, not only on the outside but the inside as well. They want everyone to feel confident in their skin and find their inner beauty.
COSRX definitely deserves their popularity. The way they present their products and the ingredients they use are all great and provide solutions to unique skin problems.
If you're confused with what skincare brand to buy from, COSRX is a safe bet. Don't be afraid to try out one or more of the products above—your skin will thank you!
And that's it! COSRX is amazing and I hope that their products will make your skin clearer and happier.
And, as always, have a happy skin day!